Morris Chestnut Was Told Not to Waste His Time Pursuing His Now Wife Pam Byse
Celebrity relationships have a tendency to grab fans' attention. Sure, sometimes we're watching along for the trainwreck ending that seems to claim so many short-lived Hollywood romances or gossiping about the age gaps. Other times, we're simply impressed with the power couples and their stunningly good Hollywood looks.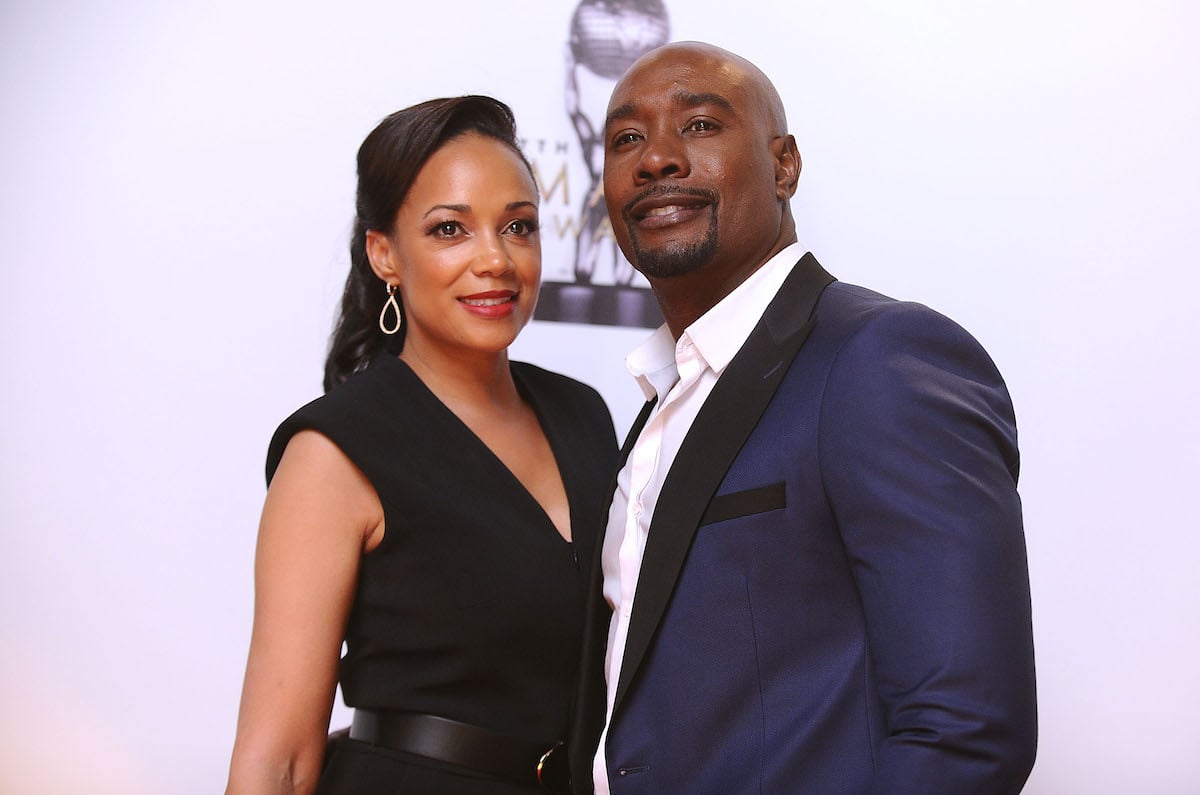 Sometimes, though, a celebrity relationship is just inspiring because it gives us a blueprint for our own connections. When actor Morris Chestnut talks about first meeting his wife, the story is cute enough to make us gush and relatable enough to be inspiring.
Morris Chestnut has a long and impressive filmography
Morris Chestnut began acting in the early 1990s and made his first memorable appearance in Boyz n the Hood, a widely acclaimed drama following the lives of three young Black boys in the Crenshaw neighborhood of Los Angeles. Chestnut followed up that role with some TV appearances and small parts in films like G.I. Jane. In 1999, he took on a part that would help define the rest of his career.
Playing alongside Nia Long and Taye Diggs in The Best Man gave Chestnut's star power a serious boost and led to a franchise that is now giving way to an upcoming TV series. Along the way, Chestnut has continued to have successful TV and movie roles with more than 50 credits dotting his IMDb filmography.
Morris Chestnut was warned against pursuing his now-wife Pam Byse
When it comes to Chestnut's personal life, we know that he's married to Pam Byse. The pair tied the knot in 1995 and have had a successful marriage that's spanned nearly three decades. To hear Chestnut tell it, the chance encounter that tipped off this long-running marriage could have fizzled out — if he had taken his friend's advice.
As BuzzFeed reports, Chestnut was at a club with actor Tiny Lister. Chestnut remembers that Lister was talking up different women in the club, but Chestnut only had eyes for one. He had spotted Byse, and he pointed her out and asked Lister what he knew about her. "Nah, man, don't waste your time. She don't give anybody no play," Lister responded. 
Not one to be deterred, Chestnut instead felt even more sure that Byse was the woman he wanted to pursue. He remembered, "as soon as he said that, I was like, 'That's the woman I need to go holler at.'"
Pam Byse and Morris Chestnut are very private about their personal life
Obviously, Chestnut's decision to connect with Byse in the club worked out. The pair, however, have remained intensely private about their personal life and don't share a lot of details with the media. An Essence article celebrating their love is filled mainly with pictures from the red carpet. Byse is often beside her husband at debut events, but it's rare to catch a glimpse of them behind closed doors.
He also told the magazine some of the things that drew him to his wife: "I knew that she would be a great mother just for how she cared for her nephew and her family. She respected her mother and she respected her family and those were some of the initial qualities that I saw that I thought would make her a great partner."
The pair do share two children, a son named Grant and a daughter named Paige. Both are now grown at ages 25 and 24, respectively. As Paige Chestnut's Instagram shows, she's a commercial, print, and runway model.
Overall, the family keeps a low profile that some find refreshing amidst a Hollywood culture of oversharing.
RELATED: 'The Best Man: The Final Chapters': Everything We Know About the Series so Far