The Most Important Announcements From the 2021 HYBE Briefing
On Nov. 4, HYBE held its "2021 HYBE Corporate Briefing with the Community" on YouTube. During the livestream, the South Korean entertainment company announced multiple new projects, ranging from debuting new music groups to releasing digital photo cards.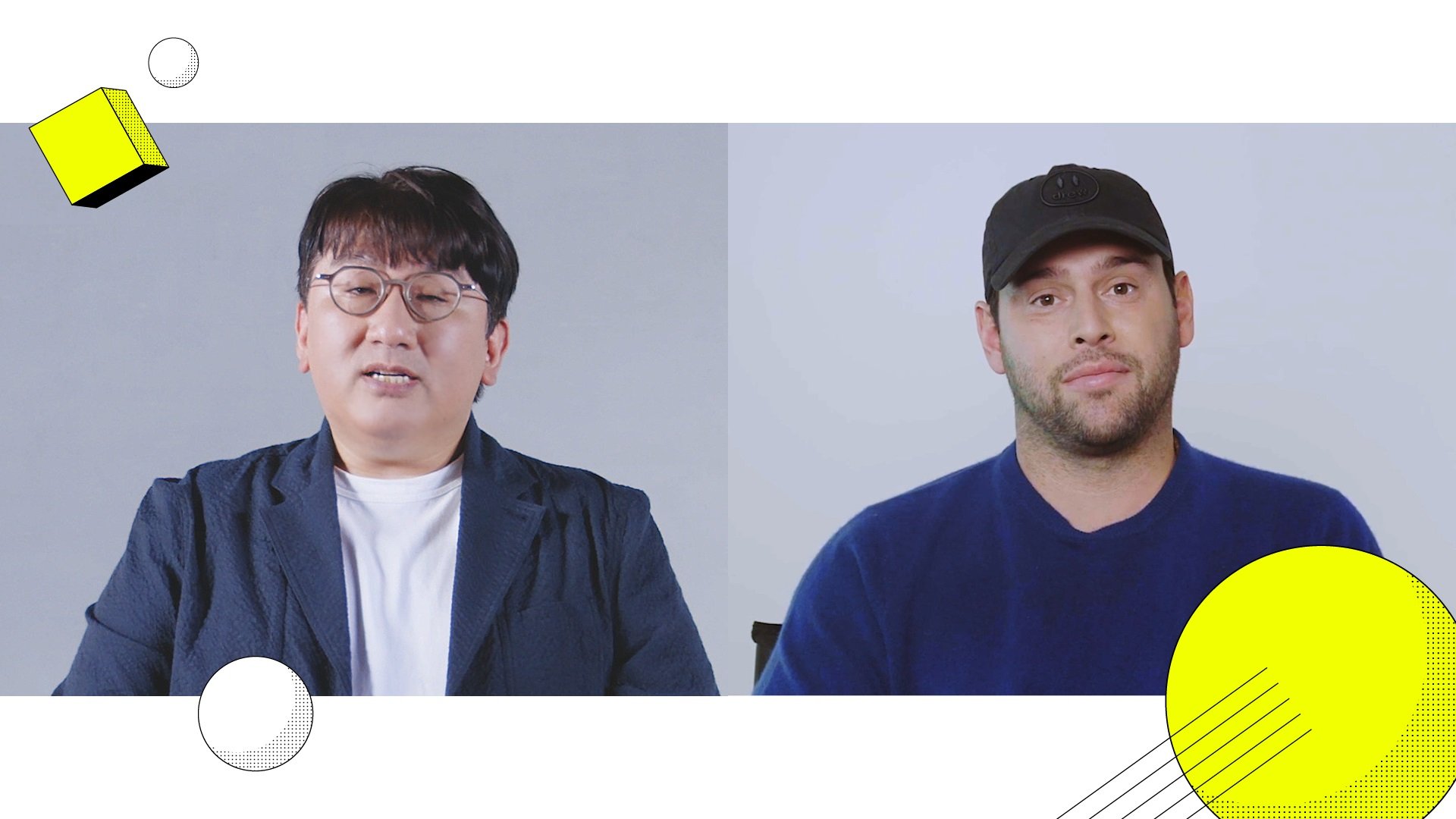 HYBE will take their K-pop group's stories to a new level
After Bang Si-Hyuk and Scooter Braun began the corporate briefing, Shawn Hwangbo introduced the concept of Original Stories. Beginning in 2022, there will be multiple webtoons and web novels available through Naver Webtoons.
On Jan. 15, 2022, a webtoon called 7Fates: CHAKHO will be released. The webtoon will feature Jin, Suga, J-Hope, RM, Jimin, V, and Jungkook of BTS. With 7Fates: CHAKHO, the characters will explore the concept of fate and how they are destined to be seven.
The K-pop group ENHYPEN will be the focus in a series called Dark Moon: The Blood Altar, which will be released on Jan. 16, 2022. The fantasy series will be geared toward teenagers and will include vampires and werewolves.
Tomorrow X Together will be featured in another fantasy story called The Star Seekers. It will begin on Jan. 17, 2022, and with the series, the members of TXT will discover they have magical powers while also being in an idol group.
A final story featuring a group of girls was also announced. However, the story does not yet have a release date and HYBE has not announced what music group will be featured in the story.
During "2021 HYBE Corporate Briefing with the Community" HYBE general manager Chung Wooyong also announced a new video game featuring BTS will be released in 2022.
HYBE will debut new music groups
As a company, HYBE has three different divisions: Labels, Solutions, and Platforms. HYBE Labels includes Source Music, Pledis Entertainment, Belift Lab, Koz Entertainment, Big Hit Music, and HYBE Labels Japan. HYBE America is a separate subsidiary and houses Braun's Ithaca Holdings.
During "2021 HYBE Corporate Briefing with the Community," it was revealed that HYBE America will debut a new girl group with Universal Music Group's Geffen Records. Potential members can apply for auditions using this link through Nov. 28.
HYBE Labels Japan will debut a global boy group through the program &AUDITION.
According to a press release, "HYBE LABELS JAPAN Global Debut Project will bring together the expertise of HYBE JAPAN and its affiliate HYBE LABELS JAPAN to discover the stars of tomorrow who will go on to perform on the world stage. K, Nicholas, EJ, and Taki who were introduced to global audiences through their participation in I-LAND (2020) will also make appearances and debut with the team formed through &AUDITION in 2022."
'2021 HYBE Corporate Briefing with the Community' announced the possibility of digital photocards
In addition to announcing new music and story concepts, it was revealed that HYBE partnered with the company Dunamu to begin an NFT business. According to Bang, HYBE will provide digital assets like photocards for fans.
"We are working with Dunamu to create a way to expand the fan experience more diversly and securely," Bang said. "Such as digitally authenticating the uniqueness of these photocards and making them permanent, but also allowing them to be collected, exchanged, and displayed in a global fan community platform like Weverse."
He continued, "Instead of a single frame photo, it can be turned into a digital photo card with moving images and sound."
"2021 HYBE Corporate Briefing with the Community" is available to watch on YouTube.