Could Most of Disney's Biggest 2020 Movies Debut on Streaming?
Because of the coronavirus pandemic, the immediate future of Hollywood is changing by the minute. Studios are continually pushing 2020's biggest movies until the tail end of the year, early 2021, or some undetermined time thereafter. But considering the studio's commercial dominance these days, all eyes are on what Disney is going to do.
Although this year doesn't bring anything as hotly anticipated as Avengers: Endgame or Star Wars: The Rise of Skywalker, the studio does have several top-dollar productions on the 2020 schedule. The first of which, Pixar's Onward, briefly hit theaters on March 6, only to be released digitally just two weeks later. The film is even set to arrive on Disney+ on April 3, less than a month after its theatrical debut.
Disney reacted swiftly in the cases of Onward and Frozen II, which also hit Disney+ months earlier than planned. Now many fans and industry insiders are wondering just how many of the studio's big 2020 releases will wind up forgoing a theatrical run altogether.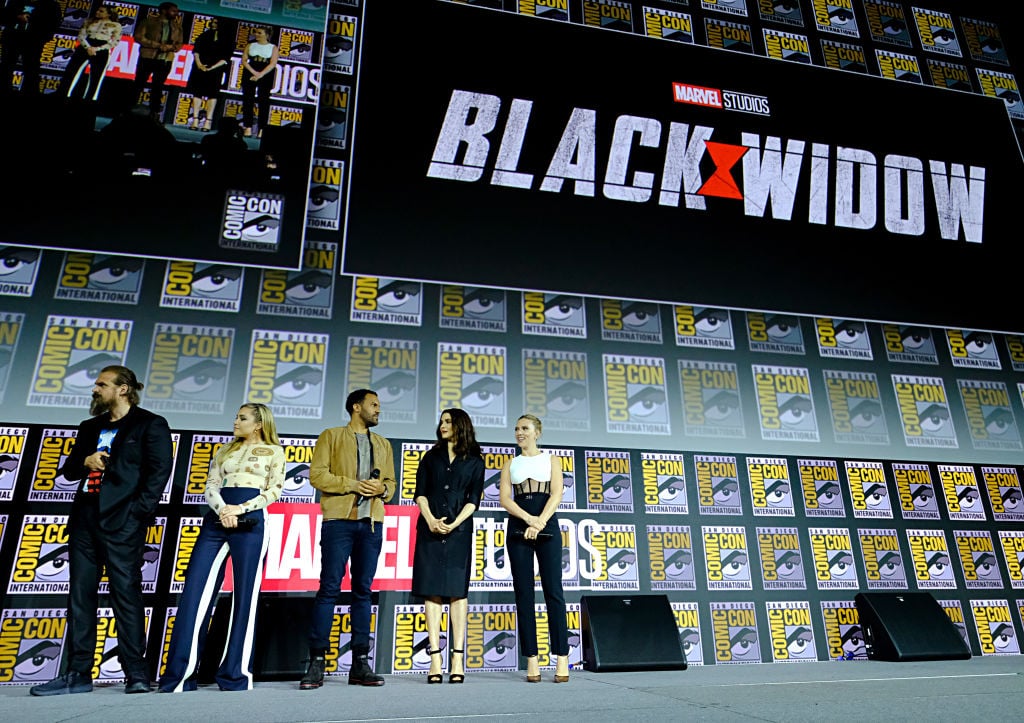 Disney already pulled 'Mulan' and 'Black Widow' from the schedule
Following Onward, the next two films Disney had scheduled for the spring have already been removed from the schedule. The live-action Mulan was supposed to be released in theaters on March 27, 2020. That film's very imminent release — and the prevalence of coronavirus in China — made a schedule change more of a necessity.
But that wasn't the case for Marvel Studios' Black Widow. The first release in Phase 4 of the Marvel Cinematic Universe wasn't due until May 1. Yet, Disney erred on the side of caution, given the growing number of coronavirus cases worldwide. Considering its reported budget is as high as $200 million, few expected Disney to send Black Widow to streaming.
But could Mulan and Black Widow follow Onward's lead with digital debuts?
Reports indicate Disney hasn't dismissed a digital release
According to a recent report, Disney is still considering sending both its big spring releases to on-demand platforms. Notably, Warner Bros. pushed its biggest summer blockbuster, Wonder Woman 1984, from June to August in the hopes movie theaters would reopen by then. But even with its deep pockets, a company as massive as Disney needs to satisfy its shareholders.
Forgoing a theatrical release for movies as expensive as Mulan and Black Widow seems like a bold move. But it's actually one Universal made first. As planned, the studio's Trolls: World Tour will arrive in theaters — whichever are still open at this point — on April 10. But it will also be available on digital platforms the very same day.
Besides, with the backlog Disney already has lined up for late 2020 and 2021, it might make more sense to shift its approach for the time being. The trouble with this approach is two-fold. First, the loss of Mulan, Black Widow, and other 2020 Disney releases presents yet another blow to theaters. But we also have no idea when Hollywood (and beyond) will return to normal.
Which of the studio's other 2020 movies will be affected?
With Wonder Woman 1984, major June 2020 releases have officially begun to clear the calendar. Mulan and Black Widow are already off the table for now. But by this rationale, Disney might wind up facing the same decision for several other summer releases. After all, the studio has three major releases currently on track to arrive in theaters before August rolls around.
On Memorial Day weekend, Disney releases Artemis Fowl, a $125 million adaptation of the Eoin Colfer novel. Then Pixar's other 2020 film, Soul from director Pete Docter (Inside Out), hits in mid-June. Finally, the Dwayne Johnson-Emily Blunt adventure Jungle Cruise sails into the end of July. All three are productions for which Disney could lose countless millions.
If Warner Bros. is on to something with its August 2020 date for Wonder Woman 1984, the summer movie season is all but over before it even began. Sony has likewise pushed its summer tentpoles — including Morbius and Ghostbusters: Afterlife — until 2021. So Disney is all but certain to pull its own summer slate from the schedule entirely.
No matter whether the studio sends them to digital or waits for a theatrical run, one thing is certain. Nothing will ever be quite the same in Hollywood after this.