'Motherland: Fort Salem': A Synopsis of Season 1 and 2 as Series Is Renewed for Season 3
Raelle, Tally and Abigail are called to fight on the frontline as witch soldiers as an old enemy resurfaces causing havoc in 'Motherland: Fort Salem'.
Motherland: Fort Salem has been renewed by Freeform for a third and final season. Raelle Collar (Taylor Hickson), Abigail Bellweather (Ashley Nicole Williams), and Tally Craven (Jessica Sutton) will continue their battle against the Camarilla, but this time with new allies. The show has a following as it reimagined the Salem witch trials. A witch 300 years ago stopped the persecution of her people and bartered a deal with the United States. Now, female witches fight in the military and use their voices as their ultimate weapon. As the series gets a new season, here is a synopsis of Raelle, Abigail, and Tally's story as army soldiers.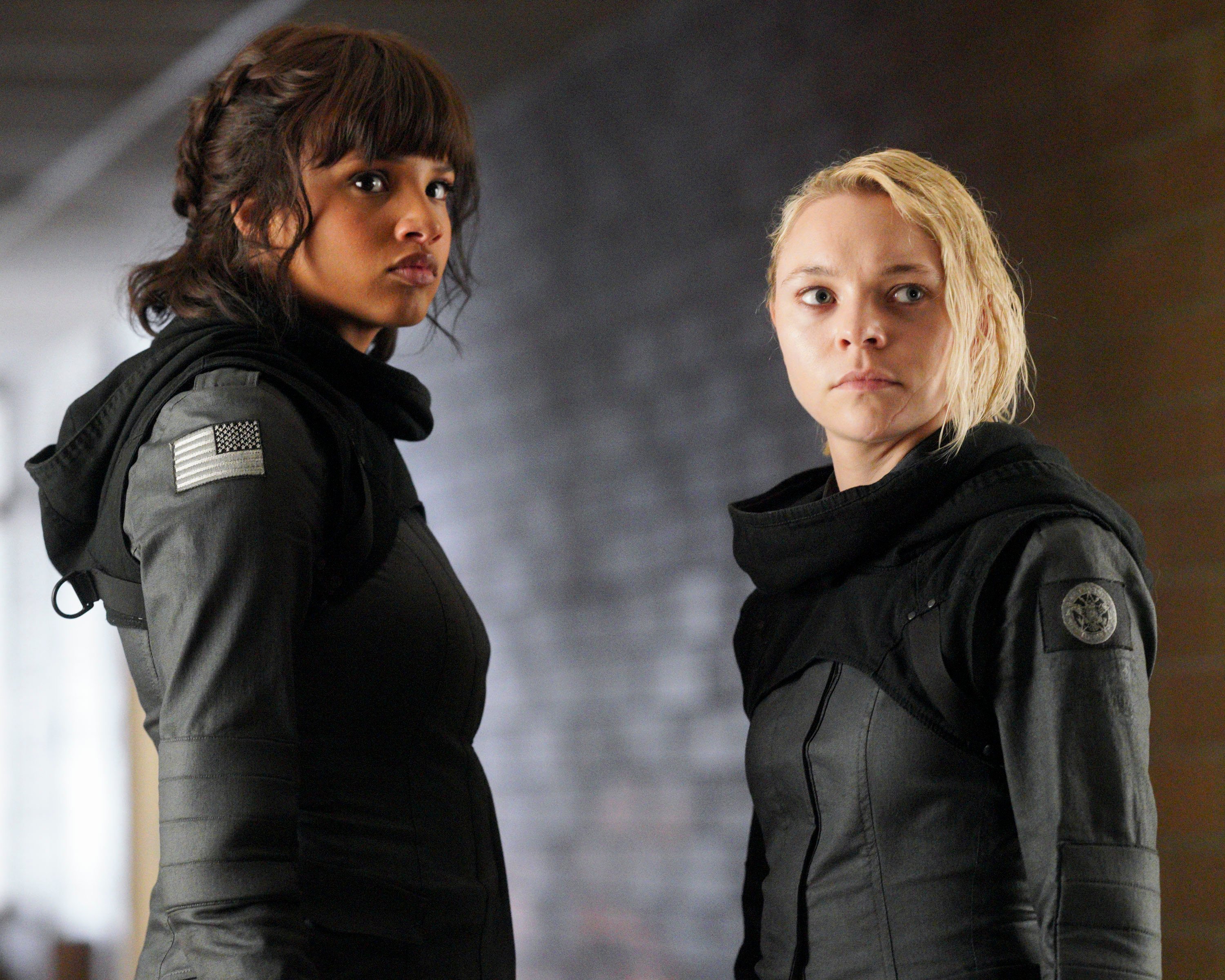 Raelle, Tally, and Abigail accept the call to serve in Season 1
The season starts with introducing the Spree, a terrorist organization that elicits civilian attacks against the military. Raelle, Tally, and Abigail are of age and receive their call to duty and accept an oath. The three recruits become a unit to learn 'seeds,' vocal techniques that work as weapons. Abigail comes from a long line of soldiers whose ancestors helped General Alder (Lyne Renée). Raelle has doubts about the army, believing they caused her mother's death. She and Abigail clash over authority. As the show progresses, the three witches prove themselves to have unforeseen power.
Raelle is a necro with healing abilities, and Tally can see sound waves. At base, Ralle meets Scylla (Amalia Hom) and starts to fall in love. But Scylla hides a secret. She is an undercover member of the Spree. As deaths and attacks begin to occur, General Alder and the characters suspect someone is to blame. At the Bellweather wedding, Abigail's cousin is murdered and her vocal chords stolen by a new enemy. The attack gives the military a cover to take Scylla for her involvement with the Spree and fake her death.
The series brings in a new character named Tadil (Tony Giroux), a member of an ancient Tribe whose sister is infected with a plague. Raelle helps save her life. In a turn of events, Raelle learns Scylla is alive and part of the Spree. The main characters start to question the military. Called to a sudden mission, Raelle, Tally, and Abigail join Alder to rescue the Tarim tribe. They come face to face with The Camarilla, their ancient enemy. Abigail and Raelle stay behind to ensure everyone's safety. A powerful blast ensues and presumes them dead, but an odd energy saves them. Fans learn that Raelle's mother is alive and part of the Spree.
The Spree's leader is revealed and the Camarilla becomes more dangerous in Season 2
In Season 3 of Motherland: Fort Salem, the Vice President learns his daughter is a witch and taken to Alder. Meanwhile, a unit brings Abigail and Raelle back. Raelle and Abigail question if they trust Alder with what occurred to them. They tell Alder the truth about the blast and go under observation. Tally is unsure of her role as a biddy as she gave up her energy to help restore Alder's strength. Upon learning Raelle and Abigail are alive, she accepts Alder's offer to revert her to normal. Tally forms a mental connection to Alder revealing a past she has buried.
Raelle, Tally, and Abigail start war college as their former sergeant, Anacostia (Demetria McKinney), goes undercover to befriend Scylla and the Spree. Together they discover intel about the Camarilla. Raelle uncovers she has a connection to the Mycelium, a conscious and powerful wall at the base of Fort Salem. The Mycelium or 'mother' protects her from harm. Tally continues her search for a soldier Alder erased from history and learns her name is Nicte Batan (Arlen Aguayo-Stewart).
Nicte was a sergeant working with Alder who developed a unique seed or 'Work'. When Alder steals her work and uses it to kill a possible threat, Nicte abandons the military. Meanwhile, Scylla and Anacostia uncover the members of the Camarilla and report back to the military. Tally uncovers Nicte is the creator of the Spree. Later on, Raelle is taken by the Camarilla and tortured.
Raelle is saved by her friends and reunites with her mother to only watch her sacrifice herself for Raelle. In the season's final episodes, Raelle discovers the Mycelium was created using the bodies and magic of Alder's fallen coven. The military has taken Nicte prisoner, and her past with Alder is revealed. The President tells Alder to step down as general as the Camarilla attacks the base with a witch plague stemming from the Vice President's daughter. Raelle, Tally, and Abigail have no choice but to sacrifice her for the greater good.
Season 3 of 'Motherland: Fort Salem' picks off where Season 2 ended
At the end of Season 2, Alder dies when her biddys get infected with the witch plague during the invasion at Fort Salem. Tally, Raelle, Abigail, and Anacostia send her body off into the Mycelium. After the battle, Raelle, Tally, and Abigail are taken prisoner for the murder of the Vice President's daughter.
On route, they are saved by Abigail's mother and Anacostia. They become fugitives along with Nicta as their ally. Fans watch as the Vice President reveals to be with Camarilla and sacrificed his daughter. The final scene of the season shows the inside of the Mycelium with Alder at its center being reborn.
According to The Hollywood Reporter, Freeform's president, Tara Duncan, announced Motherland: Fort Salem will get a third and final season. The series's main characters express their gratitude to the fans for keeping the show alive and making a new season possible. Details of the new season are yet to be revealed.