'Ms. Marvel' Actor Iman Vellani Reveals Which Marvel Co-Stars She Wants to Team Up With
Iman Vellani is the latest actor to join the Marvel Cinematic Universe in Ms. Marvel. Vellani is joining the universe as Kamala Khan a.k.a Ms. Marvel. The young actor is excited to be joining this ever-expanding universe and is ready to start teaming up with other Marvel co-stars within this world. Vellani already knows who she would want to team up with in future projects. 
Iman Vellani plays Ms. Marvel in the new Disney+ series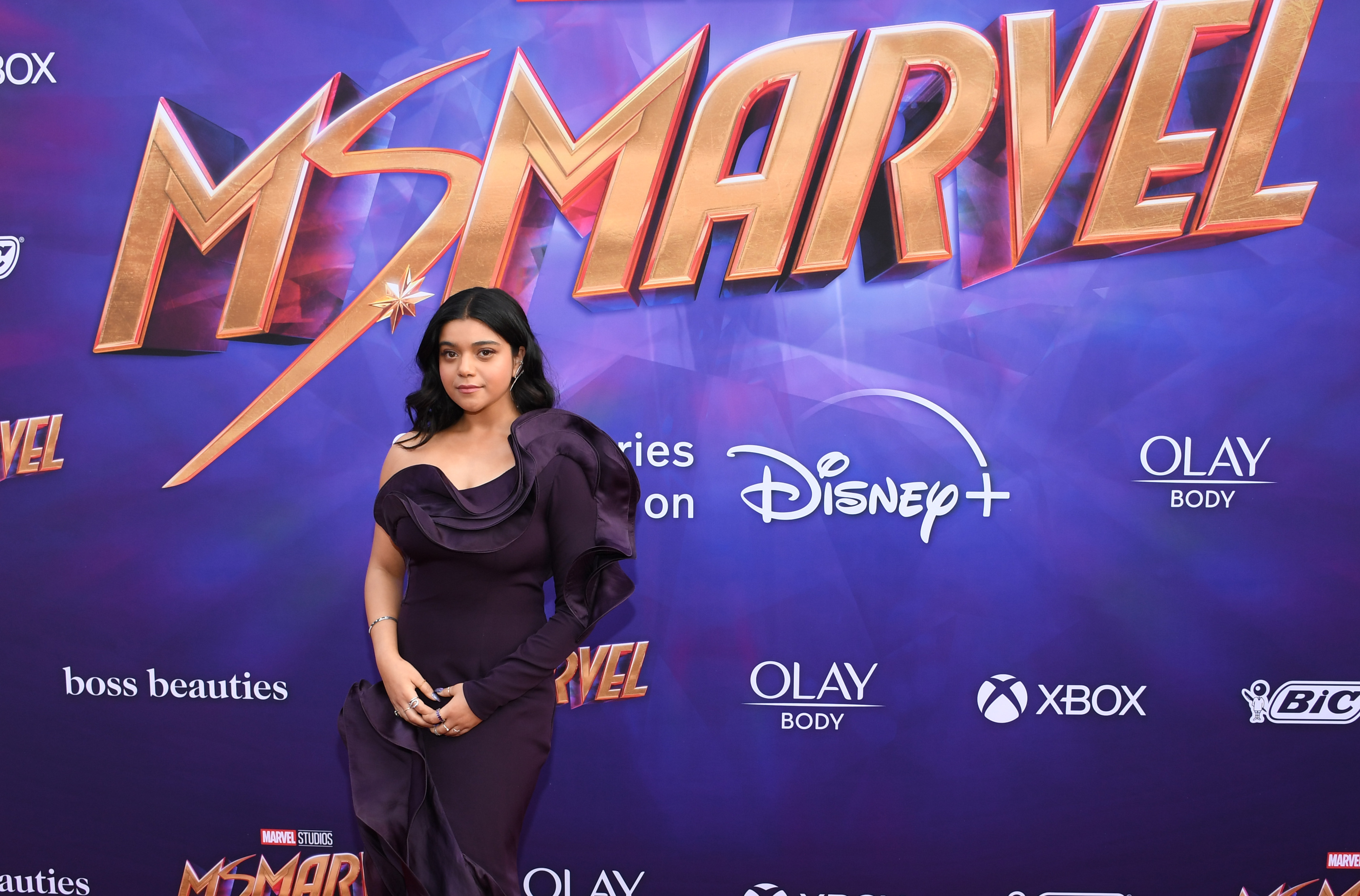 Vellani is making her acting debut as Khan in Ms. Marvel. The six-episode series introduces the first Muslim Pakistani-American hero into the MCU. In the series, Khan is a teenager obsessed with superheroes, especially Captain Marvel. Kamala doesn't feel like she fits in at school and at home until she gains superpowers like the superheroes she loves. 
The series is directed by Adil El Arbi and Bilall Fallah and is created by Bisha K. Ali. In addition to Vellani, the cast includes Matt Lintz, Zenobia Shroff, Yasmeen Fletcher, Saagar Shaikh, Mohan Kapur, Rish Shah, and Fawad Khan.
Iman Vellani shares which Marvel co-stars she wants to unite with
After exploring her origins in this series, Vellani will appear in The Marvels alongside Brie Larson as Captain Marvel and Wandavision's Teyonah Pariss. However, Vellani has some other MCU co-stars and characters that she wants to appear with. In an interview with The National, Vellani is asked who she would like to team up with, and her answer includes many of her younger colleagues. 
"I really want to see some cool team-ups," Vellani said. "Ironheart is coming, and I really like her as a character. I'd love to work with Riri Williams (Dominique Thorne) or even Kate Bishop (Hailee Steinfeld). They really have to start this Young Avengers thing, you know?"
Additionally, the actor would love to see how Ms. Marvel interacts with some of her galactic friends.
"I'd just love to see her interact with a bunch of other people in the MCU, even the Guardians [of the Galaxy], like, how would she interact with Groot?" Vellani added. "That'd be really funny. She just brings so much love and joy out of other characters that she's on screen with, so get her on screen with more."
Ms. Marvel is a hero who represents the dreams of many fans
One aspect that Vellani is excited for fans to see is a character who is a fan herself. She tells The National that Kamala represents the "fan culture" and that it will be "super-meta" for audiences to see. She understands that while Ms. Marvel represents an essential milestone for Muslim and Pakistani representation, fans will still be able to relate to Kamala's experience no matter what their ethnicity is.
"I think, apart from the Muslim representation, people will find some part of themselves that they relate to through the characters and the fan culture in our show," Vellani shared. "We wanted it to be very much about a fan fiction-writing nerd who happens to be Pakistani and Muslim. It's not about the 'Muslimness' or the 'Pakistaniness.'"
Ms. Marvel arrives on Disney+ on June 8. 
RELATED: 'Ms. Marvel' Has 1 Surprising Connection to 'Spider-Man: No Way Home'