MTV VMAs 2021: Global Icons Foo Fighters Honor The Rolling Stones' Charlie Watts
The Rolling Stones drummer Charlie Watts will always be remembered. He was inspired by jazz musicians growing up. But when he became one of the most famous drummers worldwide, he inspired bands like Foo Fighters. Watts died on Aug. 24, but tributes from fans and other artists continue to rain in. Including a subtle tribute from Foo Fighters themselves at the recent MTV VMAs.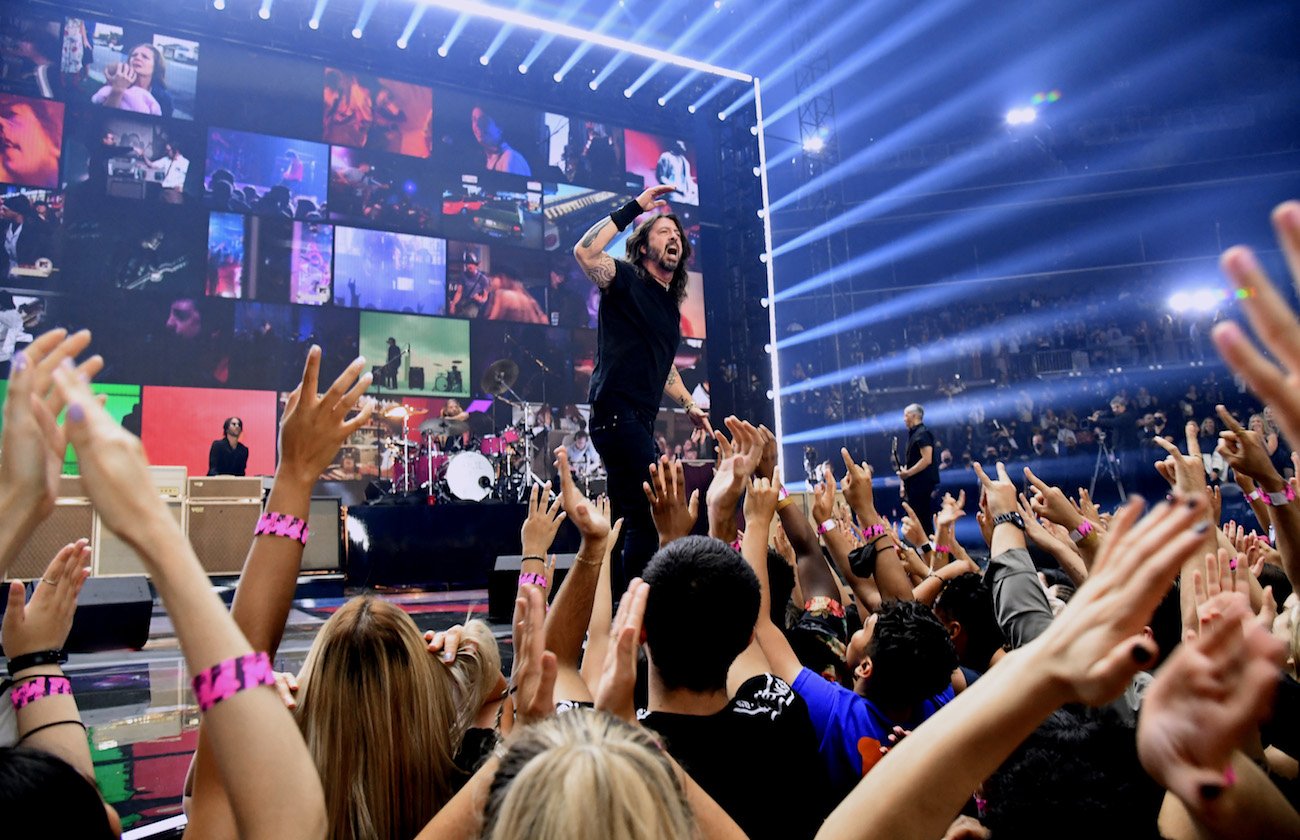 The Rolling Stones' Charlie Watts died on Aug. 24
The Rolling Stones' faithful drummer, Charlie Watts, died on Aug. 24. His spokesperson, Bernard Doherty, released a statement saying Watts "passed away peacefully in a London hospital earlier today surrounded by his family."
"Charlie was a cherished husband, father and grandfather and also as a member of the Rolling Stones, one of the greatest drummers of his generation," he added.
His bandmates of nearly 60 years, Mick Jagger and Keith Richards, posted pictures of Watts as tribute, while guitarist Ronnie Wood wrote, "I love you my fellow Gemini, I will dearly miss you. You are the best." Other artists such as Elton John, Ringo Starr, and Paul McCartney also sent their condolences to his family and talked about what an inspiration he was.
Watts's death came months after The Rolling Stones announced Watts would sit out the rest of the band's No Filter tour. "Charlie has had a procedure which was completely successful, but his doctors this week concluded that he now needs proper rest and recuperation," the band's rep said in a statement at the time. "With rehearsals starting in a couple of weeks, it's very disappointing to say the least, but it's also fair to say no one saw this coming."
Watts gave his blessing to his replacement, Steve Jordan, even though he felt bad he couldn't continue. He never really liked talking to the press, but Watts always talked about his love for his band.
RELATED: Charlie Watts: What Was The Rolling Stones' Drummer's Net Worth at the Time of His Death?
Foo Fighters were honored at the MTV VMAs
Foo Fighters were honored with the new Global Icon Award at this year's MTV VMAs. In a statement announcing the award, MTV explained they chose Foo Fighters because of their "unparalleled career and continued impact and influence has maintained a unique level of global success in music and beyond."
Pitchfork writes that the award is "modeled after the annual MTV Europe Music Award for Global Icon." Billie Eilish, who Dave Grohl has said sounds like the new Nirvana, handed Foo Fighters their award.
The band took to the stage to play their classic hits "Learn to Fly" and "Everlong," and their newest song, "Shame, Shame," for which Foo Fighters was nominated for three other awards, including Best Rock, Best Choreography, and Best Cinematography.
In their acceptance speech, Grohl said it was an honor to receive "quite an award" after being a band for 26 years. They also thanked all of the people at MTV past and present, and in typical Grohl fashion, he concluded his speech by saying thanks and "we'll see you in 26 years."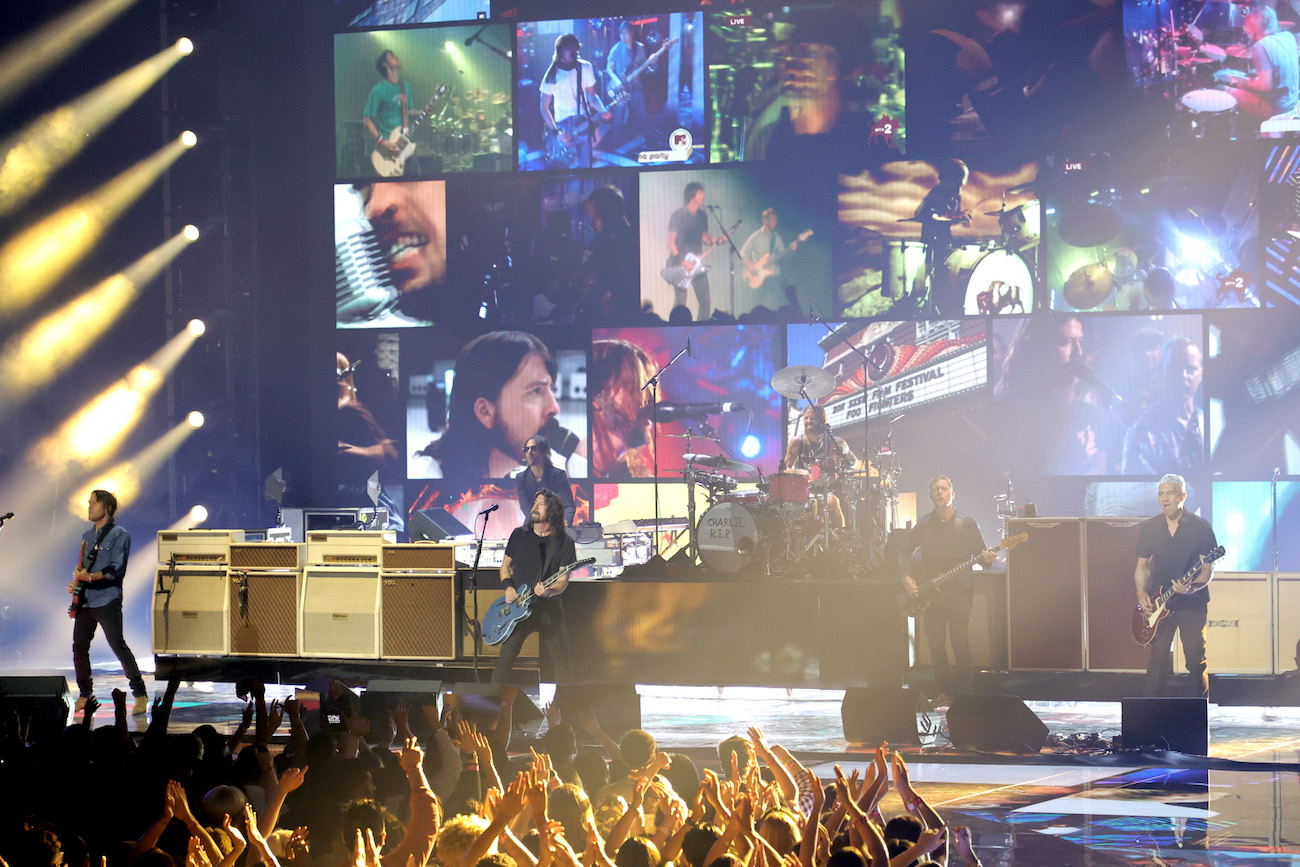 RELATED: The Foo Fighters Tie for No. 1 in Most Rock and Alternative Airplay With an Interesting Band
Foo Fighters paid tribute to Charlie Watts
Even though the MTV VMAs were paying tribute to Foo Fighters, the band paid tribute to Watts. While performing their set, the cameras panned to drummer Taylor Hawkins. On his kit were the words "Charlie R.I.P." It was a touching, subtle way of acknowledging their musical hero.
Fans online praised the band for their thoughtfulness. "Nice little nod to the Rolling Stones drummer, one fan wrote in MTV's YouTube comments. "RIP Charlie." Other fans commented with the crying emoji.
RELATED: What's Next for The Rolling Stones After Drummer Charlie Watt's Death?
This isn't Foo Fighters' first tribute. They've always made sure to acknowledge their fallen heroes. In July, the band paid tribute to ZZ Top's Dusty Hill during their Cincinnati show. It's not really surprising, though. Foo Fighters is a class act.