Music Producer Timbaland Once Admitted to Being in Love With Aaliyah When She Was Only 16
When it was revealed that R. Kelly had allegedly married Aaliyah when she was 15-years-old during the first two parts of Surviving R. Kelly, many of us were taken back and quite disturbed by this shocking revelation.
While many were quick to cancel R.Kelly for pursuing an inappropriate relationship with the underaged singer, it was soon revealed that he wasn't the only one who'd taken a liking to Aaliyah when she was a teen. It turns out that back in 2011, music producer Timbaland confessed to having strong feelings for Aaliyah when they first. The only problem was that he was 23 at the time and she was only 16.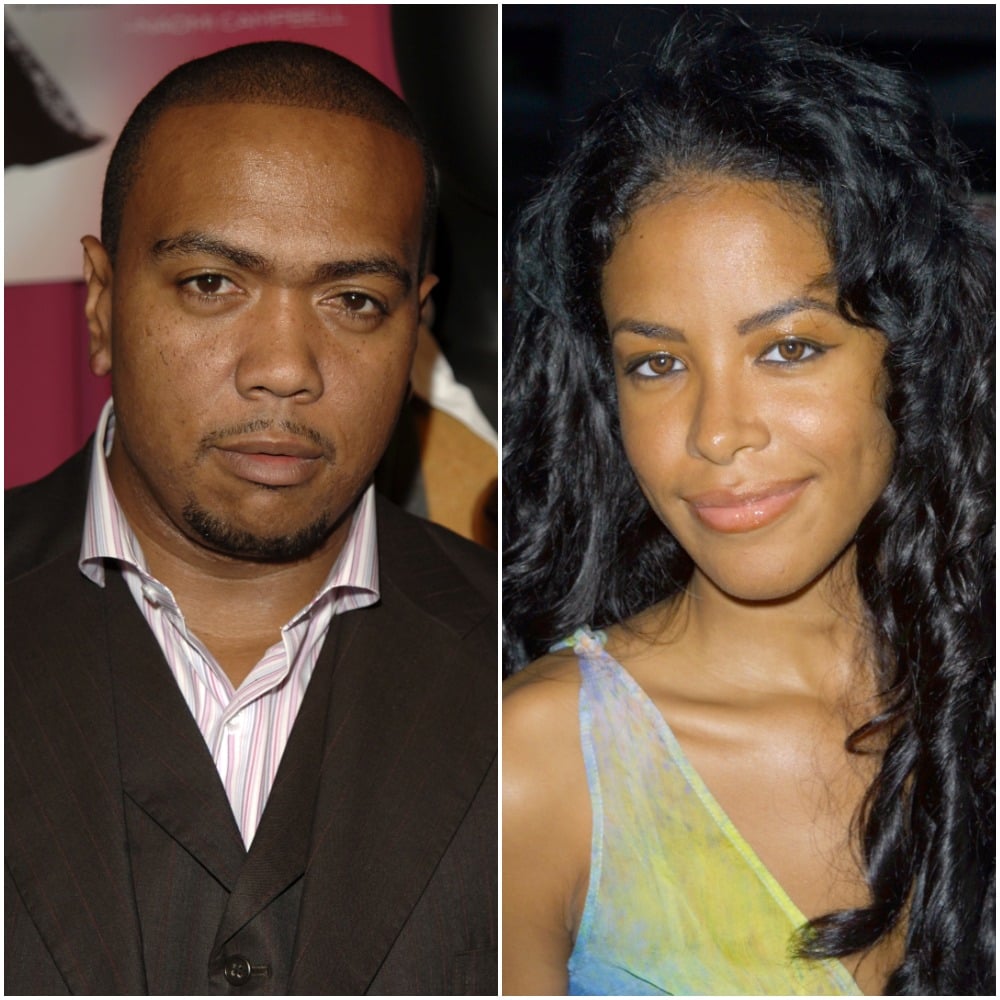 Aaliyah and Timbaland were a legendary musical duo
When Aaliyah moved from Jive Records over to Atlantic Records in 1996, she was introduced to record producers Timbaland and Missy Elliott, who contributed to her second studio album, One in a Million.
Though Missy Elliott recalled Timbaland and herself being nervous about working with Aaliyah, the three instantly hit it off and quickly got to work on her album.
RELATED: Aaliyah: Did She Ever Have a Number-One Hit?
One in a Million was released on August 27, 1996, and produced six singles, including "If Your Girl Only Knew," "One in a Million," "Got to Give It Up," "4 Page Letter", "Hot Like Fire," and "The One I Gave My Heart To," with the last becoming the album's highest-charting single, peaking at nine on the US Billboard Hot 100.
The album turned out to be the beginning of a special work relationship between Aaliyah and Timbaland. After that, the two went on to collaborate on several tracks together, including Aaliyah's hit single "Try Again" from the soundtrack of the film Romeo Must Die.
Timbaland and Aaliyah were considered one of the greatest singer/producer pairings in the industry. Aaliyah even said she had a ton of chemistry with Timbaland when they worked together since she felt she could express herself authentically around the music producer.
She told Billboard in 2001 that when she and Timbaland would "come together to work, it just happens. There is no one thing that influences us; it just comes from within. I never want one particular thing to influence me to [the point] where I do something that's not me. I'm adamant about staying true to myself."
Timbaland fell in love with Aaliyah when they first met
Though Timbaland and Aaliyah maintained a close friendship until her unprecedented death in August 2001, being friends with the singer wasn't the relationship the music producer initially had in mind when they first met.
During his E!'s True Hollywood Story — which aired in 2011 — the songwriter recalled the time he and the "princess of R&B" first crossed paths when he was 23, and she was 16.
According to Timbaland, he was entranced by the singer and instantly fell in love with her.
RELATED: One Of Rapper Eve's Biggest Songs Was Originally Meant For Aaliyah
"When I first met Aaliyah — it time for the world to hear this, I'm gonna give a little secret—I was in love with her. I said, But I'm not…She just a baby, I'm old," Timbaland said. "I said to myself, 'I'm just gonna be her brother.' Oh man, I was fightin', I was fightin' a lot — a big war. But I loved Aaliyah."
While that revelation was rather surprising, Timbaland then claimed that he first noticed his wife, Monique Idlett, "because she looked like Aaliyah."
"When I first met my wife, I knew I was going to marry her because she looked like Aaliyah," he said.
Despite his attraction, Timbaland never acted on his feelings for Aaliyah, and their relationship remained strictly platonic until her tragic death in 2001.