'Narcos: Mexico' Star Diego Luna Once Revealed He 'Didn't Want Any Contact' With the Real-Life Narcos Leader He Portrayed on Television
Netflix's Narcos: Mexico follows the development of the Mexican drug trade. In the spinoff series, actor Diego Luna played drug trafficker Miguel Ángel Félix Gallardo for the first two seasons. Although the actor gave a noteworthy performance, Luna revealed he wanted to have zero contact with Gallardo while preparing for the role. Here's why the Mexican actor didn't want to have any contact with the real-life Narcos leader.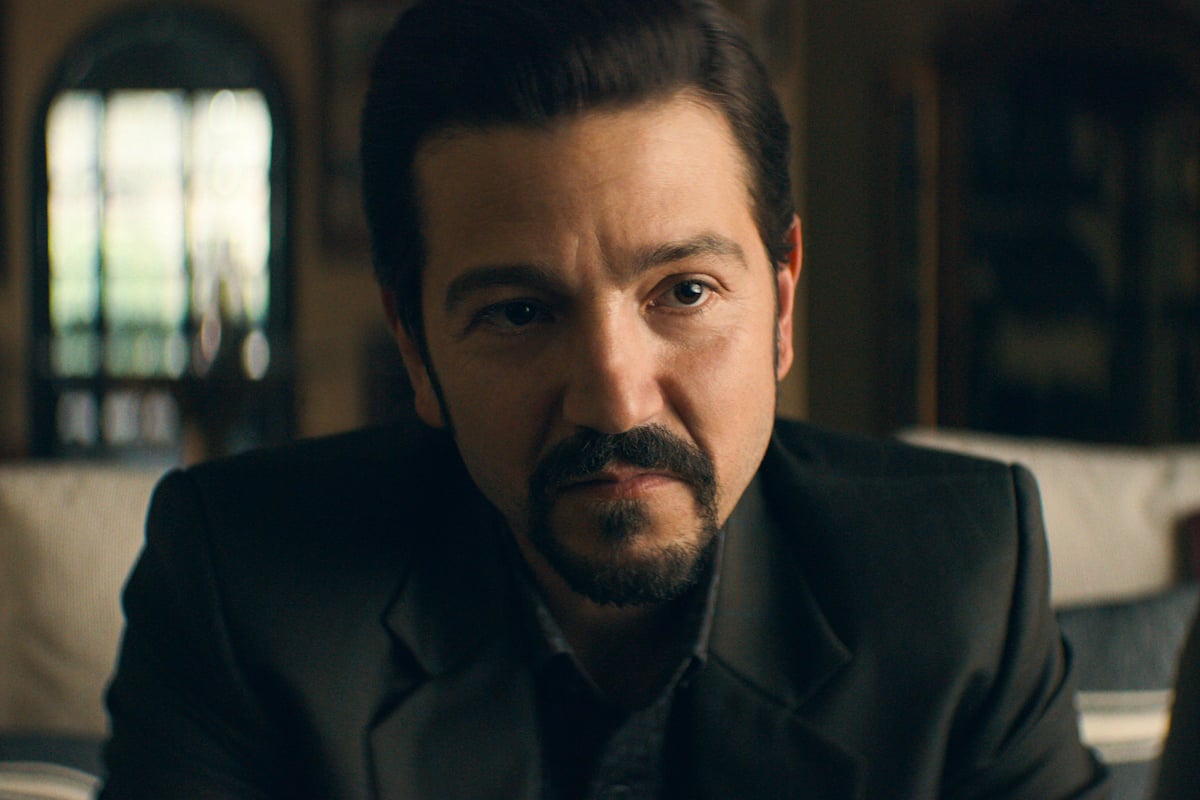 Who is Miguel Ángel Félix Gallardo?
RELATED: 'Narcos: Mexico' Season 3: Showrunner Explains His 1 Regret About Casting Bad Bunny
Actor Diego Luna played Miguel Ángel Félix Gallardo in the first two seasons of Narcos: Mexico. Gallardo, who is called "El Jefe de Jefes" (The Boss of Bosses) and "El Padrino" (The Godfather), is a Mexican drug lord. He was one of the founders of the Guadalajara Cartel in the 1970s.
During the 1980s, the cartel controlled the drug trafficking business in Mexico and the Mexico/United States border. In 1989, Gallardo was arrested for the murder of DEA agent Enrique "Kiki" Camarena. Since then, Gallardo has been serving a 40-year prison sentence at the Altiplano maximum-security prison. But, he was transferred to a medium-security prison in 2014 because of his poor health.
Why Diego Luna refused to meet with the real-life drug lord
RELATED: 'Narcos: Mexico' Star Luisa Rubino Said the 'Fires' and 'Guns Shooting' Excited Her the Most
To prepare for the role, actor Diego Luna researched Félix Gallardo's early life and cartel business. But, Luna had no desire to reach out to the real-life drug lord and gain a bigger perspective on the character. Gallardo is currently in jail for his crimes. But, the actor refused to meet with him in real life and talk to anyone who knew him.
"I didn't meet him, I didn't talk to him [and] I didn't talk to people that knew him," he explained."I decided not to go there [and I wanted to] work with the material that's already written, or in documentaries, and stuff like that. But, I didn't want any contact with him."
Initially, the actor didn't want to play the drug lord at all. But, Narcos: Mexico showrunner Eric Newman convinced him to take on the role. In an interview with The New York Times, Luna explained how Newman persuaded him to play Gallardo on-screen. Newman told the actor Gallardo was not a "simple black hat," but the "symptom of a larger disease."
But, Luna saw an opportunity for non-Mexican residents to understand the drug trade at full capacity. "One of the reasons I decided to play Gallardo as I did was how little information you can find about his personal life," Luna continued. "There are a lot of questions. There are a lot of blank spaces. In my research, I found a lot of my questions had no answers. It allowed me to create a character with complete freedom, using the material I had and filling those spaces."
Why Diego Luna didn't return for 'Narcos: Mexico' Season 3
Narcos: Mexico fans were surprised to hear Diego Luna wouldn't return for the last installment of the spinoff series. So, why didn't the actor return for the third and final season? Well, it seems Luna needed a break from the Narcos universe.
In an April 2020 interview with IndieWire, the Mexican actor said he needed a break from the series. "At the beginning, it was fun, but then it became really heavy for me. I need rest. Those two years were really intense for me," he explained.
Meanwhile, the Narcos: Mexico star will return to the Star Wars universe in the Disney+ series centered around his Rogue One character Cassian Andor. At the moment, there is limited information about the project. But, Luna revealed he's eager to return to the Stars Wars universe.
"I can't really talk about it. The thing I can tell you, and it's a nice challenge, and it's a great way to approach a show, but what happens when you already know the ending?" Luna explained, referring to Cassian's death at the end of Rogue One. "Then it becomes about the story. Everything is in how you tell the story and how many different layers you can find. This can't be a show now where at the end we surprise you with like, 'Oh no, it wasn't him!' We've already seen the ending."
All three seasons of Narcos: Mexico is streaming now on Netflix.