'Narcos: Mexico' Is Returning to Netflix for Another Season — Here's What We Know
It's been a while since the Narcos franchise released anything new on Netflix but that's about to change. Fans can expect the 10-episode final season to drop via the streaming service sooner than you think. This time around, there will be a few changes. Here's what we know so far.
'Narcos: Mexico' Season 3 release date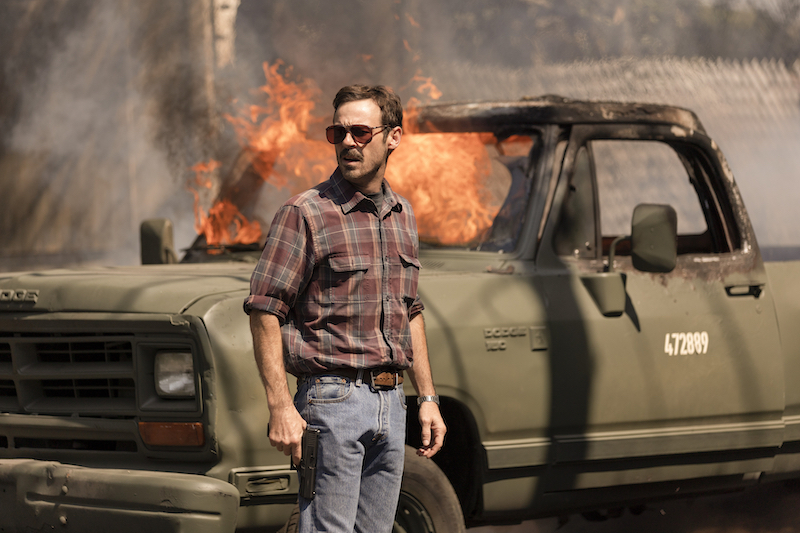 The Mexico iteration finally returns for its final run. On Nov. 5, 2021, the streaming service will release the 10-episode series which makes it the sixth season total in the franchise's history. The renewal came in 2020 with news that showrunner Eric Newman will focus on other projects but remains an executive producer. Co-creator and executive producer Carlo Bernard will take on Newman's role for this round.
"I am grateful for my five years at the helm of Narcos and Narcos: Mexico, and immensely proud of what this spectacular team has achieved with these shows," Newman told The Hollywood Reporter. "When we began this endeavor — making a show in two languages, in a country that had never seen this kind of production — it seemed insane."
He continued: "But Netflix saw its potential then and their faith in us never wavered. Carlo Bernard is the first person I ever spoke to about this project, over 10 years ago, and I am extremely pleased to leave the steering of season three of Narcos: Mexico in his extremely capable hands."
Plot and casting for 'Narcos: Mexico' Season 3
The upcoming season will come with a few changes. Star Diego Luna won't reprise his role as Felix Gallardo due to his commitment with Disney+ for the Star Wars prequel series. However, co-star Scoot McNairy will return as DEA agent Walt Breslin. José Maria Yazpik, Alberto Ammann, Alfonso Dosal, Mayra Hermosillo, Matt Letscher, Manuel Masalva, Alejandro Edda and Gorka Lasaosa will also return to the gritty series along with Bad Bunny and Beau Mirchoff.
According to Netflix, season 3 begins in the 90s with a new cartel story to follow. The previous season closed after arresting Gallardo for the kidnapping and murder of DEA agent Kiki Camarena (Michael Peña). This paved the way for the Sinaloa, Tijuana, and Juarez cartels to take over in an inevitable turf war. That means we will see more of Joaquín "El Chapo" Guzmán's (Edda) rise to power.
Luis Gerardo Méndez, Alberto Guerra and Luisa Rubino join the cast for the new season despite the absence of Luna.
"It's a system that creates these characters and gets rid of them when they're not needed anymore," Luna previously told Entertainment Tonight. "In actuality, it's not good and bad. It is not good people chasing the bad guy. It's a system where corruption is present everywhere, and it's a system that involves government, police, military, banks on both sides of the border. You can not change the system. It's the system that changes you."
Another 'Narcos' alum returns
Filmed in Mexico City, Narcos: Mexico welcomes former Narcos star, Wagner Moura — but this time he'll stay behind the lens. That actor who famously played Pablo Escobar for the first two seasons of Narcos (and a cameo in Mexico) directs two episodes of the third season.
The upcoming season will also have a new narrator. Luisa Rubino — the first female narrator — stars as a journalist trying to expose corruption. Other seasons were voiced by Boyd Holbrook, Pedro Pascal, and McNairy.
We can't wait to see how the new season unfolds in November.