'National Treasure' Stars Nicolas Cage and Diane Kruger Bonded Over Karaoke
Nicolas Cage is one of Hollywood's biggest stars, a quirky entertainer who regularly makes headlines thanks to his unconventional movie roles. Although Cage is well known for his tendency to pick independent movies to work on, he's also filmed a number of blockbusters. One of his best-known movies is National Treasure, an action-adventure film that features a healthy dose of mystery and historical intrigue. Cage co-starred in the film with Diane Kruger, a German-American actor. The two had great chemistry on screen, and as Nicolas Cage later revealed, he and his National Treasure co-star, Diane Kruger, bonded offscreen through a rather unconventional activity. 
Nicolas Cage was a huge star by the time he acted in 'National Treasure'
Nicolas Cage was born into a show-business family, the nephew of the iconic director Francis Ford Coppola. Cage's film career began in the early '80s, with roles in movies such as Rumble Fish, Peggy Sue Got Married, and Raising Arizona. Cage earned a reputation for being quirky, funny, and unconventional — but it wasn't until the mid-'90s that the young actor really hit his stride. Cage earned an Academy Award for his work in the dramatic film Leaving Las Vegas, and the decade kicked off a string of roles in high-profile movies. 
In 2004, Cage played Benjamin Franklin Gates, a historian and cryptologist, in the film National Treasure. The action-adventure movie was a big hit with fans, and although critics did not give it great reviews, it was still one of the biggest films of the year — thanks in large part to the dedication and talent of Cage. It holds up to this day as a fan-favorite movie with a number of great action sequences.
How did Nicolas Cage and Diane Kruger bond while filming 'National Treasure'?
Diane Kruger played Dr. Abigail Chase in National Treasure, an archivist at the National Archives who aids Benjamin Gates in his outlandish treasure hunt. Abigail and Benjamin eventually formed a romantic attachment.
Cage and Kruger probably didn't know it at the time, but National Treasure would become one of the most beloved films of the early 2000s. Still, the two worked hard to get their chemistry right, with Cage later admitting that he and Kruger practiced an unconventional hobby in order to bond during filming.
"We'd go and karaoke from time to time and sort of blow it out and be completely ridiculous, which helped, I think," Cage later revealed, proving that they had just as much fun off-screen as on. "I think it was some Rage Against the Machine, AC/DC and some Sex Pistols."
What else has Kruger appeared in, other than 'National Treasure'?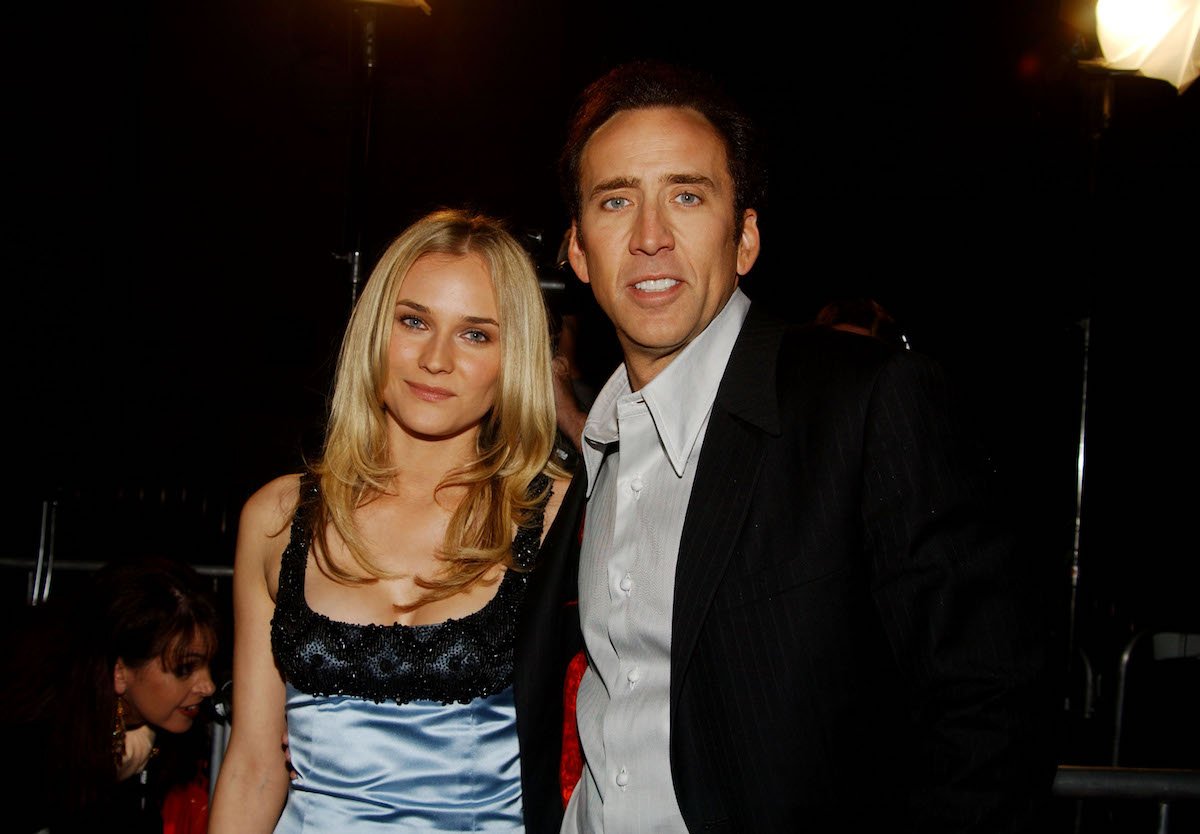 In 2004, the same year that Kruger appeared in National Treasure, she also played Helen of Troy in the blockbuster film Troy. The two high-profile movies being released the same year helped to solidify Kruger's status as a Hollywood "it" girl, and over the years that followed, she landed a number of big movie roles, including Inglourious Basterds and Unknown.
A sequel to National Treasure, titled National Treasure: Book of Secrets, was released in 2007. In May 2020, Disney+ confirmed that a third film in the National Treasure franchise — one that would feature Cage reprising his role as Benjamin Gates — was in the works, as well as a series starring a younger cast. Fans are definitely excited about the possibility of seeing Cage back on screen, hunting treasure and slinging wisecracks.
Stay tuned to Showbiz Cheat Sheet for all the latest entertainment news!
RELATED: The Best Nicolas Cage Movies Streaming on Netflix Right Now