'NCIS' EP Talks Maria Bello's Exit — Will She Be 'Killed Off' Like Cote de Pablo?
After 17 seasons on the air, NCIS has plenty of experience with saying goodbye to popular characters. The writers and producers will have to tackle the issue once again during season 18. As fans know, it was revealed earlier this summer that Maria Bello (Jack Sloane) is saying goodbye to the CBS drama after three seasons. Co-showrunner Frank Cardea says they plan to give the character a "worthy" send-off. Will Bello follow in the footsteps of Cote de Pablo by getting "killed off"?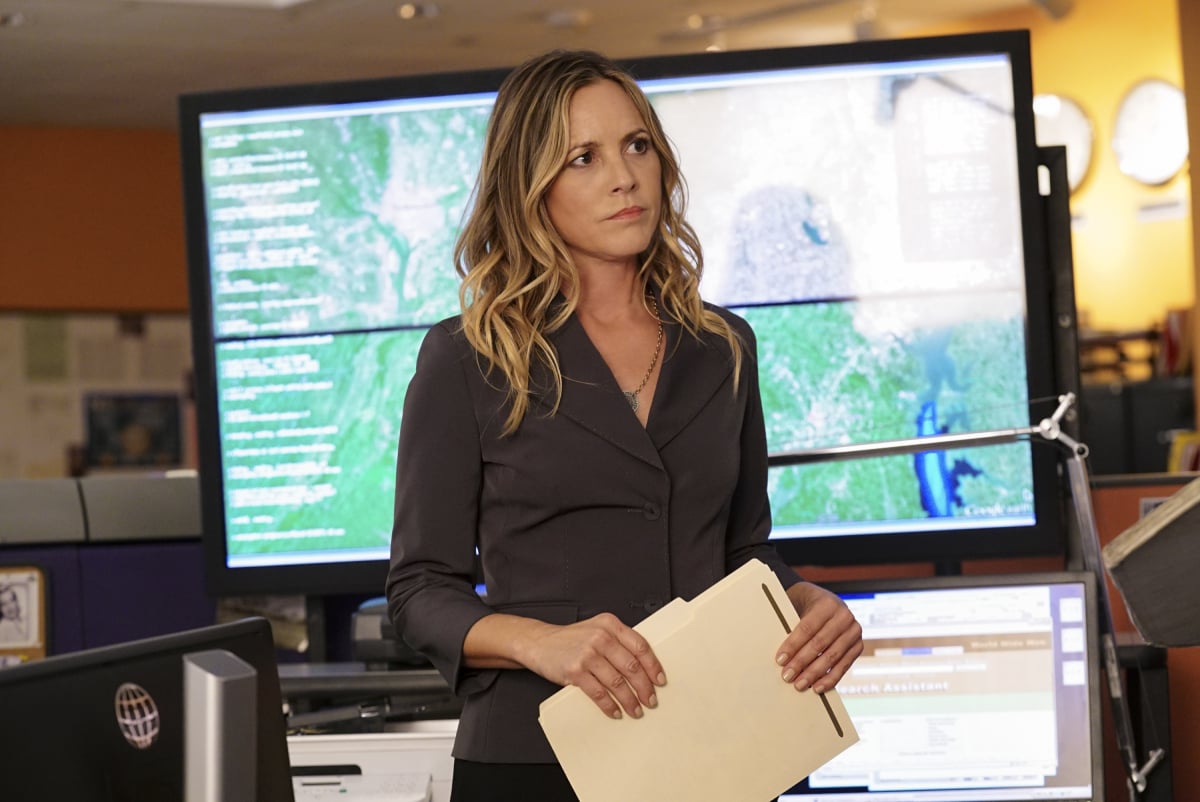 Will 'NCIS' fans find out what's really going on between Jack Sloane and Leroy Gibbs?
Before NCIS confirmed that Bello was on her way out this season, fan speculation was running high about a possible romance developing between Sloane and Leroy Gibbs (Mark Harmon). As Carter Matt notes, there were weeks when no one was certain that Bello was leaving. This gave fans some hope that Sloane and Gibbs had a future together.
But co-showrunner Frank Cardea has now confirmed that season 18 will be Bello's last. As for the tension between Sloane and Gibbs, Cardea says they won't ignore it. He promised that NCIS writers would address the "ongoing wonderment about what's going on between her and Gibbs."
This answer indicates that fans will get some answers about the fan-shipped couple. However, it doesn't look like they will get the answers they wanted. Luckily, fans will get eight more episodes with Bello as Sloane before her official exit from the series.
Will 'NCIS' writers kill off Jack Sloane in season 18?
Jack Sloane has become a popular character among fans during her three seasons on NCIS. After it was announced she was leaving, fans immediately started speculating about how their favorite forensic psychologist would exit the series.
Some believe that writers will kill off the character, just like they did with Sasha Alexander's character Caitlyn "Kate" Todd. They also tried killing off Cote de Pablo's Ziva David, but that didn't last forever. De Pablo's Ziva was killed offscreen in season 13, only to make a shocking return in the season 16 finale of NCIS.
As Express points out, a death would be shocking considering Sloane's prominence in the series. Cardea explained that whenever an actor leaves the series, the writers ask a certain series of questions to determine the best exit for their character.
No matter how they make it happen, Wilmer Valderrama (Nick Torres) says Sloane's exit on NCIS will be "interesting for Torres."
"Because he's learned to lean on them [Sloane and Gibbs] for different things, and he's learned a lot from them," Valderrama explained. "I think you're going to see a more vulnerable Torres, and he's not going to like it."
Maria Bello's Jack Sloane will get a 'worthy' send-off
Cardea says that the most important thing writers ask when a character exits is "what does that character deserve?" When it comes to Sloane, they are still trying to figure that out.
"The character of Sloane is a very strong character and a passionate character," Cardea noted. "So we're going to really have her go on something worthy of that."
If they choose not to kill off the character and opt for a less-definitive route – like a new job – it could lead to Sloane's return in future episodes of NCIS.
As Cinema Blend notes, the first few episodes of season 18 are going to jump back in time to November 2019. It isn't clear if Bello's final episodes will be part of the time jump. Or, if they will wait until present day episodes to say goodbye to Sloane.
Fans will have to wait and see how NCIS officially says goodbye to Maria Bello's Jack Sloane. The speculation is that season 18 of NCIS will premiere in November on CBS.