'NCIS' Fans Are Convinced Wilmer Valderrama Leaked Who Is Replacing Maria Bello's Jack Sloane
NCIS will soon be saying goodbye to Maria Bello and her character Jack Sloane. Ahead of season 18, Bello announced she would be leaving the CBS procedural this season, and she wasn't waiting until the end. Instead, Bello is only appearing in eight episodes, and the final one is scheduled for February 16.
Even though Bello has yet to say her final goodbyes, some fans believe her co-star Wilmer Valderrama (Torres) has already revealed who her replacement will be.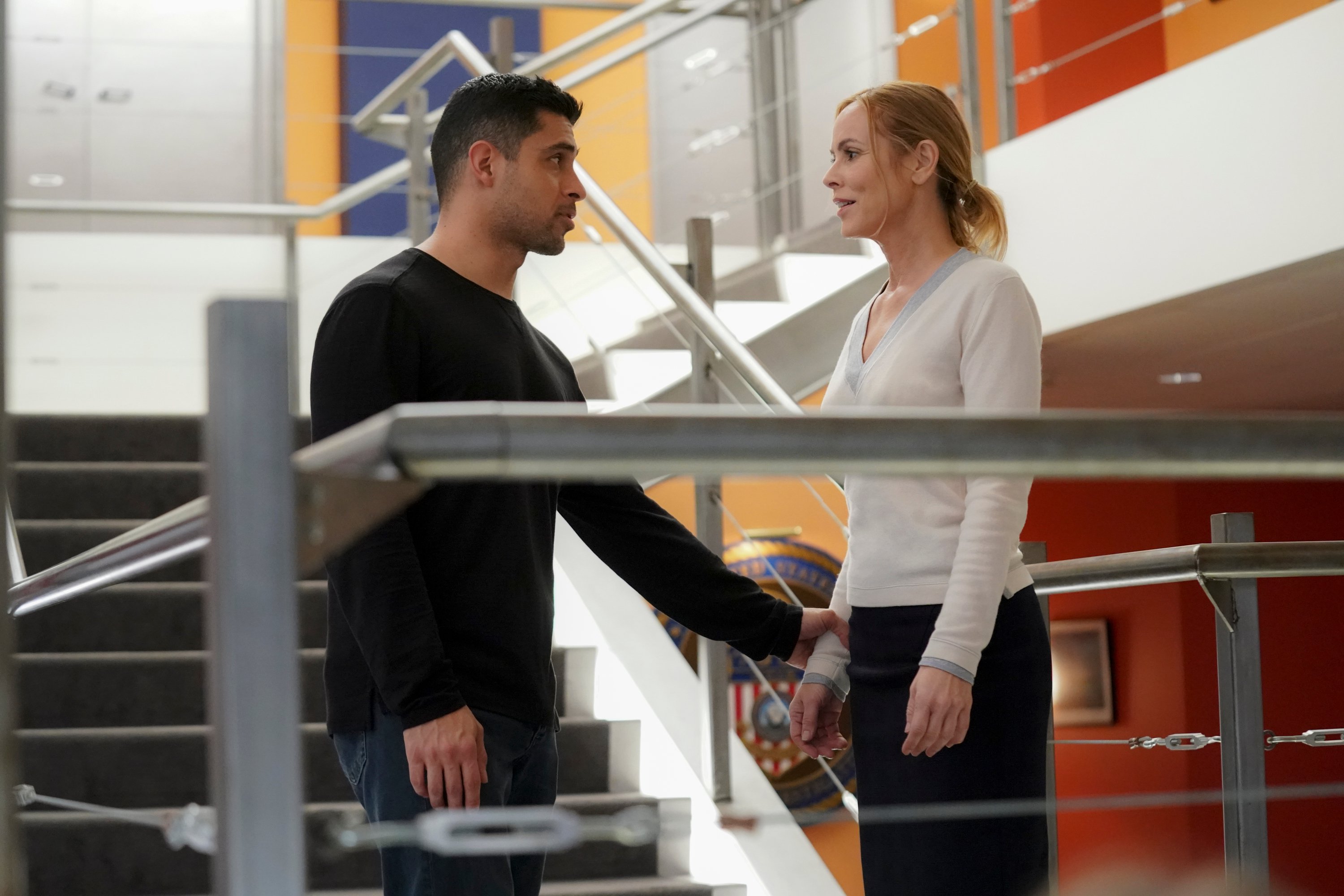 Why is Mario Bello leaving 'NCIS'?
Bello joined the long-running series back in season 15 as Dr. Jacqueline "Jack" Sloane. But just like many who have come before her, her time at NCIS will be relatively short and sweet. The only OG cast members left are Gibbs (Mark Harmon), Ducky (David McCallum), and McGee (Sean Murray).
Everyone else has retired, moved on, or been killed off. At this point, NCIS fans know better than to get attached to any agent on the squad.
During her short time on the series, Sloane has become an integral part of the cast. Her exit has left fans with many questions. Most notably, they want to know why Bello is leaving. According to Looper, the actress signed on to the CBS series with a three-year contract. It appears that she always intended her run on NCIS to be limited and opted not to renew.
Bello does have several movie projects in the works, both as an actress and a producer/writer. While she has had a handful of TV roles during her career, she mostly focuses on film. It seems that after three years on TV, Bello is ready to return to the big screen.
Fans aren't happy about Sloane's exit
Sloane is a former US Army Lieutenant and expert criminal profiler who joined NCIS in Washington DC after working in the San Diego field office. During her short time on the show, Sloan has been the team's operational psychologist. After being held captive and tortured in Afghanistan, she has a special talent for working with POWs.
The character has become extremely popular with fans, and that aren't ready to see her go. Especially because of the "will they, won't they" storyline she has with Gibbs.
"I don't know whether to be mad or sad for Maria's exit on NCIS," one fan wrote. "it's just that she became a role model for me and her character (Jack Sloane) made me realize a LOT of things." The fan also wanted happiness for Sloane and Gibbs, adding "Sloane deserves all the happiness in the world and I think it should be with Gibbs."
Another added, "Makes no sense to me… you invested so much in this wonderful character just to drop it now? Unbelievable. Maybe you underestimate the difference Jack Sloane makes to the show."
Most fans on social media also made it clear that they don't want Sloane killed off the show. One pointed out that NCIS has the habit of killing off female characters, and they'd like to see the show do something different.
Did 'NCIS' star Wilmer Valderrama leak Sloane's replacement?
Just days before Bello's final episode, Valderrama took to Instagram to let fans know that he had reunited with his From Dusk Till Dawn: The Series co-star Zane Holtz. Valderrama told fans that Holtz will be playing Federal Agent Sawyer on NCIS. And some believe he will be Bello's replacement.
"Together again, ladies & gentlemen… meet Federal Agent Sawyer.. @zaneholtz, welcome to the #NCIS Team… long way from Dusk and Vampires," Valderrama wrote.
Fans immediately started discussing the possibility of Holtz's character replacing Bello's in the comments. Even their co-star Emily Wickersham (Bishop) chimed in to let Valderrama know that she also has a history with Holtz.
"But have you known him as long as I have?" Wickersham wrote. "@zaneholtz 16-year-old friendship? Just trying to work the math out [wink emoji] Cc @chelseatheaholtz @wilmervalderrama."
Many fans opined that Holtz's character would be replacing Sloane. However, that isn't set in stone, and CBS hasn't confirmed it. It's purely speculation. Fans will have to wait and see how it all plays out when Sloane finally says her goodbyes.
NCIS airs Tuesday nights on CBS.