'NCIS': Gary Cole Wants to Make 1 Thing Clear to Fans — 'I'm Not Trying to Be' Gibbs
Mark Harmon exited 'NCIS' after more than 400 episodes, but newcomer Gary Cole wants to make it clear he is not on the show to be the new Gibbs.
ARTICLE HIGHLIGHTS
NCIS announced that Gary Cole was joining the show ahead of season 19.
The announcement came amid the news that Mark Harmon was "ready to leave" after more than 400 episodes.
Cole wants to make one thing clear to NCIS fans.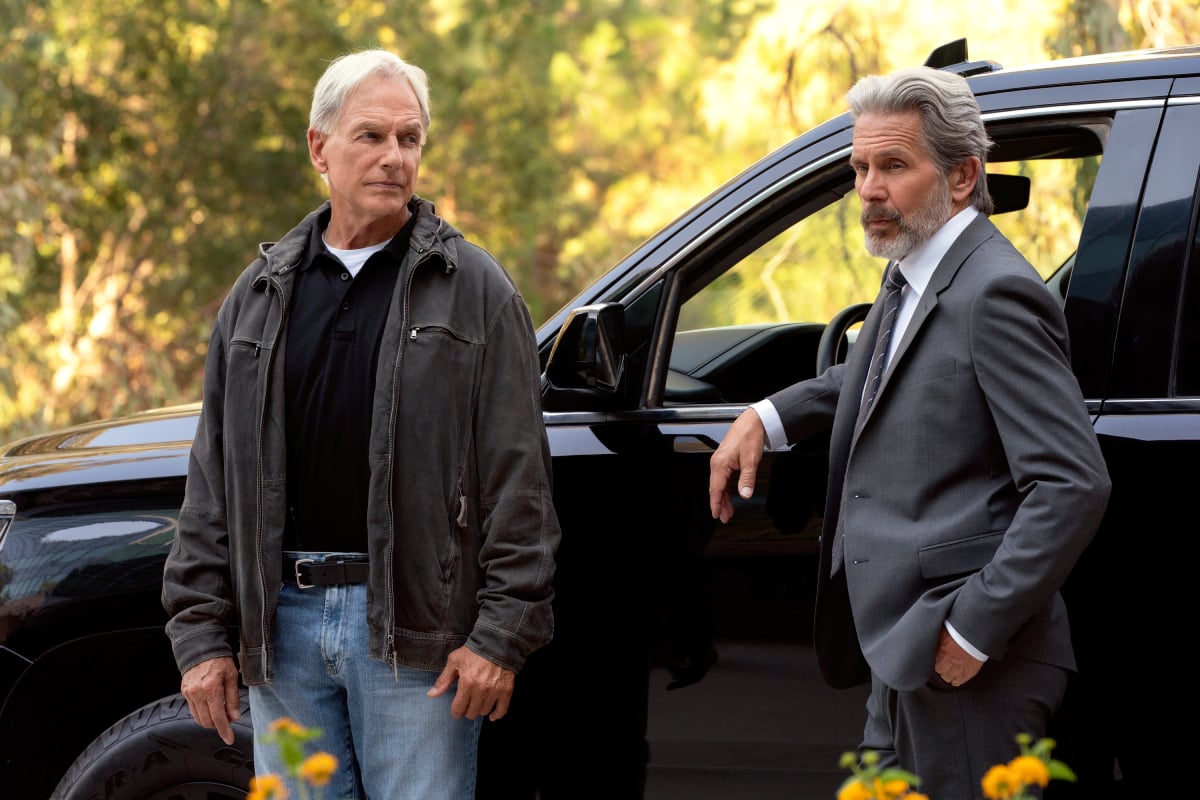 NCIS newcomer Gary Cole (Alden Parker) has some big shoes to fill on TV's most-watched drama. Now that Mark Harmon's Leroy Jethro Gibbs has made his exit, Cole's character has taken over as his replacement and is now leading the team. But the veteran actor wants to make one thing clear to NCIS fans — he's not trying to be Gibbs.
Mark Harmon made his 'NCIS' exit in the 4th of episode of season 19
Before the current season began, fans knew that Harmon would likely be taking a reduced role on NCIS after starring in more than 400 episodes. But what they didn't expect was Gibbs saying goodbye to his team and leaving for good.
In Season 19, Episode 4 "The Great Wide Open," Gibbs and McGee (Sean Murray) were working a contract killer case that led them to Alaska. By the time the case was over, Gibbs had found some peace and chose to stay behind while McGee returned to Washington D.C.
Fans met Gary Cole's Alden Parker in episode 2
While Gibbs was saying his goodbyes during the first four episodes of the season, NCIS introduced fans to the man who would become his replacement. In episode 2 "Nearly Departed," viewers first saw Cole's Alden Parker, who at the time was an FBI agent working undercover.
Since NCIS had announced the addition of Cole as a series regular before the season started, it was obvious that he would soon be leaving the FBI and joining NCIS. And that's exactly what happened.
After McGee turned down the opportunity to take over the team, Gibbs recommended Parker and he took the job.
Gary Cole wants to make 1 thing clear to 'NCIS' fans
The Emmy-nominated actor says he has a history of "dropping into shows,' but it's usually as a recurring character and not a new series lead. Taking over for an actor and character who has led the series for nearly two decades is a mighty task.
But Cole says that part of his job description is to come in and "get comfortable, whatever that takes." He's not trying to be a carbon copy of his predecessor.
"I'm not trying to be [Gibbs]. The writers made that distinction," Cole told TV Line.
Parker and Gibbs are two very different characters
Cole explained that his character is the new team leader at NCIS, but he's a lot different from the silent, stoic Gibbs. He also pointed out that Parker admires Gibbs, even though he might not say it out loud.
"Parker isn't overly chatty, but he is more verbal. He's not as old school; he tries to get his hands on new tech gadgets and impress everybody," Cole explained. "He's trying to fit in with the rest of the team. Although he may be reluctant to voice it, he admires that Gibbs breaks rules. Parker bends them. We'll see if it gets to the point of breaking."
'NCIS' fans will learn more about Gary Cole's Agent Parker as the season unfolds
NCIS is currently on hiatus for the holidays, but it will return on Monday, January 3, 2022, with an episode titled "Pledge of Allegiance" that was directed by Rocky Carroll (Director Vance). As the season progresses, Cole says that fans will get to learn more about his character's back story.
"There's a situation that did not go according to plan, and something tragic happened. He's purposely kind of an enigma," Cole said.
Showrunner Steven D. Binder has also said that season 19 will keep up the traditional case-of-the-week format that the series returned to in episode 5 after the overarching Gibbs storyline ended.
"I think it's time for us to sort of regroup and get back to telling good mysteries of the week with interesting characters, interesting stories, emotional hooks, and a satisfying ending," Binder said.
NCIS airs Monday nights on CBS.