'NCIS': Meet the Actor Who Plays Jimmy Palmer's Daughter
NCIS medical examiner Jimmy Palmer (played by Brian Dietzen) has been with the agency since 2004. He and his late wife, Breena, have a daughter named Victoria. In an upcoming episode, fans will get to meet her. Who's the actor who plays Jimmy's daughter? Here's what we know.
'NCIS' Season 19 Episode 13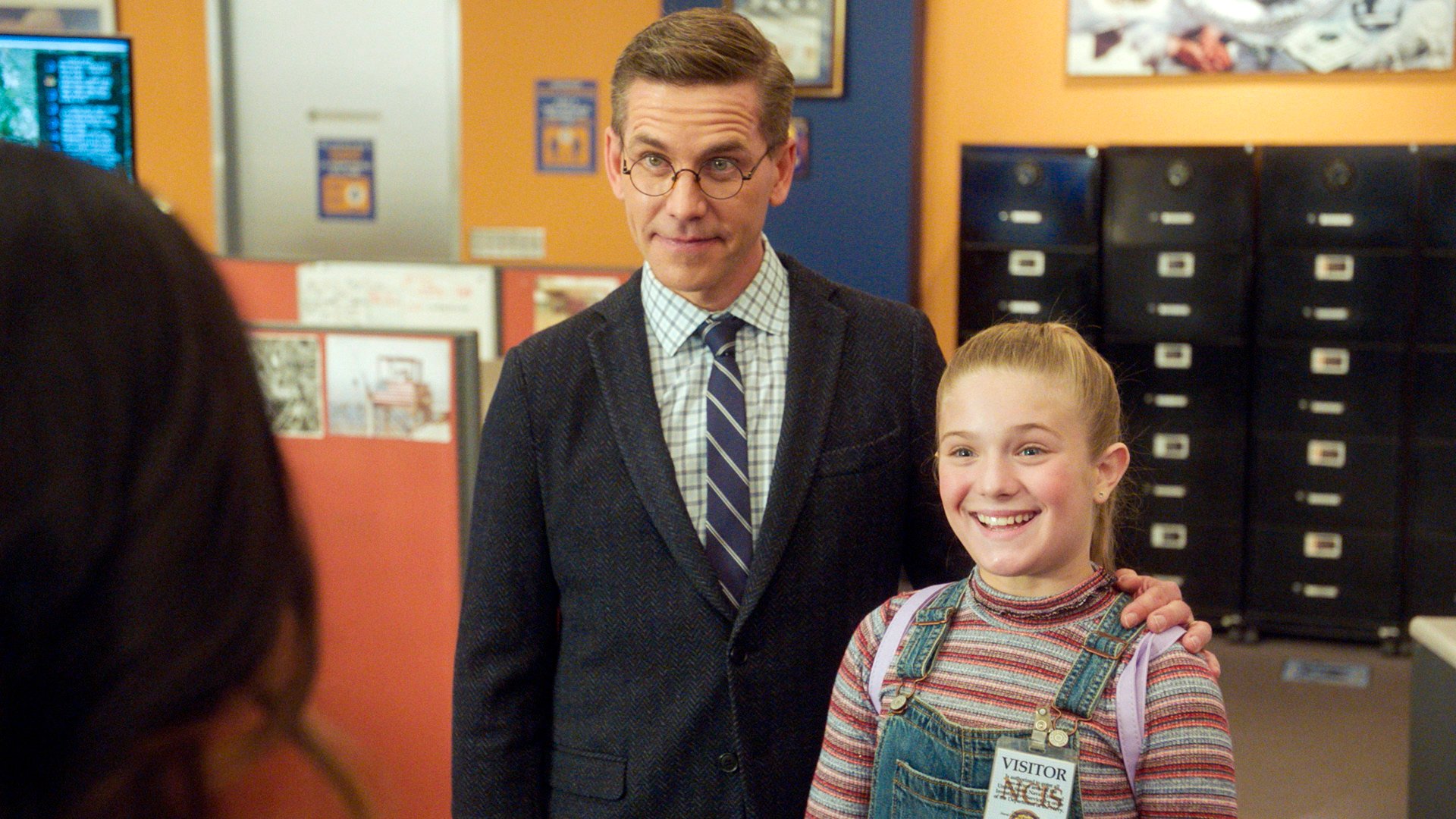 During NCIS Season 19 Episode 13 (titled "The Helpers"), Kasie Hines (played by Diona Reasonover) and Jimmy Palmer face a life-or-death situation. During their investigation into the death of an intruder at Quantico, they're exposed to a biotoxin.
The NCIS team springs into action and tries to help Kasie and Jimmy by finding an antidote to the toxin. They turn to Dr. Carol Wilson for assistance in their race against time.
Torres (played by Wilmer Valderrama) lends a hand by spending time with Palmer's daughter. Victoria visits the office because she's observing her dad at work for the day, but things quickly go sideways.
"We're bringing her back because she's going to come to work with her dad for a day!" says Dietzen during an interview with TV Line. "And so, the circumstances under which she comes back are not all that awful. But the things that happen afterwards, as they wont to do in the NCIS universe, get a little trickier than was initially proposed."
Torres tries to Victoria from what's happening. He doesn't want her to worry about Jimmy, especially since she lost her mother not too long ago. Hopefully, Torres will also get a break from his own troubles while he keeps Victoria company.
During NCIS Season 19 Episode 12, we saw him express his despair about being abandoned by his father. He's also still processing the loss of Gibbs (played by Mark Harmon) and Bishop (played by Emily Wickersham). Torres felt like everyone he cared about disappeared and left him to fend for himself.
Who plays Jimmy Palmer's daughter?
The actor who plays Jimmy Palmer's daughter is Elle Graper. She got her start on Broadway in shows such as Matilda, Sleeping Beauty and Her Winter Night, and It's a Wonderful Life. One of Graper's early TV roles was in a 2021 episode of Sesame Street in an episode titled "Family Day." That same year, she had a role in The Many Streets of Newark.
Jimmy Palmer's wife, Breena
Breena Palmer is played by actress Michelle Pierce. She has appeared in six NCIS episodes. We're first introduced to Breena, a mortician, during NCIS Season 7, Episode 16 (titled "Mother's Day"). The episode starts with Jimmy celebrating because he got a text from Breena. In the text, she agrees to go on a date with him.
The next time we see Breena is in season 7, episode 20 (titled "Moonlighting"). This scene opens with Jimmy proudly showing Ziva photos of him and Breena during some of their dates. They spent time in Baltimore and got matching henna tattoos.
RELATED: 'NCIS': It Was a Mistake to 'Kill' Cote de Pablo's Ziva David Offscreen According to EP
Follow Sheiresa Ngo on Twitter.