'NCIS' Season 18 Finale Teaser Has Some Fans Convinced This Is the End For 1 Fan-Favorite Character
NCIS is about to wrap season 18, and the trailer CBS just dropped for the finale has fans worried. After a season filled with rumors about the possible exit of Leroy Jethro Gibbs (Mark Harmon), will NCIS shock fans with an unexpected twist?
Will the season 18 finale be the end for fan-favorite Ellie Bishop (Emily Wickersham)?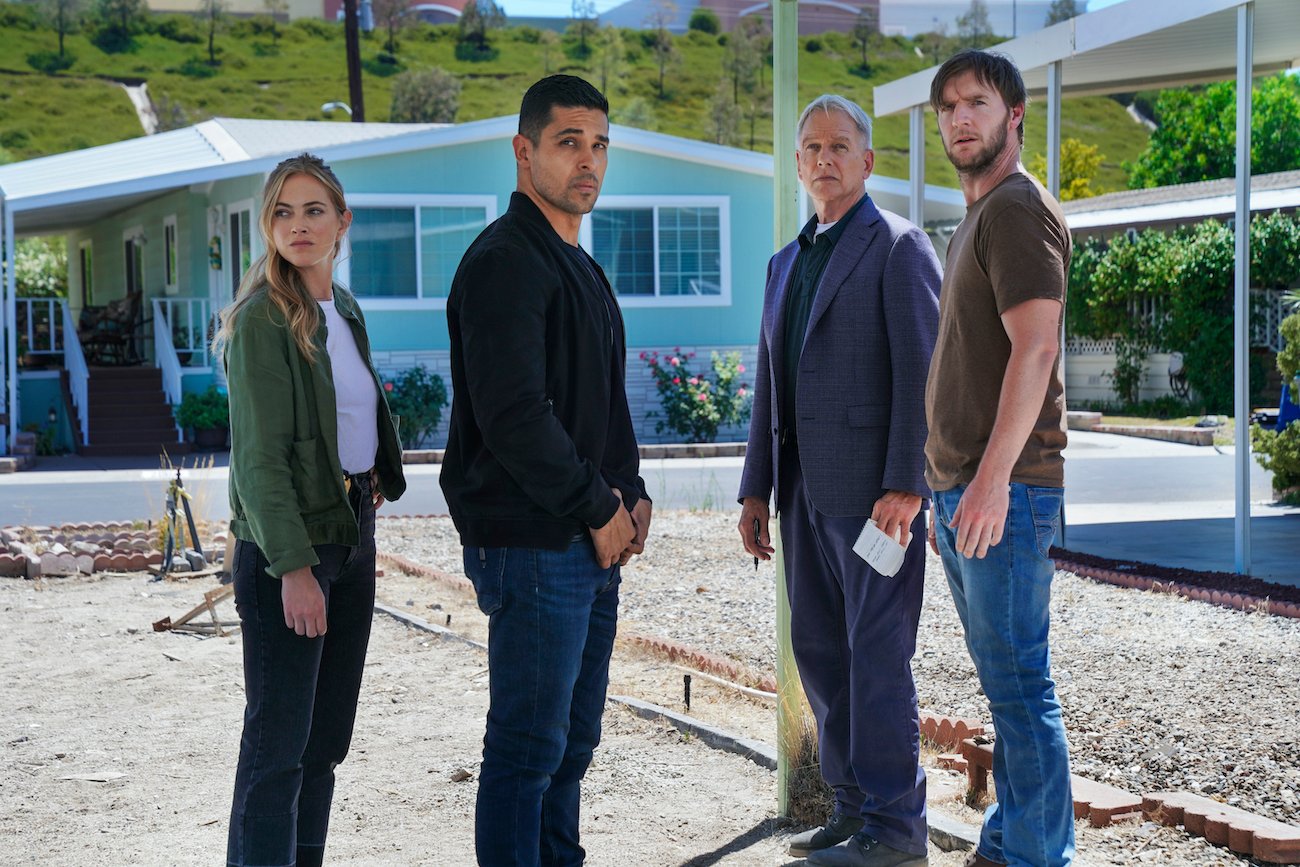 The 'NCIS' finale promo featured a jaw-dropping moment
There's been quite the tension between Agent Bishop and Nick Torres (Wilmer Valderrama) since he joined the show back in season 14. The "will they/won't they" tension has been building for years. And in the promo for the season finale, fans finally got the jaw-dropping moment they've been waiting for.
For a brief moment in the 20-second clip previewing the episode titled "Rule 91," Ellie and Nick are seen sharing a kiss. While this has caused some major excitement among the fandom online, some have been sharing their fear that this could be a kiss goodbye.
"I can't wait for the Ellick kiss, I hope it's not a goodbye kiss please," one nervous fan wrote in the teaser's YouTube comments.
A new character showed up in the penultimate episode
CBS cut season 18 down to just 16 episodes due to production issues amid the pandemic. But they've still had time to say goodbye to Jack Sloane (Maria Bello), kill off two other characters, and seriously injure a beloved member of the NCIS team, Tim McGee (Sean Murray).
In the penultimate episode of the season titled "Blown Away," NCIS introduced fans to a new character named Jessica Knight (Katrina Law).
After seeing the teaser for the finale, many fans are starting to wonder if Jessica Knight could be Ellie Bishop's replacement.
'NCIS' fans have a lot of theories
The season 18 finale teaser has sparked a ton of fan theories online, with many believing that Knight will be Bishop's replacement in season 19. But, not everyone is convinced that Bishop is leaving for good.
"Plot twist Bishop is leaving but to join the Hawaii team now that would be interesting," one fan wrote.
The demise of Ducky has also been a longstanding fan theory.
RELATED: 'NCIS' EP Promises Fans They Will Get Answers When It Comes to Bishop and Torres
Another fan pointed out that NCIS has a history of building sexual tension between two characters over a number of seasons. Only to have it realized with a brief kiss or a hookup when one of the characters is leaving the show.
Case in point: Tony DiNozzo (Michael Weatherly) and Ziva David (Cote de Pablo), as well as Gibbs and Sloane.
"Seems history is repeating with Bishop and Torres like it did with Tony and Ziva and Gibbs and Sloan departing with a kiss," one fan pointed out. "In-house relationships really do not work on this show."
Emily Wickersham has given no indication she's ready to leave
Despite everything that's going on in the NCIS season 18 finale teaser that seems to indicate Bishop's exit, there's one thing that needs to be addressed. Wickersham hasn't given any indication that she's ready to leave.
The actor joined the CBS procedural back in season 11 after de Pablo's exit. The Bishop character was supposed to be just a three-episode arc. But producers loved her so much that they brought her in as a permanent part of the cast.
With Wickersham not mentioning anything about a possible exit, it doesn't seem likely she'll be leaving the show. NCIS stars have a history of letting fans know they're leaving in advance.
"The actress has never given any indication she was leaving. So if she does it will be for a few eps to clear her name maybe," one fan theorized.
Wilmer Valderrama promises a can't-miss 'NCIS' season finale
Ahead of the season 18 finale, Valderrama told Entertainment Tonight that fans will finally get one that they deserve after missing out last season. The pandemic forced NCIS to end season 17 abruptly, cutting it short by four episodes.
We finally get to give the fans the season finale they've been wanting or needing or wanting to see," Valderrama revealed. "We were able to have a real season finale that leads us into a season premiere, and it's a major one. It's a major, major season finale."
The NCIS season 18 finale airs Tuesday, May 25 on CBS.