'NCIS' Season 19 Episode 2 Recap 'Nearly Departed'
ARTICLE HIGHLIGHTS
Gibbs and the 'NCIS' team find another victim
Fornell tells Gibbs it's time to retire
'NCIS' fans meet Gary Cole's Alden Parker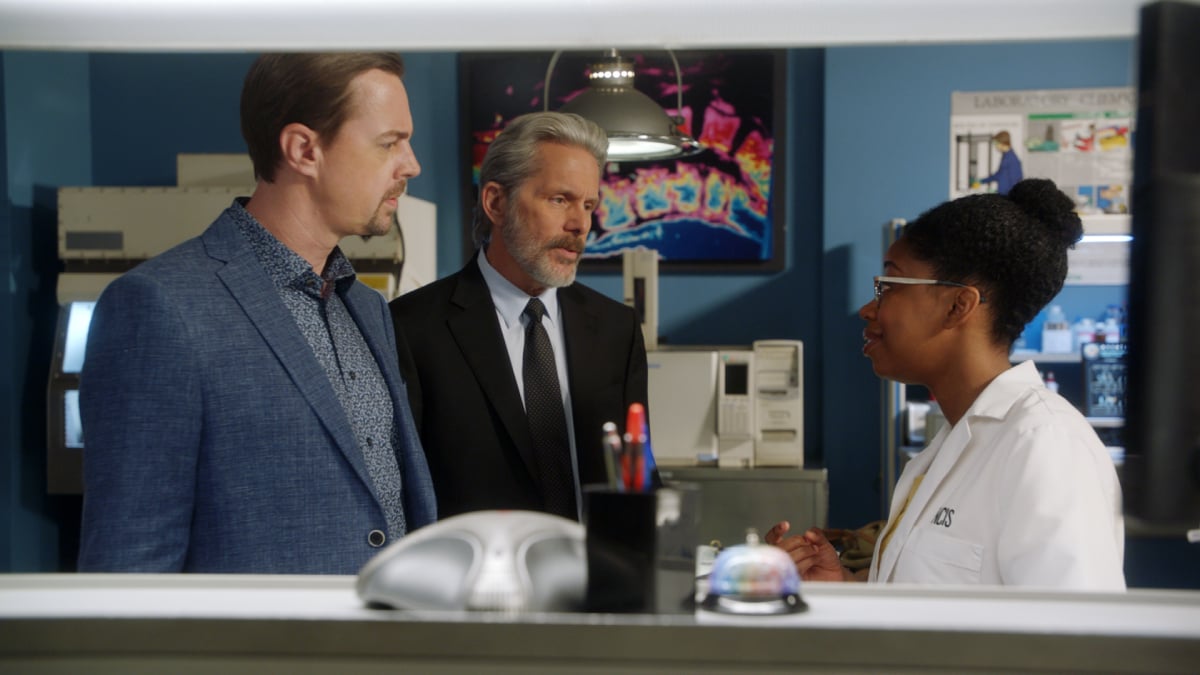 The second episode of NCIS season 19 seemingly began with a return to the traditional case of the week format. Titled "Nearly Departed," the episode's cold open featured a man buying some items at a market to take care of his "honey-do" list.
But when he opened the back door of his van, it was revealed that this man had a female hostage tied up in the back. Is he the serial killer that Gibbs (Mark Harmon) and investigative journalist Marcie Warren (Pam Dawber) have been looking for?
Gibbs and the 'NCIS' team find another victim
After Gibbs met up with his former team in the season 19 premiere, the second episode begins with an empty bullpen at NCIS headquarters. Vance (Rocky Carroll) immediately notices that everyone is gone, and tries to get info on their whereabouts from Kasie Hines (Diona Reasonover).
No one is at HQ because everyone is working with Gibbs in a makeshift squad room that Jimmy Palmer (Brian Dietzen) has set up in a barn. The goal, he says, is to get back to "almost normal."
Gibbs enters the barn just like he used to enter the squad room and asks his former team for up-to-date information about the serial killer case. Even if he's not their official team leader, McGee (Sean Murray), Torres (Wilmer Valderrama), and Knight (Katrina Law) act as if Gibbs is still in charge.
As they go over case details, it's revealed they've found another victim of the serial killer who was killed last year. The case matches the killer's M.O., with red duct tape and hammer marks. This brings the victim total to five.
Vance discovers that Gibbs has gone rogue
Vance apparently found out the team's location from Kasie, as he shows up at the barn and wonders if he should condone this "off campus gathering." The NCIS director notes that Gibbs has set up a squad room that's all his. While Gibbs reminds him that he would be "playing dead."
"The question is whether you'll be known as a dead suspended agent or an active one," Vance says.
Despite Gibb going rogue with a case all on his own, Vance still wants him back at NCIS. He says to Gibbs, "Come back. What will it take? You tell me, I'll make it work." When Gibbs asks if the offer is under the same conditions, he says he will stay dead until they find the serial killer.
'NCIS' tells the world that Gibbs is presumed dead
In an attempt to convince the serial killer that Gibbs died in his boat's explosion, Vance holds a press conference to announce that their lake search had been suspended. The chyron at the bottom of the screen reads, "Missing NCIS Agent Presumed Dead."
Meanwhile, the NCIS team has discovered the body of the woman first seen in the episode's cold open. And her husband tells them that he bought her a "pace bracelet" or FitBit type device because she runs every day.
They can't find the bracelet. But the info from her account lets them know the exact location where the killer took her. When the agents arrive at the basement apartment, their suspect escapes on foot, and Torres and Knight aren't able to catch him.
Torres puts Agent Bishop in the past
While the agents are in the killer's apartment, Torres gets a call from a disguised voice. He manages to threaten every one of the NCIS agents after revealing that he believes Gibbs is dead. They are able to get a photo of their suspect from his landlady. This allows them to start a facial recognition search throughout Washington, DC.
Meanwhile, Torres is eager to give Agent Bishop's (Emily Wickersham) desk to Agent Knight now that she has joined the team. He later tells Knight that he should have told Bishop how he felt, and that is the last thing he will say about that.
The return of Tobias Fornell
The second episode of the season saw the return of Tobias Fornell (Joe Spano). He disappeared midway through season 18 after he lost his daughter due to an overdose. When he shows up at NCIS, he makes it clear that he knows Gibbs is alive.
"Guys like Gibbs don't die getting blown up in their boats. They die rescuing babies and puppies from burning buildings in the middle of a hurricane," Fornell says.
When he finally finds Gibbs, Fornell tells him that he's joined a support group, which is helping him cope with the loss.
He also tries to get information on Gibbs' relationship with Marcie, and refers to her as "Mindy." Which was a nice little reference to the sitcom that made Dawber a star, Mork and Mindy.
There's also a moment of flirtation between Gibbs and Marcie when she teaches him how to use his tablet to zoom in on photos. It appears that something really is brewing between these two. And yes, Gibbs has finally started to embrace technology.
Fornell tells Gibbs it's time to retire
During Gibbs' conversation with Fornell, there may have been a few hints about his future. Fornell asks Gibbs how much longer he will work to try to fill the void inside of him — how much more will it take?
"We're like twins," Fornell tells Gibbs. "We've both lost jobs, both lost wives (more than one), and now I've joined your club by losing a kid…chasing bad guys may not be the answer anymore. Hell, it may even be the problem."
'NCIS' fans meet Gary Cole's Alden Parker
As the NCIS team combs over the photos of their suspect from outside his apartment, they notice another man who appears to be his accomplice. They quickly catch up with this unknown man. He's taken down by McGee, Torres, and Knight while Gibbs and Fornell watch.
"That's not a bad team, Gibbs. And imagine, they did it all without you," Fornell tells him.
After they take him into NCIS headquarters, the alleged accomplice admits to being an undercover FBI agent. Yes, this man is the newest NCIS cast member — Gary Cole's Alden Parker.
At first, he acts like he's never heard of NCIS and refers to them as a "Nudist Colony in Seattle."
He also makes it clear that he is the opposite of Gibbs when he says that he believes coincidences happen all of the time.  Fans will recall that Gibbs' rule #39 is that there is no such thing as a coincidence.
Agent Parker doesn't want Gibbs involved
Agent Parker tells NCIS that he hopes they didn't blow his cover. He also says he knows Gibbs is alive, but he doesn't want him working on the case. Gibbs' has a bad reputation after using excessive force on a suspect, and Parker doesn't want to work with a suspended agent.
But Vance supports Gibbs completely, and the FBI and NCIS end up working together to catch their killer. The first things we find out about the new character come from Fornell. He describes Parker as a "good agent, not a bad guy." Fornell also reveals that Parker is a divorced Cubs fan who played drums in the bureau band.
As they collaborate on the case, the two agencies discover more victims. They have seven bodies so far, and now they have a suspect sighting. The facial recognition software has narrowed down their suspect to a cemetery. But before the NCIS team can show up, Gibbs is already there with his gun drawn.
Gibbs takes down the serial killer
Gibbs takes the suspect down after a fight. And even though he had the chance to pull his trigger, he shows mercy. The suspect was at a mausoleum to get a bag from his mother's burial site. After the agents go through the bag, they discover $326K in cash, a passport, fake IDs, and a thumb drive.
In the interrogation room, the suspect says he wants his lawyer. They find out that he's a highly-decorated former Navy SEAL who received a bad conduct discharge in 2003. Things start to get strange when the NCIS legal department tries to contact his attorney with the phone number the suspect gave.
That's when they find out that the number has been disconnected for 11 years. This killer is playing a game, and it's only just started.
Gibbs get jealous
Before Gibbs gets back to NCIS, he stops by Marcie's office to tell her that they've found their killer. But she already knew, thanks to the agent who was assigned to protect her. Marcie also tells Gibbs that she's taking a break and going to a cabin with her friend Mitch, and Gibbs immediately starts to get jealous.
Earlier in the episode, Gibbs told Fornell that he and Marcie were just friends. And that she hadn't given him the green light to make a move. He said he wasn't waiting to make one, but when Marcie started talking about Mitch, it was clear Gibbs didn't like it.
But then, he found out that Mitch was Marcie's friend Michelle. After he lets out a sigh of relief, Marcie tells Gibbs to text her as she drives off.
This serial killer case is far from over for 'NCIS'
Back at NCIS, the team discovers that the killer has an offshore bank account that gets a $50K deposit every 100 days. This means he's a contract killer, not a serial killer.
At the end of the episode, the suspect attacks Agent Knight in the interrogation room, jumps through the two-way glass, and runs into the bullpen. The suspect takes Kasie hostage with a letter opener to her throat, as he has guns pointed at him from all directions. At that moment, Gibbs shoots him from behind and kills him. And that's a wrap on episode two.
New episodes of NCIS air Monday nights on CBS.