'NCIS': Wilmer Valderrama Once Called Mark Harmon His 'Bestie' — Inside Their Bromance Both On and Off-Screen
Mark Harmon and Wilmer Valderrama's onscreen relationship was similar to their offscreen one. In fact, the 'NCIS' stars had 'quite the bromance' while filming the CBS procedural.
ARTICLE HIGHLIGHTS
Wilmer Valderrama and Mark Harmon starred on NCIS together for years.
Harmon's Leroy Jethro Gibbs became an "accidental father figure" to Walderrama's Torres.
The two grew so close during their time on the show — Walderrama even once referred to Harmon as his "bestie."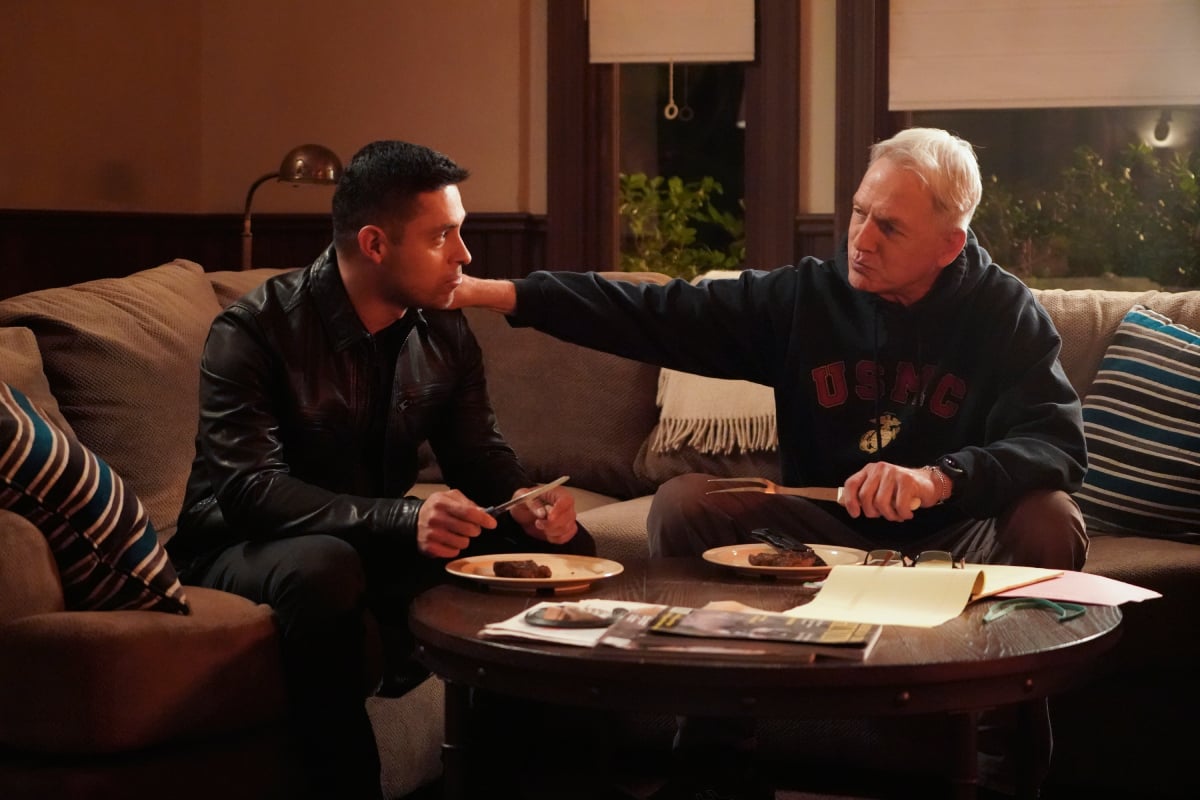 NCIS has been on the air for nearly two decades, with a lot of characters coming and going. The only constant on the set from day one has been series star Mark Harmon (Leroy Jethro Gibbs). But that changed at the beginning of season 19, when Harmon said goodbye after more than 400 episodes.
During his tenure as the star of TV's most-watched drama, Harmon developed solid bonds with his co-stars. Including Wilmer Valderrama, who joined the cast in season 14 as Agent Nick Torres. Valderrama and Harmon actually had "quite a bromance" when they worked together on the NCIS set. The That 70's Show alum even went so far as to call Harmon his "bestie."
Gibbs became an 'accidental father figure' to Torres on 'NCIS'
NCIS fans didn't know much about Torres' complicated past until season 18 when his MIA father Miguel returned. Valderrama told TV Line that his character "had no real direction" for years while working undercover and was "just going from mission to mission." He says Gibbs was the one who gave Torres a family and became an "accidental father figure" in the process.
"To be honest, Gibbs in the past couple of years has been more of a father to Torres than anybody else," Valderrama said in March 2021.  "When Torres was hit by that car and was in the hospital, it was an emotionally available Gibbs — like you had never seen — who showed up. It was really interesting to see Gibbs be that concerned and attached to Torres."
Wilmer Valderrama called Mark Harmon his 'bestie'
This season 18 storyline between Gibbs and Torres gave fans the opportunity to see just how strong their bond had become. But what fans might know is that the on-screen relationship between the two characters wasn't much different from Harmon and Valderrama's relationship in real life. In fact, Valderrama has called Harmon his "bestie" on multiple occasions.
"I love the cast, I love the crew. You know, I get along with them so great," Valderrama told Access in 2018. "Mark Harmon and I are straight-up besties. And we're having quite the bromance. That guy and I love each other so much."
Valderrama continued by praising Harmon for his longevity in Hollywood and the fact that he still loved going to work. That was something that Valderrama said he could relate to.
The 'NCIS' star wasn't kidding about the bromance both on and off-screen
One year prior, Valderrama said almost the exact thing to Entertainment Tonight when praising Harmon's leadership skills on the NCIS set.
"You talk about Mark Harmon, Mark is someone that leads with kindness and his energy is beautiful. We have quite a bromance going on, him and I. But from the top, down, I think it's the people. The fact that people still love coming to work," Valderrama noted.
Wilmer Valderrama loves to poke fun at Mark Harmon
Before Harmon's exit, Valderrama says that he and his former co-star talked a lot in between scenes. And he never passed up an opportunity to tease Harmon about being named People's Sexiest Man Alive in 1986.
Valderrama told People he would randomly poke fun at Harmon. He explained that almost anytime the St. Elsewhere alum was giving any kind of opinion or direction — no matter the topic — the response would be "you would know because you were People's Sexiest Man Alive."
Getting lost in the 'NCIS' star's eyes
Valderrama admitted that Harmon is a good-looking man. In fact, his former co-star is so hot and sexy, Valderrama joked that it was hard to look into Harmon's blue eyes.
"Looking at Mark Harmon into his deep, ocean eyes, you really feel like you have no floaties," he said. "You went in there with no life vest, and you sink into an abyss of blue."
New episodes of NCIS return to CBS on Monday, February 28.