NCT Set a Pre-Order Record for SM Entertainment With 'NCT 2020 Resonance Pt. 1'
On Oct. 12, NCT released their second studio album 'NCT 2020 Resonance Pt. 1,' and the album set a pre-sale record.
On Oct. 12, K-pop group NCT released their studio album NCT 2020 Resonance Pt. 1. NCT function as multiple sub-units with the possibility of unlimited members. The group first debuted in 2016 and now has 23 official members. NCT 2020 Resonance Pt. 1 follows the group's 2018 album NCT 2018 Empathy, marks the debut of two new members, and set a pre-sale record for SM Entertainment.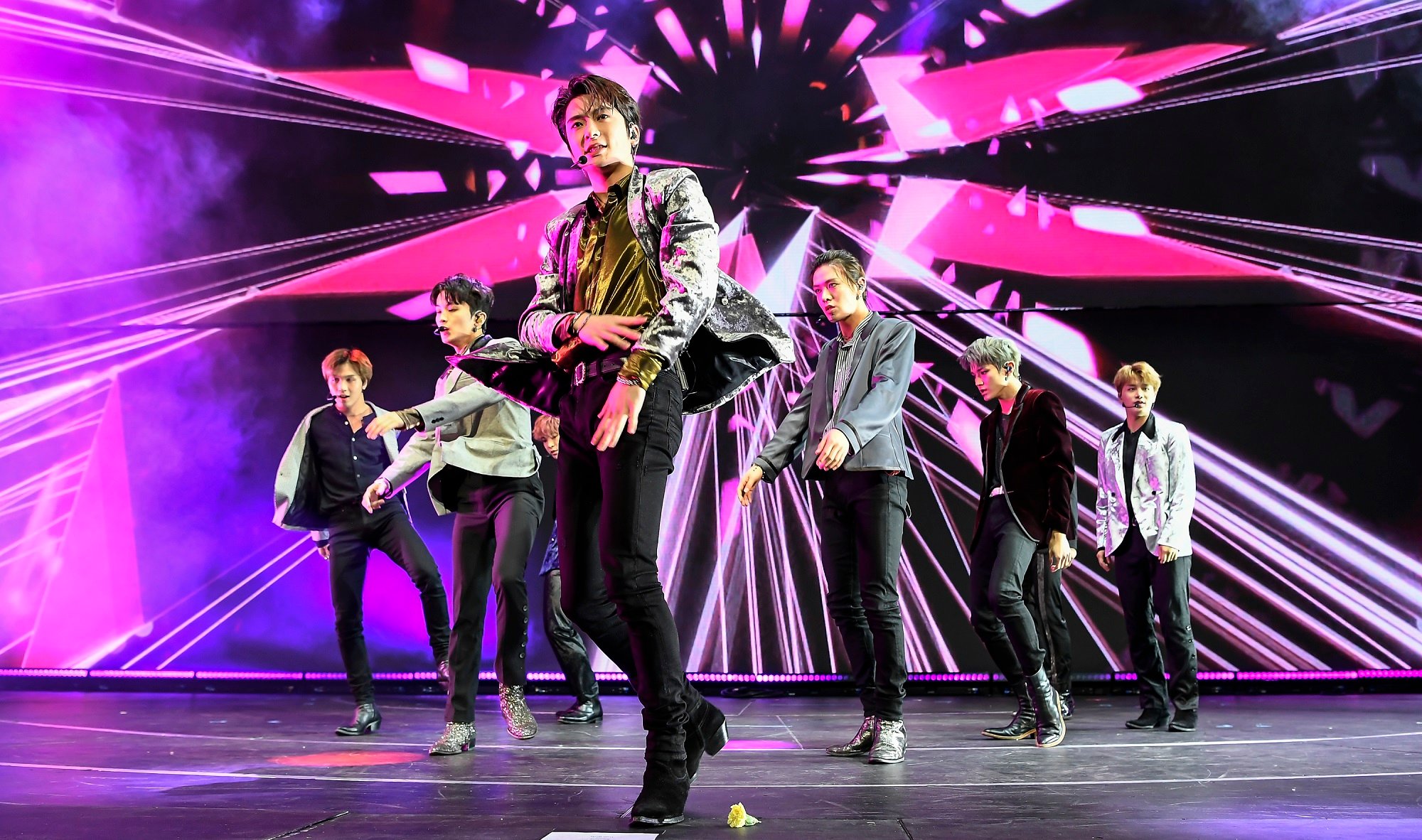 The new members of NCT
For months, fans suspected that NCT would release an album in 2020 with all of the group's sub-units. In September, SM Entertainment announced the band would add two more members and release a full-length album featuring all of the NCT sub-units.
NCT U was the first sub-unit that NCT debuted, and the members constantly change depending on who fits the concept of a song the best. NCT 127 is a sub-unit with 10 members: Taeil, Johnny, Taeyong, Yuta, Doyoung, Jaehyun, Jungwoo, Mark, Winwin, and Haechan. Winwin is not currently an active member of NCT 127 due to his activities with WayV.
In addition to promoting in NCT 127, Mark and Haechan are also members of NCT Dream. NCT Dream features seven members: Mark, Renjun, Jeno, Haechan, Jaemin, Chenle, and Jisung. WayV is NCT's fourth sub-unit and also has seven members: Kun, Ten, Winwin, Lucas, Xiaojun, Hendery, and Yangyang. Shotaro and Sungchan are the newest members of NCT, and they will be part of a new NCT sub-unit.
'NCT 2020 Resonance Pt. 1' set a pre-sale record
Before the album was announced, SM Entertainment revealed that as of Oct. 11, NCT 2020 Resonance Pt. 1 broke NCT's stock pre-order record. The album reached 1.12 million copies in stock pre-orders. This made NCT million-sellers before the album's release date.
Having debuted in 2016, NCT have shown tremendous growth over the years. The group and sub-units have steadily grown in fandom size, album sales, and music video views. By the time NCT 2020 Resonance Pt. 1 was announced, it was clear anticipation for the album was high.
Along with NCT 2020 Resonance Pt. 1, the group released a music video for the song "Make A Wish (Birthday Song)" on Oct. 12. The song serves as the album's title track and features Taeyong, Doyoung, Jaehyun, Jaemin, Lucas, Xiaojun, and Shotaro. Already, the song's music video achieved over 25.3 million views in its first 24 hours, setting another record for NCT and SM Entertainment.
More information about 'NCT 2020 Resonance Pt. 1'
NCT 2020 Resonance Pt. 1 is NCT's second studio album and consists of 13 tracks. One of those tracks is an English version of "Make A Wish (Birthday Song)."
The complete tracklist for NCT 2020 Resonance Pt. 1:
"Make A Wish (Birthday Song)" (features Taeyong, Doyoung, Jaehyun, Lucas, Xiaojun, Jaemin, and Shotaro)
"Misfit" (features Johnny, Taeyong, Mark, Hendery, Jeno, Yangyang, and Sungchan)
"Volcano" (features Taeyong, Doyoung, Jaehyun, Winwin, Jungwoo, Lucas, and Mark)
"백열등 (Light Bulb)" (features Taeyong, Kun, Doyoung, and Sungchan)
"Dancing In The Rain" (features Taeil, Johnny, Yuta, Kun, Jaehyun, Jungwoo, Xiaojun, and Chenle)
"Interlude: Past to Present"
"무대로 (Déjà Vu; 舞代路)" (NCT Dream)
"月之迷 (Nectar)" (WayV)
"Music, Dance" (NCT 127)
"피아노 (Faded In My Last Song)" (features Taeil, Johnny, Yuta, Ten, Lucas, Renjun, Haechan, and Jisung)
"From Home" (features Taeil, Yuta, Kun, Doyoung, Renjun, Haechan, and Chenle)
"From Home (Korean Ver.)" (features Taeil, Yuta, Kun, Doyoung, Renjun, Haechan, and Chenle)
"Make A Wish (Birthday Song) (English Ver.)" (features Taeyong, Doyoung, Jaehyun, Lucas, Xiaojun, Jaemin, and Shotaro)