A 'Nervous' Ron Howard Officiated His Daughter Paige's Wedding Alongside Bridesmaid Bryce Dallas Howard
In addition to his incredible onscreen legacy, Howard is also known as a family man. In May 2022, he acted as the officiant for his daughter's wedding. 
Ron Howard has been a Hollywood force ever since he was a small child, acting opposite TV icon Andy Griffith in the beloved series The Andy Griffith Show. As Howard matured, he found that his true passion lay with directing, rather than acting.
By the mid-'90s, Howard had made a name for himself as a filmmaker. His blockbuster movies Apollo 13, A Beautiful Mind, Cinderella Man, and The Da Vinci Code have earned him critical acclaim. But Howard isn't content to rest on his laurels and continues to direct and produce to this day.
In addition to his incredible onscreen legacy, Howard is also known as a family man. In May 2022, the accomplished filmmaker acted as the officiant for his daughter's wedding. 
How many children does Ron Howard have?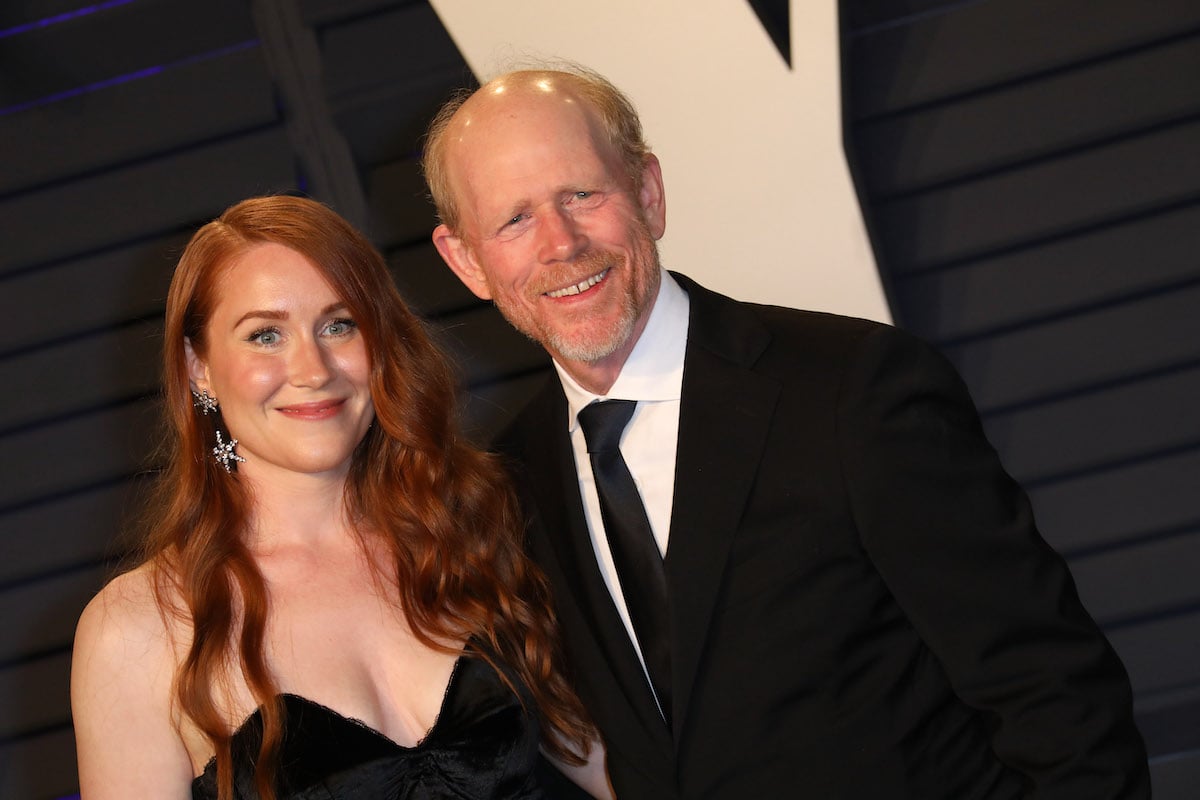 While many big names in Hollywood have endured multiple marriages and even more relationships, Howard is still married to his high school sweetheart, Cheryl Howard. The couple tied the knot in 1975 and have been together ever since.
Howard likes to include his wife in his projects, even telling the Television Academy Foundation that he makes sure Cheryl has a cameo in every one of his movies:
"She's actually been in everything I've ever done, including the Super 8 days. We met in high school and at a certain point, I became very superstitious about making sure that she appears, that's she's at least identifiable in one frame. They don't have to be big cameos, but she's gotta be in there."
The Howards have four children together: Bryce Dallas, born in 1981, twins Paige and Jocelyn, born in 1985, and a son named Reed, born in 1987.
What did Ron Howard say about officiating his daughter Paige Howard's wedding?
In May 2022, Howard's daughter, Paige, married musician Tim Abou-Nasr. The director actually served as the officiant for the ceremony, which had been delayed due to the COVID-19 pandemic. Howard took to Instagram to share his memories of the special day, writing "Our Paigey looked like the flower goddess she truly is in one of the most beautiful gowns I have ever seen."
His daughter commented on the post, writing "My sweet amazing father. You were INCREDIBLE! Your heart poured through in every single word…You said you were nervous sweet papa. I know it was a big request … but oh my gosh, you blessed us with the gift of a lifetime."
The actor went on to write, "Thank you with all our hearts. I'll cherish your words, your love, your ultimate gift to us for ever and ever." Bryce Dallas Howard, the sister of the bride, was a bridesmaid in the wedding. She also took to Instagram to share a sweet photo of the big day, writing that her father deserved a "round of applause" for his work as officiant.
Ron Howard has a lot of famous family connections
Since Ron Howard has been in the entertainment business his entire life, it's no surprise he has made a lot of famous friends. Some of them have even become family. Not only are two of his children, Bryce Dallas and Paige, actors as well, but he's remained close with his former Happy Days co-stars. In fact, Henry Winkler, who played the super-cool Fonzie in the show, is Bryce Dallas Howard's godfather. 
Howard's daughter even has a famous spouse, Seth Gabel, who has acted in TV shows like Salem, Nip/Tuck, and Fringe. As for Ron and Cheryl Howard's son Reed, he has acting ambitions as well. According to Parade, he has appeared in TV shows such as Arrested Development.