Why Netflix Added a Violence Warning Card to the 'Stranger Things' Season 4 Premiere
Stranger Things has been a runaway success for Netflix. But soon, the series will come to an end. The show's creators, the Duffer brothers, have confirmed season 5 will be the last installment of the hit series. Until then, millions of fans are watching the latest season. And true to the show's sci-fi/horror genre, season 4 kicks off with a terrifying episode. Because it could remind viewers of a recent tragedy, Netflix added an onscreen warning.
Season 4 is the show's penultimate installment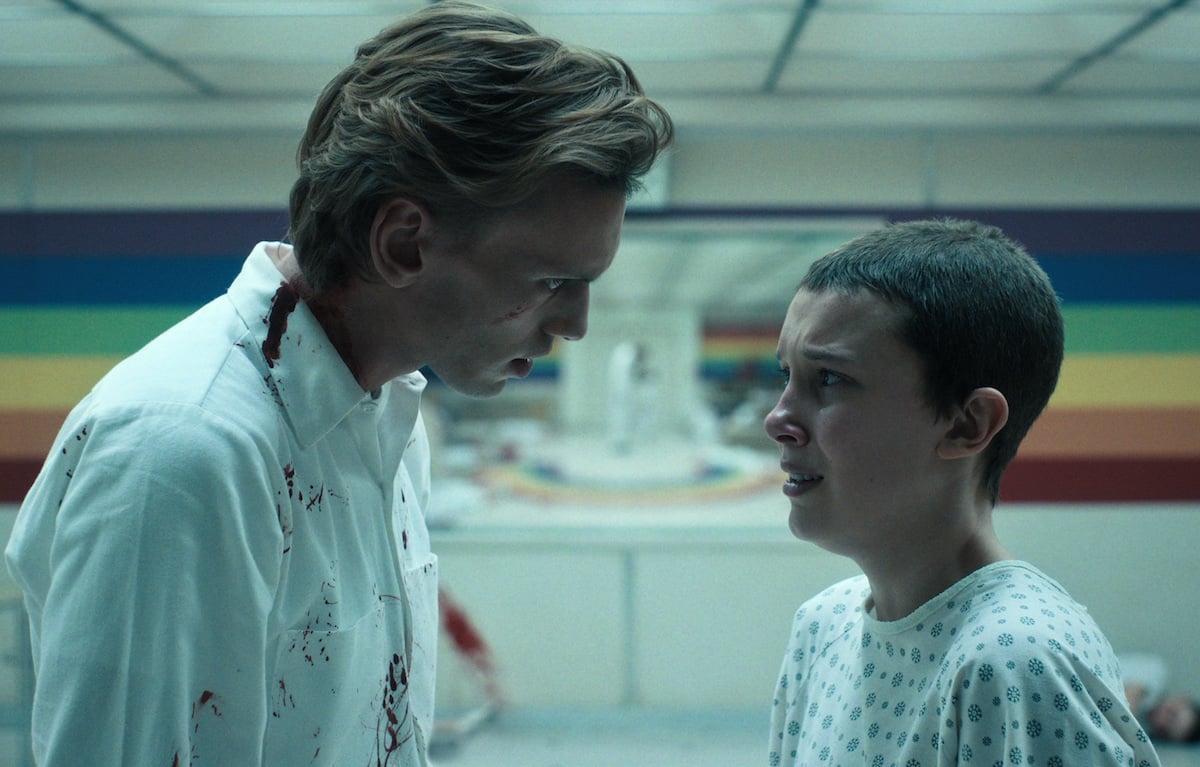 Matt and Ross Duffer, aka the Duffer brothers, have confirmed that Stranger Things Season 5 will be the show's last. The most recent season consists of two volumes. The first came out at the end of May. The rest will be available to stream on July 1. 
According to Vanity Fair, fans of Stranger Things still have something to look forward to despite the end of the series. The Duffer brothers aren't done making hits. They have a few projects in the works, including an adaptation of Stephen King's The Talisman. But don't expect it to have the same tones as Stranger Things. That's because the Duffer brothers won't be the showrunners or even the writers. They're stepping back into a pure producer role for the project.
"We're starting to branch out a little bit into producing stuff that we're not necessarily showrunning just because there are properties or writers or directors that we really admire and want to work with — The Talisman being one example," they told Vanity Fair.
Netflix added a violence warning to 'Stranger Things' Season 4 
Stranger Things Season 4 premiered only three days after the mass shooting at Robb Elementary School in Uvalde, Texas, that left 19 children dead. The Duffer brothers and Netflix understood that the recent tragedy might trigger viewers. So they added a warning before episode 1. It reads as follows:
"We filmed this season of Stranger Things a year ago. But given the recent tragic shooting at a school in Texas, viewers may find the opening scene of episode 1 distressing. We are deeply saddened by this unspeakable violence, and our hearts go out to every family mourning a loved one."
Netflix also posted the notes "Warning: Contains graphic violence involving children" and "disturbing images."
The streaming giant added the warnings because season 4 opens with scenes of bloody, brutally murdered children.
'Stranger Things' Season 4 fan reactions
Although fans didn't like the long wait between Stranger Things Seasons 3 and 4, the latest installment has earned a positive reception. Viewers still love the sci-fi drama even though they had to wait longer because of pandemic delays. 
Fan reactions on Twitter prove season 4 was worth the wait. One viewer tweeted, "Stranger Things Season 4 is just all kinds of epic. What a fun, mind-blowing show, with gobsmackingly beautiful action set pieces. I am loving it. I haven't had this much fun watching anything in recent times."
Another Twitter user wrote, "one thing about #StrangerThings is they know how to do tension because I swear I have 4 heart attacks every episode."
The volume 1 finale also left viewers gobsmacked: "The ending of #strangerthingsseason4 why did i not see that coming."
Another Twitter user praised the series for posting the content warning: "Good for the @Stranger_Things team for adding this warning. Many of us watched the scene when it was released early, and it is very distressing to see again fresh off the heels of Uvalde."
As of this writing, Stranger Things Season 4 has a 90% rating from critics and audiences on Rotten Tomatoes. That's higher than Disney+'s new Obi-Wan Kenobi, ranking around 80% from critics and 60% from audiences.
We'll have to wait until volume 2 of Stranger Things Season 4 debuts to find out how critics and audiences feel about the entire season.
RELATED: 'Stranger Things' Fans Slammed for 'Discovering' Kate Bush's 'Running Up That Hill'