Netflix Confirms 'Wednesday' Season 2 Amid Speculation About Cancelation or Move to a New Platform
It has been more than a month since Netflix released Wednesday and the platform has finally confirmed season 2. Here's what we know about the streaming giant's decision to move forward with season 2, plus details about the rumors the show was canceled or moving to a new platform.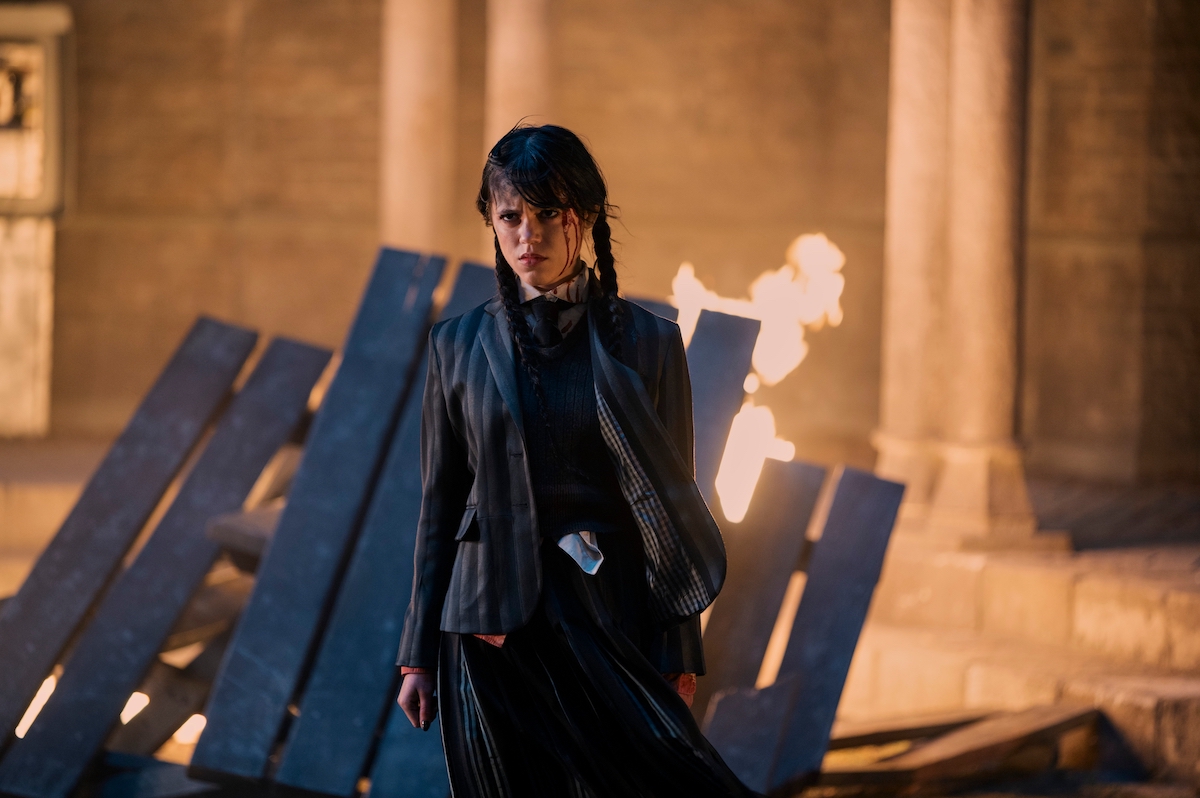 'Wednesday' Season 2 has been confirmed 
After the success of the first season, which became Netflix's second most popular series with 1.02 billion total hours viewed in just three weeks and over 150 million households streaming the show (via Tech Crunch), Netflix has finally announced another season of Wednesday. "It's been incredible to create a show that has connected with people across the world," creators Alfred Gough and Miles Millar told Tudum. "Thrilled to continue Wednesday's tortuous journey into season two. We can't wait to dive head first into another season and explore the kooky spooky world of Nevermore. Just need to make sure Wednesday hasn't emptied the pool first."
The first season ended with plenty of questions left to answer, including what becomes of Tyler the Hyde (Hunter Doohan) and what happened after the bees attacked Ms. Thornhill (Christina Ricci). There's also the added drama of Wednesday's new stalker, who sends her threatening texts at the end of season 1. 
Why it took so long for 'Wednesday' to be renewed
Wednesday premiered on Netflix the Wednesday before Thanksgiving 2022. The series is based on Charles Addams' iconic characters but brought to life by Tim Burton, Gough, and Millar. Because the series wasn't a Netflix original, the creators were likely revisiting their initial deal with the streaming giant. The likely reason Wednesday took so long to be renewed likely had to do with how much the cast would earn for future episodes, considering the first season's success. 
The rumor Netflix canceled 'Wednesday' 
Before Netflix's announcement on Jan. 6, some started to believe the series got canceled. That wouldn't be shocking, considering the number of shows Netflix has canceled recently — 1899, Warrior Nun, and First Kill, to name a few. However, Wednesday hasn't been canceled.
'Wednesday' won't shift to another streaming platform
Another rumor said the show could might leave Netflix for its second season. "The reason for this is that Amazon and MGM closed an $8.5bn (£7.06bn) merger last year," The Independent reported previously. The outlet speculated the move could be part of changes related to Wednesday being a product of MGM (Metro-Goldwyn-Mayer).
As IndieWire reported, the Wednesday deal between Netflix and MGM were locked in long before Amazon purchased MGM. That means the show won't move over to Prime Video.
Netflix was 'optimistic' about 'Wednesday' Season 2
Before Jan. 6, Peter Friedlander, Netflix's head of U.S.-based scripted series, told Vulture he was "optimistic" about the possibility of a Wednesday renewal. "I wish I could tell you more," he said at the time. "I'm optimistic but have nothing to say right now."
Stream season 1 of Wednesday on Netflix. Stay tuned for more details about season 2.