'Never Have I Ever' Season 3 Gets August Release Data With Photos Showing a New Character
There could be some trouble for Ben in 'Never Have I Ever' Season 3. He will likely be conflicted with his feelings for Devi again as a new male student could catch the eye of Aneesa.
The coming-of-age teen series Never Have I Ever Season 3 gets an exact release date on Netflix. The fourth season was reported to premiere in 2023, but fans will get to watch season two later this summer. The new season will take off right where season two ended, and first look photos reveal a new student and possibly a new relationship.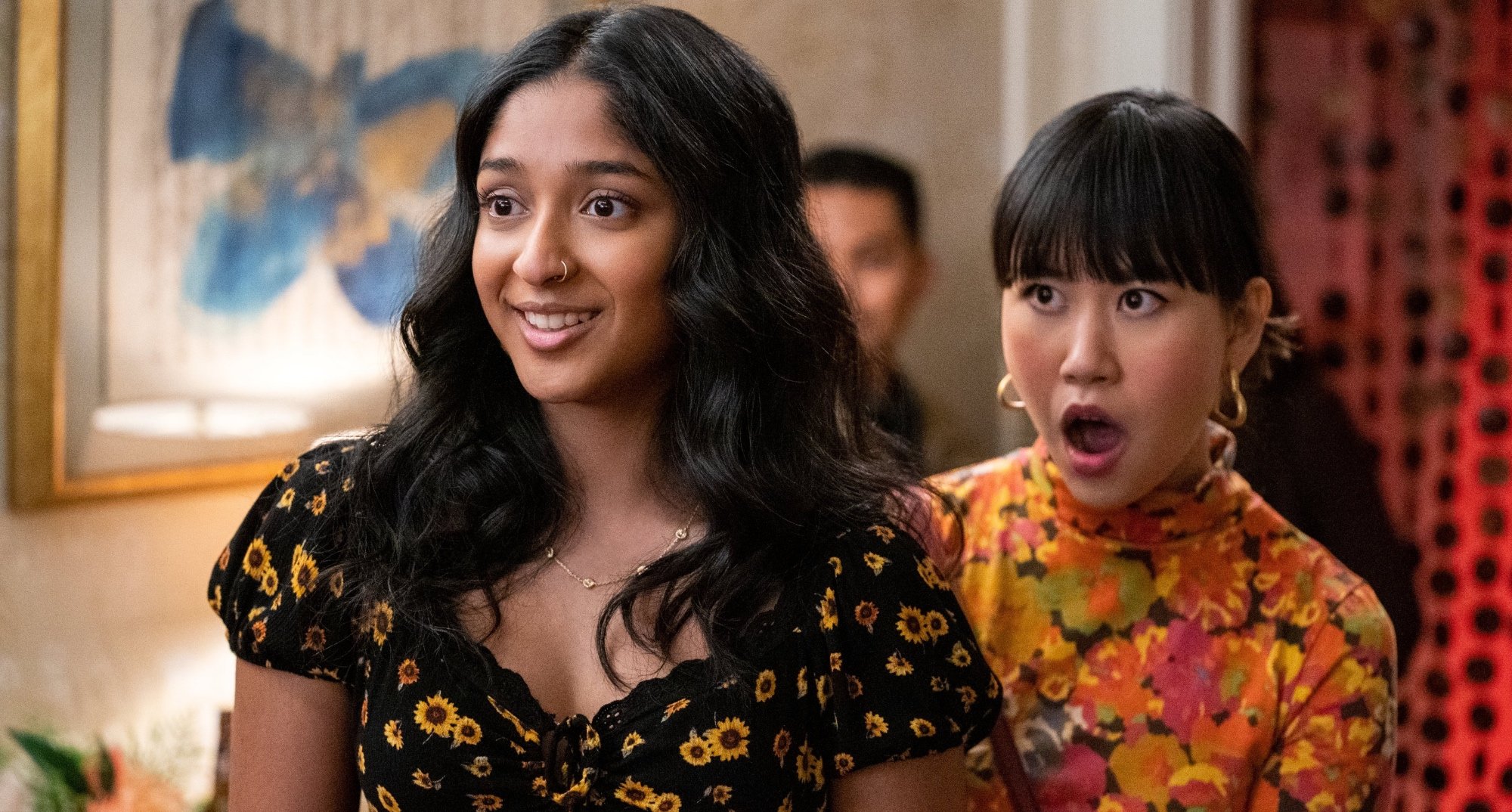 'Never Have I Ever' Season 3 has Devi and Paxton make their relationship public
According to Deadline, Never Have I Ever Season 2 is scheduled to premiere on Netflix on August 12. With months to go until fans can binge-watch the new season, Netflix has released first look photos giving fans tidbits of what can be expected.
One photo shows Devi (Maitreyi Ramakrishnan) and Paxton (Darren Barnet) roaming the halls holding hands. All while looking smitten with each other. Devi was caught in a complex love triangle between Ben (Jaren Lewinson) and Paxton in the second season. Ben develops feelings when Aneesa (Megan Suri) transfers to their school. By the school dance, he seems to have moved on.
But he soon learns that Devi was contemplating choosing him instead of Paxton before her friends convinced her otherwise. Never Have I Ever Season 3 will have Devi and Paxton explore a more solid relationship and no longer be afraid of their social statuses at school. The characters could also possibly embark on applying for college.
A new student could sweep away Aneesa from Ben in the new season
First look photos of the new upcoming season reveal a new Indian-American student being added to the list of characters. Actor Anirudh Pisharody will play the role of Nirdesh in Never Have I Ever Season 3. He is just as academically talented as Devi but attends a private school.
Could Nirdesh be good for the characters, especially for Aneesa? The new season spells out drama as Ben will again be conflicted over his emotions for Devi. This could mean that Aneesa gets caught in the love triangle and could develop a bond with Nirdesh.
That is not all, as the end of the second season also teased a possible new romance between Devi's friend Eleanor (Ramona Young) and Trent (Benjamin Norris). They shared a lovely slow dance at the end of the season, and their current relationship is unclear. Photos reveal the two characters talking at school, and Eleanor looks happy.
'Never Have I Ever' Season 3 will hopefully explore the relationships of Devi's family
Devi is a bit heartbroken in the second season when learning her mother is dating someone, Dr. Chris Jackson (Common). Their relationship did not get a chance to flourish due to Devi's reaction. He is absent in the teaser photos for the third season, but fans see Devi's mother warmly embracing her daughter.
The big question is what is next for Devi's cousin, Kamala (Richa Moorjani)? She has gone through the wringer when it comes to love. Fans thought she had found a good partner in Prashanth (Rushi Kota). In the finale, she became overwhelmed. When his parents made a surprise visit, with her believing he would propose, she escaped.
She has a night of fun karaoke with Devi's teacher, Mr. Manish Kulkarni (Utkarsh Ambudkar). Could Kamala find love with someone else and leave Prashanth behind? Fans certainly saw sparks between the two during the second season.
Other photos show Eleanor, Aneesa, and Fabiola (Lee Rodriguez) hanging out in Devi's room like a close-knit group of friends. Never Have I Ever Season 3 photos also have Eric (Jack Seavor McDonald) sporting a shirt inspired by Lady Whistldown from Bridgerton.