'Never Have I Ever': What Was Star Maitreyi Ramakrishnan in Before the Netflix Hit?
Never Have I Ever star Maitreyi Ramakrishnan has made a huge splash in the lead role of high-school student Devi in the Netflix hit. The young actress, capturing the angst of life as a teenager, has also captured the imaginations of millions of viewers in the Mindy Kaling production.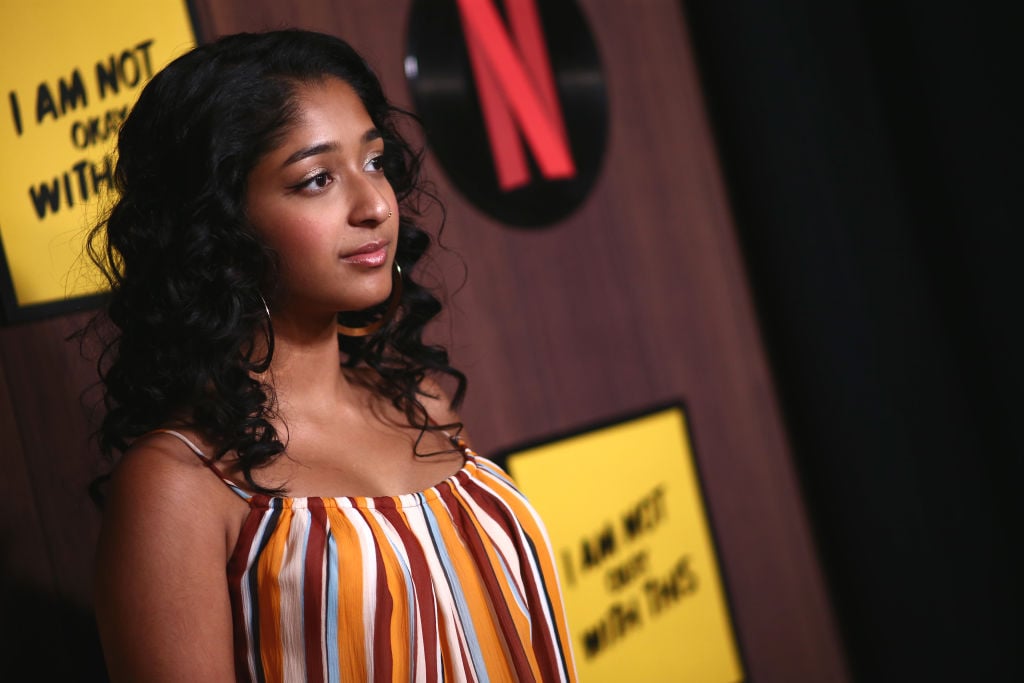 The actress is a natural in her role of a teenager reeling from the death of her father, adapting to life with her mother, amid all the normal teen-age minefields.
Here's what she was doing prior to Never Have I Ever.
Her roles before Devi on 'Never Have I Ever'
Ramakrishnan was an unknown actress before she beat out 15,000 others for the role of Desi in the Netflix binge-worthy show. The 18-year-old was a high-school student when she was cast in the role.
Her roles before Never Have I Ever were limited to the high school stage, which makes her having been chosen by Kaling for the show even more impressive.
She knew she wanted to be an actress when she was cast in the musical, Chicago, in her senior year.
"I think that happened when I was in Grade 12 and it came to the decision point of picking a university," she told a Canadian news outlet in Apr. 2020. "I was like, if I could do this for the rest of my life, I would be one happy kid."
Although she had plans to study theater in college, life had other plans when she heard about Kaling's casting call.
The Canadian citizen told Pop Sugar in Apr. 2020 that the character of Devi was a combination of Kaling and show creator Lang Fisher's experiences as teenagers. Once she was chosen, however, they told her to make the role her own.
"[O]nce casting me," she said, "I was encouraged by both of them to bring myself to the character and how I went through high school. So Devi is really a mix between Mindy Kaling, Lang Fisher, and Maitreyi Ramakrishnan."
The actress on representing the Asian Indian community
Asked by NPR this week if it was an unusual experience to be a lead South Asian character, Ramakrishnan enthusiastically agreed. For the most part, "brown" characters, whether they be Indian, Chinese, or Hispanic, rarely are in a lead role in a major series.
"Yeah, for sure, because usually South Asian characters are seen as sidekicks. Or, you know, our stories are being portrayed as, like, a side story. And that makes us feel that we have to live in the shadows and that we don't get to be in the spotlight."
"And, you know, sure, Devi is one story of the South Asian community. But it's definitely a step forward to bring South Asian stories to light, which I think is awesome."
Working with Kaling has been 'like, wow, Mindy'
To hear the actress tell it, it's been a surreal experience working with the former member of The Office series. Mindy Kaling has been an idol for the younger actress and to now work beside her is truly a dream come true.
"I always had a bunch of respect for Mindy before this," she said in her conversation with NPR, "but now it's, like, times a million because, you know, like you said, sometimes she's the only woman of color in the room, and now that's not as much of the case because slowly but surely, we're bringing in diversity."
"We still have ways to go. But just I think back, like, wow, Mindy. Like, you've really come far. And that's just such an amazing thing. And she has so much of my respect."