'New Girl': Insiders Claim That Jake Johnson and Zooey Deschanel 'Secretly Couldn't Stand Each Other'
New Girl alum Jake Johnson is the star of a new animated series on Netflix called Hoops. Season 1 featured cameos from his former co-stars, including Max Greenfield, Hannah Simone, and Damon Wayans Jr. However, Zooey Deschanel wasn't part of the new series' first ten episodes. Does her absence mean that she and Johnson can't "stand each other" like insiders claim?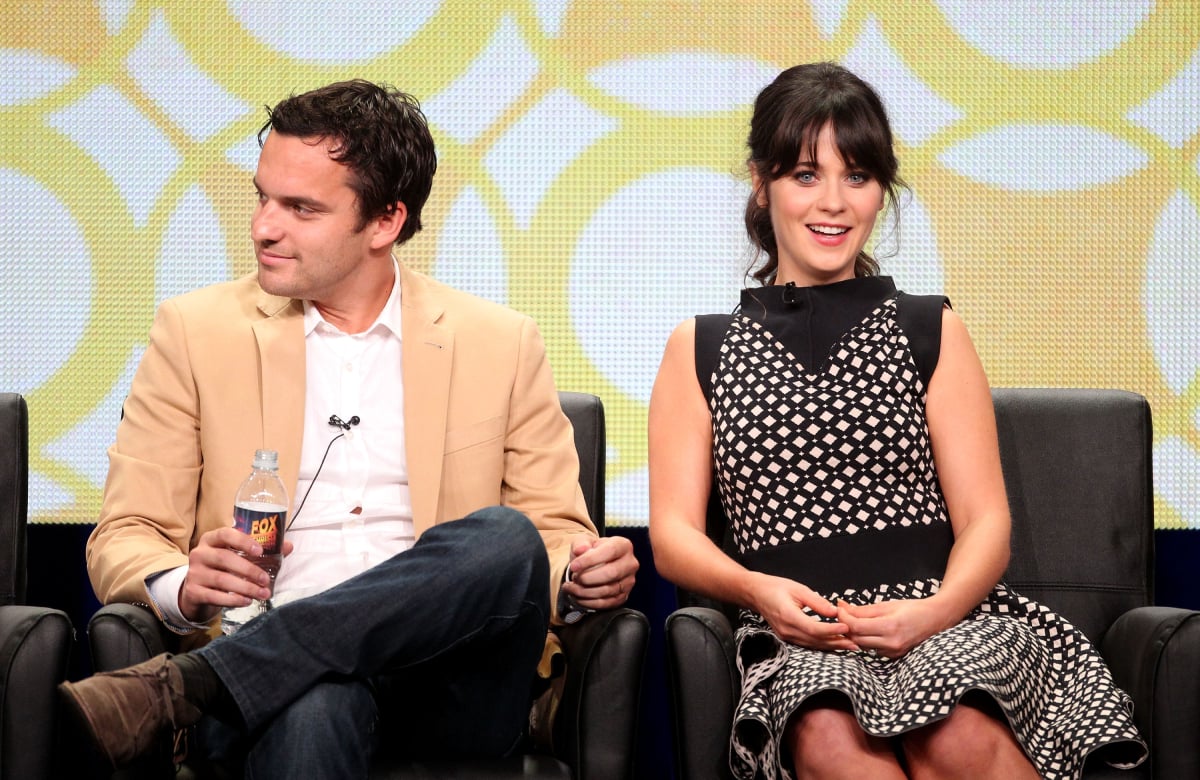 The 'New Girl' cast never spent time together outside of work
New Girl had a seven-season run on Fox from 2011 to 2018. But even though the ensemble cast appeared to be best friends in front of the camera, the actors didn't hang out together outside of work.
Johnson explained on the Life is Short with Justin Long podcast that the only time he saw Greenfield, Wayans Jr., or Lamorne Morris was on set.
"In this business, we don't see each other," he said. "I've got the friends who I see on a regular basis and then I've got the friends who I work with, who I really like, but the only time we see each other is like this [via text]."
Johnson said that he and Greenfield text regularly. But, if his former co-star "tried to FaceTime me on a Wednesday" he would tell him, "Leave me alone." However, he said that it was for a podcast nobody will watch, then he would make an appointment for Wednesday at 10:30.
Insiders claim that two 'New Girl' co-stars couldn't stand each other
During New Girl's penultimate season, OK! Magazine reported that Johnson and Deschanel – who played on-again, off-again romantic interests on the series – "secretly couldn't stand each other."
An insider claimed in 2017 that Johnson had enough of "being Zooey's support staff" and wanted out of the show. They also claimed Deschanel wasn't a fan of Johnson because he was "always trying to undermine her."
The source added that when Johnson told The Daily Beast New Girl would end after season six, Deschanel gave him "hell."  The insider also claimed Deschanel believed that Johnson was "jealous of her paycheck."
On the other hand, the insider claimed that Johnson complained about Deschanel throwing her "weight around" on the set.
As fans know, New Girl lasted seven seasons, not six. Johnson noted in the Daily Beast interview that Fox had not renewed the series for another season at the time. But, he didn't say the show was ending or express any desire to leave the series.
Jake Johnson was too embarrassed to ask Zooey Deschanel to appear in 'Hoops'
Johnson's new animated series Hoops is nothing like New Girl. It features filthy language and dirty jokes. According to Cinema Blend, the show features more F-bombs than any other word in the English language. Johnson admitted (with a laugh) he was too embarrassed to ask Deschanel if she would be a part of it.
"I think I would have a hard time with Zooey in the room and me being like, 'F**k off, motherf**ker, you motherf**king piece of shit!' Even though she's not a prude, I would feel a little weird about it," Johnson told Entertainment Weekly.
Johnson noted that he "loved the cast of New Girl." He says his "thing" is when he works with people and likes it, he wants to do it again. For him, it's an opportunity to see a friend who is really talented. Again, what does that say about his relationship with Deschanel?
Deschanel's absence from Hoops supposedly wasn't because of a years-old feud. Johnson claims just didn't want his New Girl co-star around his "disgusting" show.