What Was 'New Girl's Original Title? Zooey Deschanel Explains 'Chicks and Dicks'
Zooey Deschanel starred in 'New Girl.' Before it got its official title, it was originally called 'Chicks and Dicks.' And she wasn't a fan.
Before New Girl debuted in 2011, its simple title grabbed viewers differently than its original might have. Despite featuring a few irritating plotholes, the Fox sitcom quickly became a hit.
When the series ended in 2018, star Zooey Deschanel reflected its legacy. Apparently, she didn't jump on board immediately because of its original working title: Chicks & Dicks. 
What is 'New Girl' about?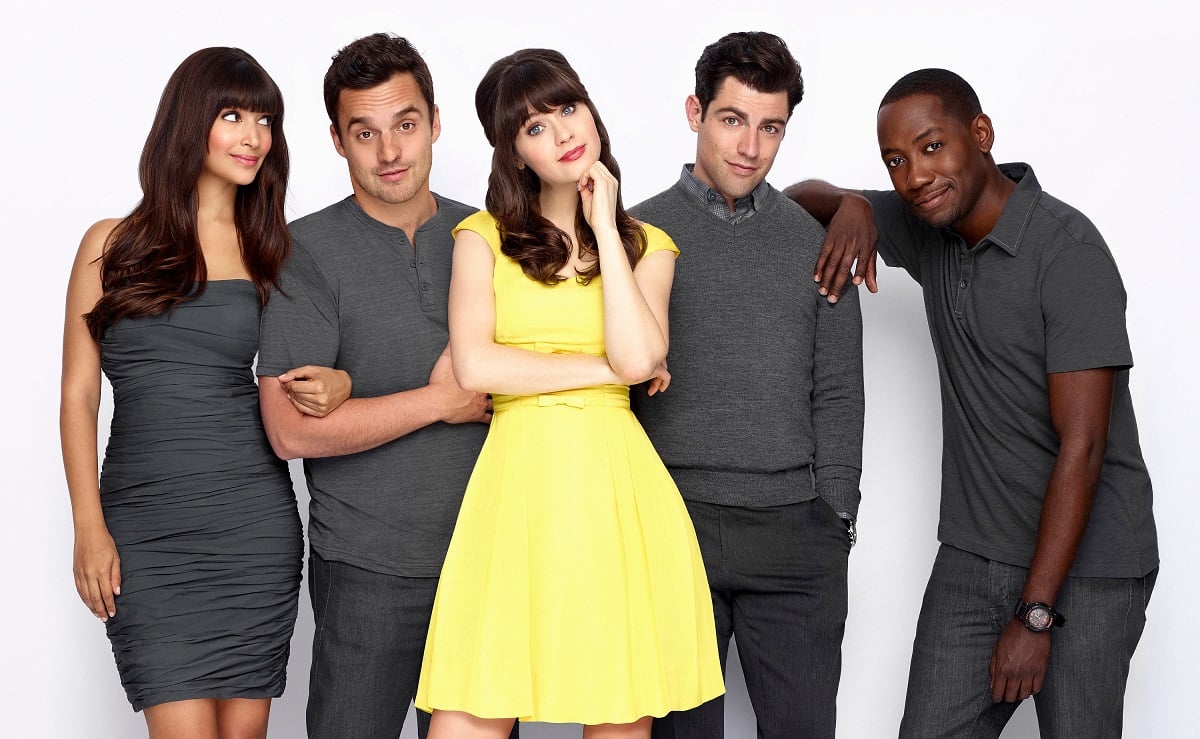 New Girl kicked off its seven seasons with Deschanel's Jessica Day discovering her boyfriend cheating on her. She moves out of their shared home and finds a Craigslist ad of a group of three men looking for a roommate. They agree after some persuading. But Jess turns out to be a lot more than they bargained for.
Throughout the show, fans watched as the characters grew. Jake Johnson's Nick, initially the irresponsible one, got his life together, bought the bar he worked at, and became a best-selling author. He also ended up with Jess.
Schmidt, the high-strung marketing executive with expensive taste, ended up with the other "chick" from the title — Jess's childhood best friend, CeCe. CeCe started the show as a model, but later worked at Nick's bar. Eventually, she owns a modeling agency. And CeCe and Schmidt get married and have kids.
The other two roommates, Winston and Coach, follow their own paths. Winston moves from athletics, to radio, to the police force, where he meets his wife, Ally. Coach comes and goes (due to Damon Wayans Jr.'s schedule with Happy Endings), but he, too, gets his happy ending. 
'New Girl's original title was 'Chicks and Dicks'
A show with a risqué name like Chicks and Dicks should deliver on its promise. That's what New Girl co-creator Elizabeth Meriweather intended when she chose the name Chicks and Dicks as the working title for her series. She told Glamour she knew the title wouldn't hold but wanted something to grab people's attention. But 
In 2021, Deschanel, Lamorne Morris (Winston), and Hannah Simone (CeCe) began a New Girl rewatch iHeartRadio podcast, Welcome to Our Show. And they broached the subject of the title. "The original title of the New Girl pilot was Chicks and Dicks," Deschanel said. "Not that it was seriously gonna be called that, but that was the working title while they decided what it was permanently." 
Deschanel almost didn't sign on for the role due to the name
While it's difficult to imagine anyone else playing the quirky Ms. Day, Deschanel almost didn't audition. When she received the script and saw the title, the actor wanted to pass on the project.
She said, "I felt violated just looking at the title. This does not sound like it's going to end well. But it was so funny," she told the Star Tribune. Luckily, she gave it a chance. The showrunners changed the name, and fans ended up with an unforgettable sitcom starring Deschanel and co. While Chicks & Dicks might really grab viewers, New Girl worked out pretty well for the show and its cast.