'New Girl' Star Zooey Deschanel Opens Up About 'Stressful' Spontaneous Nude Scenes, Plus Rumors About 'Butt Naked' Nudity
It's been nearly four years since Fox's New Girl wrapped up its seven-year run. Now thanks to streaming platforms, the binge-worthy series is experiencing a new surge in popularity. The relationship comedy starring Zooey Deschanel has provided viewers old and new with some much-needed comfort and laughter.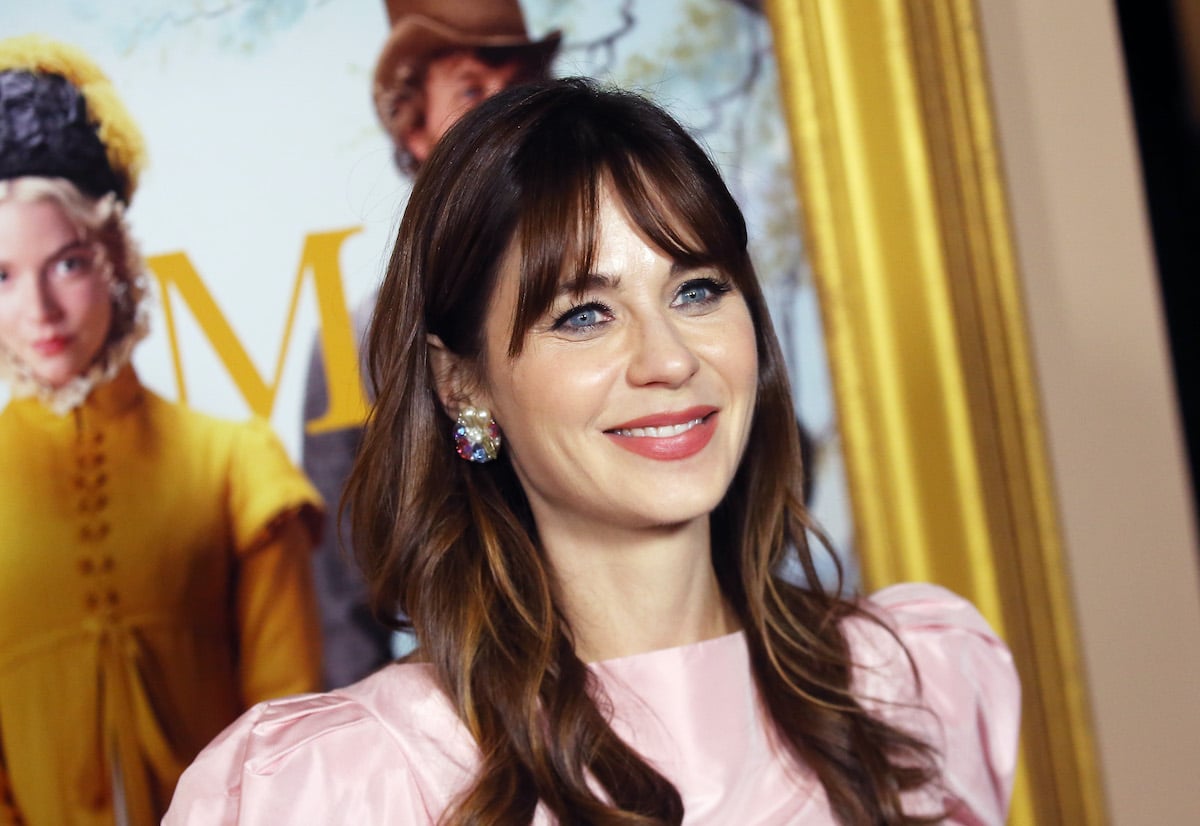 The storyline makes light of some very adult situations as the characters confront the intricacies of friendship, love, dating, and sex. Insider reports that Deschanel recently sat down with costars Lamorne Morris and Hannah Simone to discuss the series and the show's spontaneously scripted nudity.
'New Girl' stars Zooey Deschanel as Jess Day, a nerdy school teacher reeling from a bad breakup
We first meet Jess recounting the end of her last relationship and see her in the back of a taxi, wearing nothing but an overcoat and sensible shoes. She's on her way, unannounced, to spice things up for her live-in boyfriend with a little fantasy role-playing. When she gets home she finds him clad only in boxers, and boy, is he surprised. So is Jess, stark naked in their living room, and face to face with the woman he's cheating with.
Heartbroken, Jess answers an ad for a roommate posted to Craigslist by three bachelors, Nick Miller, played by Jake Johnson, Coach, played by Damon Wayans Jr., and Schmidt, played by Max Greenfield. Winston Bishop, played by Lamorne Morris, moves in later in the pilot when Coach moves out. Schmidt makes the executive decision to let her move in because, hey, "her friends are models!" With the help of her glamorous bestie, Cece Parekh played by Hannah Simone, Jess heals her broken heart and forges unbreakable bonds with her roommates.
Because the show aired on network television, its sexually charged humor often ran afoul of Fox's Standards and Practices department. In the United States, these departments are responsible for keeping television networks out of legal trouble for airing material that is indecent, obscene, or profane as set forth by the Federal Communications Commission.
"… I think if this show were on a streaming service it would have been, like, a completely different show, and probably, probably a bit darker, I would imagine," said the show's creator, Elizabeth Meriwether during a Zoom reunion for Variety's Virtual TV Fest in 2021, adding,
"I do think that like some of that stuff actually ends up helping comedy. I think some restraints force, you know, force you to be creative. But yeah, I mean, there is a lot of stuff that we, that ended up not being on the show, probably for better."
Zooey Deschanel said the writers of 'New Girl' often surprised the cast with 'stressful' nude scenes
Naturally, Standards and Practices made sure there was no actual nudity on screen, but the cast members frequently had to disrobe and often without advanced notice. Deschanel, Morris, and Simone recently discussed doing nude scenes on an episode of their New Girl rewatch podcast, Welcome to Our Show. The trio discussed Episode 104, aptly called "Naked" during which Zooey walks in on Nick and gets an eyeful, then makes a disastrous attempt to even the score.
"Yeah, Jake had to do a lot in that episode," Deschanel remembered. "… There is an episode coming up that I had to be in underwear and that was stressful to me. I wasn't expecting it."
Both Deschanel and Simone wanted to be physically fit if they were going to have to appear scantily clothed and the way the show was written and shot made planning for nude scenes hard to do.
Deschanel explained it like this:
"… The way that a scripted show on one of the major networks works … versus a streamer, or a cable network was that they would write, you would have a lot of episodes, right? You'd have maybe 22, 24, 25 a year and the writers would be writing at the same time that we're shooting, so we don't get a real heads up about episodes. … They (streaming services) usually write all the episodes and then shoot them, so they kind of know what they're dealing with, whereas we would just get surprised at a table read. And we didn't have time to like work out at the level like, I can't get crazy fit like, you know, some person who's doing a superhero movie. I have no time. We're going to shoot this in one week. They might even do a rewrite that adds one of these things the night before. So I might hear on Sunday that Monday is underwear day."
Zooey Deschanel addresses Lamorne Morris's "butt naked" rumor
"There's a rumor going around that in that episode, and I don't know if this is true, uh Zooey, but you guys, you guys were butt naked. … Jakes's penis was out," Morris said on the podcast.
"That's definitely not true," said Deschanel.
"Oh, for goodness sakes," said Simone.
"Did you make that up? That was a rumor? It was not out," Deschanel replied emphatically as Morris continued to insist that he'd heard it was. "It was not out otherwise Jake probably would have been canceled a while ago."
It might not have been out, but the undergarments Johnson wore in his nude scenes didn't leave much to the imagination. "No, she hasn't officially seen my junk," Johnson told POPSUGAR. "But you can pretty much see the junk in those outfits."
Johnson went into greater detail, describing what he wore in an article by HuffPost. "There's this weird TV/movie underwear that they have you in, it's like clear skin. [Deschanel] saw way too much," he said. "When I'm in there, you see what my junk looks like. It's surprisingly hard," he said, laughing, "because the whole crew could see."
Catch all seven seasons of New Girl streaming right now on Netflix.
Related: How Kate Winslet Once Inspired Elizabeth Olsen to Do Nude Scenes