'New Girl': Zooey Deschanel and Jake Johnson Were Directed to Have Little Physical Contact in Season 1 Because Their Chemistry Was Too Distracting
When you're hooked on a TV show, it's so easy to become fully invested in a character's relationship when it's believable. It's that thing called chemistry—and Zooey Deschanel and Jake Johnson have it in spades as New Girl's Jess and Nick. After seven seasons, the hit FOX sitcom ended on May 15, 2018, but many fans continue to stream it.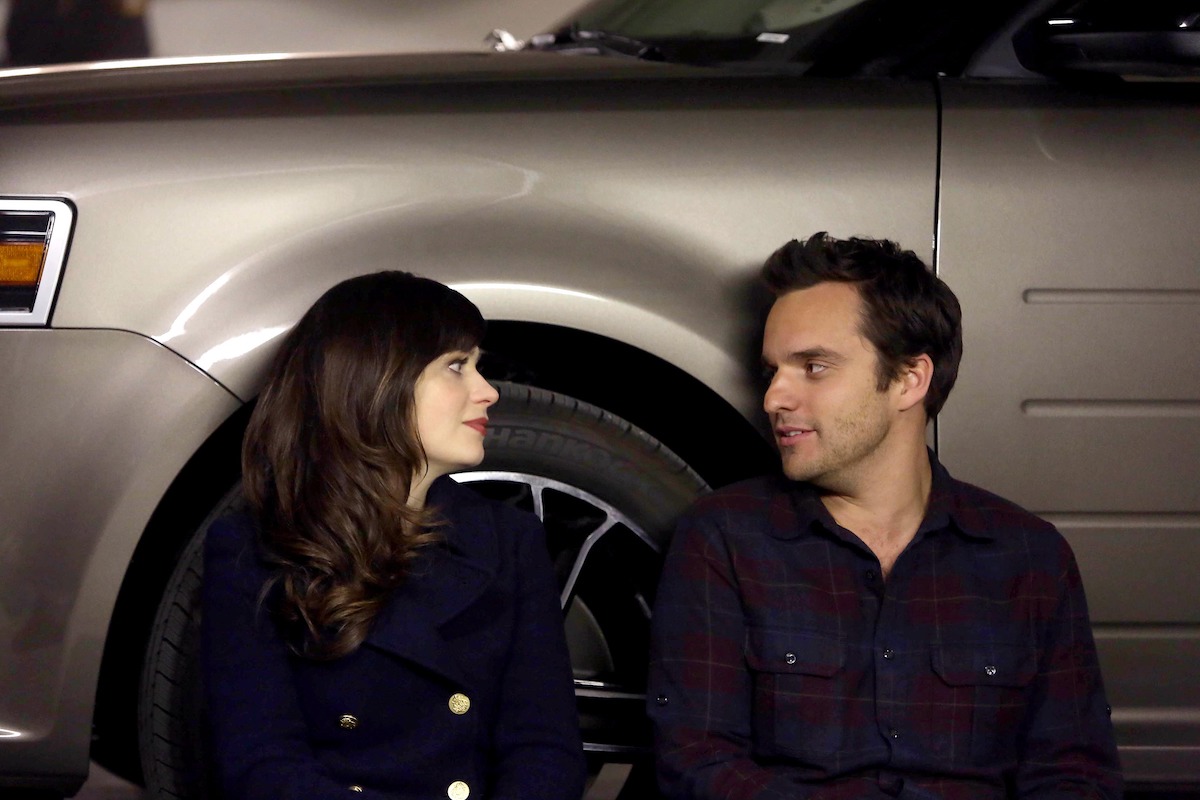 Fans had been rooting for Jess and Nick to hook up ever since they first met on Episode 1, but the writers kept trying to prevent their fiery chemistry from turning into a blaze too soon.
Deschanel and Johnson were told to limit physical contact—and even eye contact
Elizabeth Meriwether created New Girl, and she, along with the cast, once spoke about all the sexual tension between Nick and Jess at an event posted on YouTube by The Paley Center for Media.
Meriwether reveals that Jess and Nick inspired lots of steamy fan fiction. "It was really dirty," she said, talking about how fans were writing their own stories about Jess and Nick getting together.
Despite what fans wanted, Meriwether says the writers wanted to build the romance slowly. But as Jess and Nick, Deschanel and Johnson are so good together that the couple ranks at number two on BuzzFeed's list of "celebrities who had so much sexual chemistry it literally hurt." Is it possible to have too much of a good thing?
Whenever they were close to each other, the chemistry between Jess and Nick was so off the charts it was too distracting to the scene, Meriwether says. They tried to cool things down by telling them to have as little physical contact as possible. Even eye contact was becoming too flirtatious.
Demonstrating what would often happen while filming any ordinary scene, Johnson said his character would say something like, "Hey Jess do you want some coffee?" Then Deschanel blurted out, showing how they'd be directed, "Too much chemistry! Keep them away!"
When Jess and Nick finally got together for good, it was worth the wait
Jess and Nick's flirting, hookups, and the on-again-off-again relationship had so many twists and turns that it's easy to see how the chemistry kept building. Their first kiss surprised fans with a passionate moment on Season 2 Episode 15.
During a game of True American, they were locked in a bedroom as their friends root for them to kiss, but Nick whispers, "Not like this," and climbs out the window. Later that night, it finally happened.
In an interview with TV Guide, Deschanel said, "When you have characters who've had this sexual tension for this long, it has to be a freakin' hot kiss, and you have to surprise them." Johnson added, "We were excited we were finally doing more than making eye contact."
By the end of Season 2, Nick and Jess had sex. They first said "I love you" on Season 3 Episode 14 after Prince gave them advice, which was an episode that made ShipRecced's list of New Girl's not-to-miss episodes.
The couple's final dramatic moment was on Season 6 Episode 22 when Jess is about to move back to Portland, but Nick rushes to tell her his feelings.
Nick runs into the apartment building as Jess' moving truck pulls away. Jess leaves the truck in a split-second decision and runs back just in time to find Nick in the elevator. They stare at each other, smiling, and fans know what will happen next.
Flash-forward three years into the future for the premiere of the show's seventh and final season, and fans were happy to see that Jess and Nick were married and raising a son, Screenrant reports. The rest of Season 7 shows Nick's incredibly romantic proposal and the couple's wedding day.
Here's who has hung out in real life—and who hasn't
Since they seemed to be so close on the show, fans wonder if Jess and Nick are friends in "real life." It seems like the entire cast has gone their separate ways since New Girl ended.
Deschanel once told PureWow that she texts everyone every few months. Johnson spoke to Justin Long on the podcast Life is Short with Justin Long about his off-screen friendships. Long is no stranger to the group—he guest-starred as Jess' boyfriend Paul, a quirky music teacher, on New Girl's first season.
"Max and I text all the time," Johnson said, referring to Max Greenfield, who played Nick's best friend, Schmidt. But he explained that when they talk, it's always about work. "I don't know why that is," he said, although other reports say their 'bromance' is alive and well IRL.
Johnson also told Long he has a real—and weird—connection with Damon Wayans Jr., who played their roommate, Coach, on Season 1. "We are so comedically intimate via our texts, but we've never met each other's kids," he said. "We all like each other," he added before saying again that they don't really keep in touch.
As for Johnson hanging out with Deschanel in real life, that hasn't happened. Several sources claim that Johnson and Deschanel don't even like each other. There are rumors that Johnson thought Deschanel acted like a diva. He was also, reportedly, "jealous of her paycheck."
Hopefully, the rumors aren't true, but if they are, maybe the off-screen friction helped to heighten the romantic tension between Nick and Jess on-screen.
RELATED: Zooey Deschanel Asks 'New Girl' Fans to Weigh in on What the Gang Would Be Doing During Quarantine