A New 'Signed, Sealed, Delivered' Movie Is Finally Coming to Hallmark
Hallmark has unveiled its "Fall Harvest" movie schedule, and it features a big treat for fans of the Signed, Sealed, Delivered franchise. More than three years after the last movie in the series, a new film about the group of postal workers who track down the intended recipients of undeliverable mail is finally on the horizon. 
A new 'Signed, Sealed, Delivered' airs in October 2021 ​​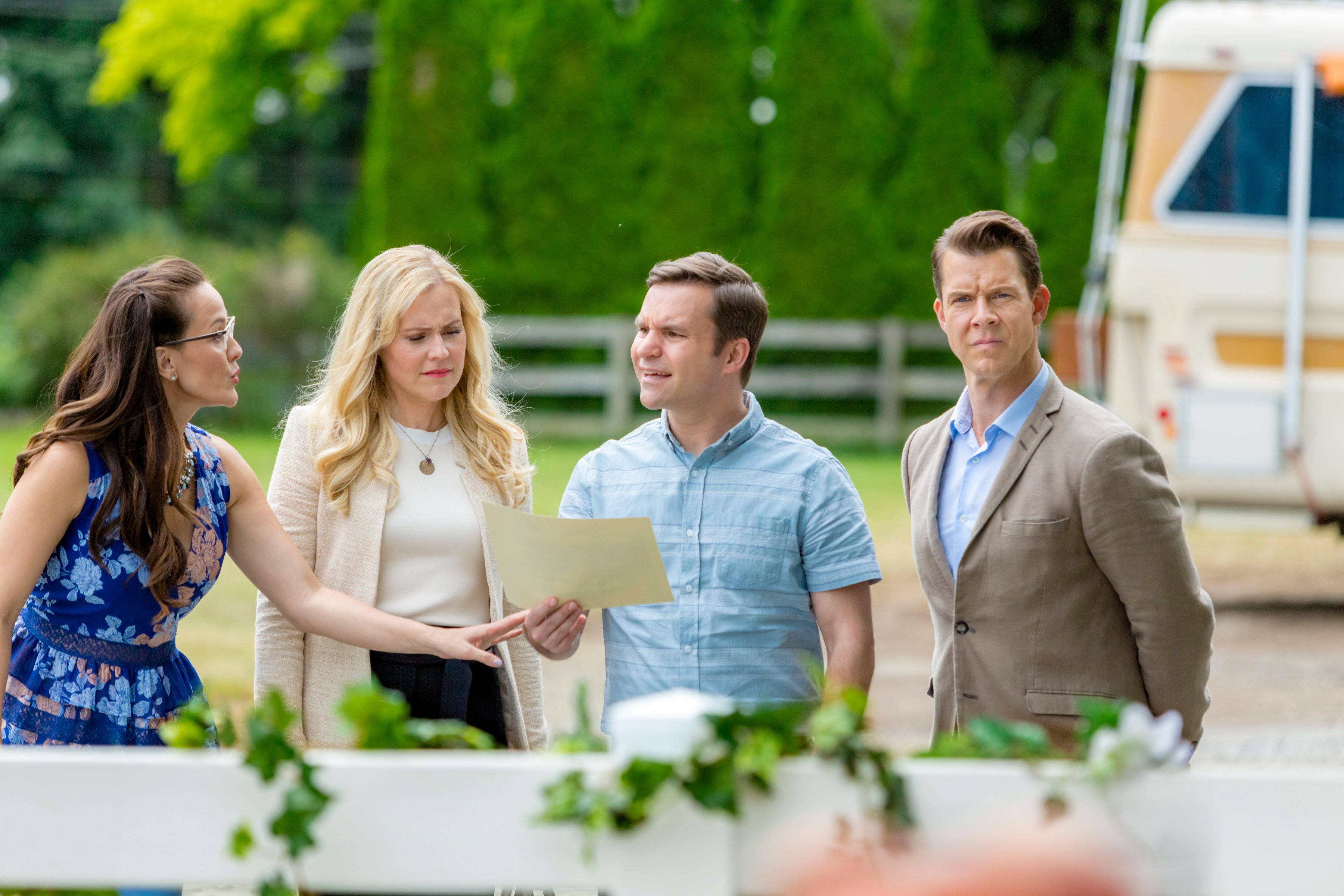 The as-yet-untitled Signed, Sealed, Delivered movie will air on Sunday, Oct. 17 on Hallmark Movies & Mysteries. The four core cast members — Eric Mabius, Kristin Booth, Crystal Lowe, and Geoff Gustafson — will all be back for the latest installment. 
In the movie, Shane (Booth) and Oliver (Mabius) are preparing for their wedding. But they must pause their planning to help a young boy who is fighting leukemia and hopes to reunite with his long-lost friend. Their search gets more complicated when Shane's mother shows up with her own plans for the wedding. Meanwhile, Rita (Lowe) and Norman (Gustafson) are navigating some challenges as they try to start a family. Fortunately, a new employee in the Dead Letter Office might be able to help.
The 'Signed, Sealed, Delivered' cast was excited to share the news with fans 
Given that the last Signed, Sealed, Delivered aired way back in 2018, some fans — who've dubbed themselves "POstables" — may have given up hope that they'd ever see another movie. Though Hallmark announced in 2019 that it planned to continue the series, it took some time for things to move forward, especially given COVID-19 production delays. So, it's no surprise that the show's cast was excited to share news of their return to Hallmark. 
"It's OFFICIAL #POstables!!!," Booth tweeted. 
"OH. HAPPY. DAY!!" tweeted Mabius. 
The replies to both tweets were filled with comments from fans expressing how excited they were that the feel-good series would be back.
However, the premiere date news likely didn't come as a huge shock to some. Mabius had shared back in April 2021 that things were looking good for a new Signed, Sealed, Delivered. And in July, Lowe posted a cast photo to Twitter with the message: "We r getting this crazy group back together again soon!!"
The new 'Signed, Sealed, Delivered' is currently filming 
With a premiere date locked down, the cast is currently back at work. On Aug. 4, Mabius shared a photo from his first day back on set. Lowe checked in with fans as well, sharing an image of her on-screen husband wearing some protective gear during filming.
"The man, the myth, the legend," she tweeted. "My tv hubby, face shield, neck fans…he has it all!"
Hallmark also revealed premiere dates for the rest of the "Fall Harvest" slate. Six new movies will air on Hallmark Channel, while another six (including Signed, Sealed, Delivered) will air on Hallmark Movies & Mysteries. "Fall Harvest" kicks off on Sept. 11 on Hallmark Channel with Roadhouse Romance, starring Tyler Hynes and Lauren Alaina, and concludes with Signed, Sealed, Delivered on Oct. 17.
Check out Showbiz Cheat Sheet on Facebook!
RELATED: Jack Wagner of 'When Calls the Heart' Stars in Final 'Wedding March' Movie on Hallmark