Nia Long Once Recalled Her Horrible Blind Date With Chris Rock: 'This Dude Is Not Even That F****** Funny'
Many celebrities were courting Nia Long at the peak of her career. One such celebrity was then-upcoming comedian Chris Rock, who was set up on a date with The Fresh Prince of Bel-Air alum. But even though the two are friends now, they both revealed they couldn't stand each other when they dated.
Why Nia Long and Chris Rock hated each other during their date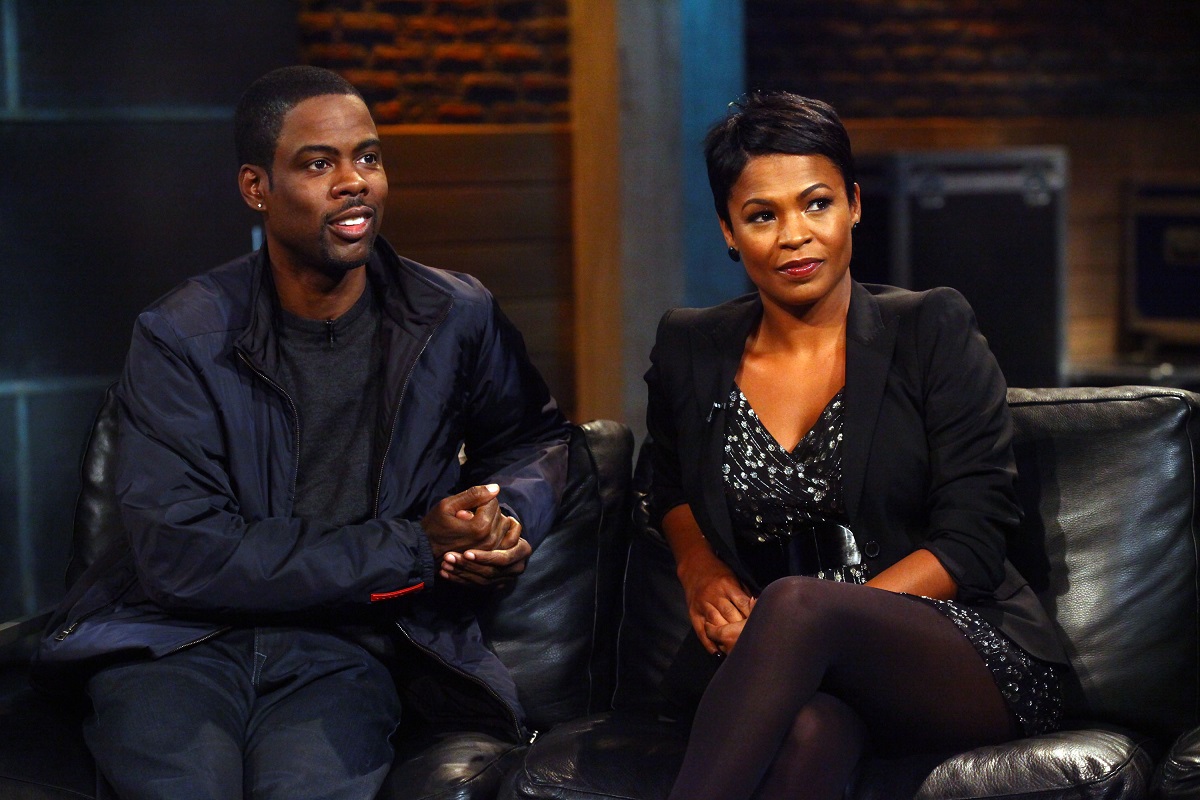 Nia Long recalled many celebrities vying for her affection. In an interview with TV One TV, Long remembered men attempting to seduce her with several grand gestures.
"Dudes sending flowers, diamonds," Long recalled. "My doorbell rings at 4 o clock in the morning, and there's this beautiful box of diamond rings that were brought in on a private jet and delivered in the middle of the night. All that was so overwhelming for me."
One such celebrity who initially tried to capture her heart was Chris Rock.
"I remember Chris Rock and I were set up on a blind date. He was on Saturday Night Light. He picked me up. We went out. We hated each other," Long said. "I was like, 'This dude is not even that f****** funny. And he's the only dude that has ever given me a false number."
Why Chris Rock gave Nia Long a fake number
Chris Rock explained why he didn't give Long his real number. In an interview on The Wendy Williams Show, Long confided how she discovered the number wasn't Rock's by calling him. But Rock admitted this wasn't done by accident.
"Yes, I did it purposely," Rock revealed. "She was kind of obnoxious."
Although Long asserted she wasn't, Rock thought otherwise. The Top Five star soon added that there was one thing about his brief encounter with Long that stopped him from pursuing her any further.
"So, at some point in the day, I go, 'Are you seeing anybody?'" Rock recalled. "And she says, 'No, but I know where I need to get some d*** if I need it.'"
For Rock, the comment apparently ended all chance of a romance between him and Long. But fortunately, their friendship has remained intact.
How Chris Tucker got revenge on Nia Long when the two went out on a date
Chris Rock isn't the only comedian that Nia Long tried her luck with. Another Chris, Chris Tucker, also dated the Fatal Affair actor. In an interview with AV Club, Long explained how Tucker got back at her when the two went on a date. Back in their earlier years in the business, Long remembered making fun of Tucker's car.
"I bought myself a BMW. It was so cute. I was shooting Friday at the time, and Chris Tucker and I saw each other on the freeway, on the way to the set," Long said. "He had a busted window with a pizza box over it because he couldn't afford to fix the window! We get to work and he goes, 'When I grow up, I want to be just like you.'"
But things changed years later after Long and Tucker met for a dinner date.
"Cut to—all the money he made. Two years ago, we go out to dinner and he picked me up in—ready?—a Phantom Rolls-Royce, which—I couldn't even figure out how to get the damn car door opened. I said to him: 'Oh, you want to be like me? I think the tables have turned,'" Long quipped.
RELATED: Nia Long on 'Boyz n the Hood' and Why She Almost Turned it Down