How a Nick Cave Song Ended up in 'Harry Potter and the Deathly Hallows: Part 1'
The music supervisor of 'Harry Potter and the Deathly Hallows: Part 1' made the decision to add a Nick Cave song during an integral part of the film.
One of the most memorable moments in Harry Potter and the Deathly Hallows: Part 1 and the entire Harry Potter series involves a sad Hermione, a tired Harry, and a Nick Cave song. No one was expecting the two friends to drop all of their worries about lost loved ones, Horcruxes, and Dark Lords to dance to the music of a haunting yet inspiring ballad from the king of emotive lyrics.
Daniel Radcliffe even admitted the scene is completely random during the recent Harry Potter 20th Anniversary: Return to Hogwarts special. Meanwhile, Emma Watson revealed that the dance was one of her favorite moments.
But how did a Nick Cave song land in a Harry Potter film?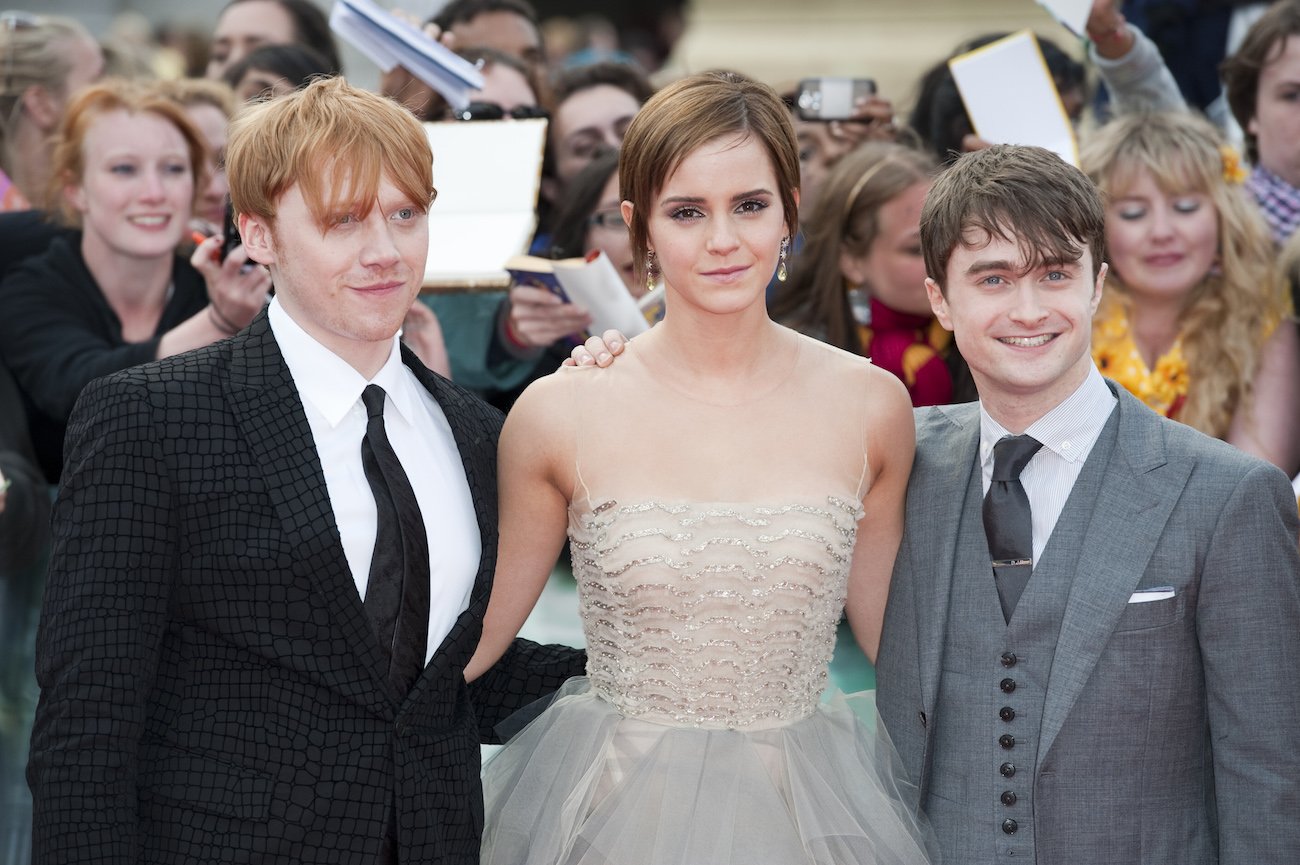 Nick Cave's 'O Children' appears in 'Harry Potter and the Deathly Hallows: Part 1' because of a break up
Director David Yates said (per Insider), "Harry and Hermione's relationship is about true friendship. We wanted to do a scene without words that kind of caught that relationship. There's just something really tender and moving about seeing them trying to alleviate the pain by dancing."
Besides dancing, the only way to alleviate pain is to listen to Nick Cave, "an artist whose work has been steeped in lechery, sin, and redemption, characteristics not necessarily associated with a holiday-season family blockbuster," the LA Times wrote.
But how the song came to be in the film is a different story. It's strange that a breakup influenced music supervisor Matt Biffa's decision to add "O Children" by Nick Cave and the Bad Seeds.
"I was separating from my wife at the time," Biffa told the LA Times. Biffa came across "O Children" in 2004 and "hoarded it." He knew it "would be a great song for something, but I didn't know what. I had forgotten all about it and started listening to it because I was splitting up from my wife. I was really terrified that we were going to hurt our little boys, who were 1 and 3 at the time. So it was like a love letter to my kids.
"There was something really uplifting about that 'O Children,' with lyrics like 'rejoice / lift up your voice,' and all that stuff. I was thinking of my kids. The lyrics are saying, 'Forgive us for what we've done.' It started out as a bit of fun, but then there's weeping. It was horribly on the nose for me. At the same time, it was giving me hope. It's not the same as writing a song for my children, but this is the closest I can get." 
Fortunately, Biffa landed on a song without trying, but Yates had other plans.
Yates wanted more options
When Biffa approached Yates about using the song for the scene, the director said, "I think this song is just right, but is there anything better?" You can imagine what Biffa thought. "O Children" perfectly described what he was going through, personally. Plus, it also set the tone for the scene just right. Why look anywhere else?
Still, Biffa appeased Yates and sent him seven different CDs of potential songs. Initially, Yates told Biffa to find an "old soul song." So, Biffa looked at artists like Radiohead, Queens of the Stone Age, and Spiritualized.
"We talked a lot about some of the great old soul songs, songs from James Carr and Otis Redding," Biffa said. "That was initially what David was after. But they're too much of the Muggle world, if you like. It's too human, such as bands like Oasis, and Radiohead, to a certain degree. As much as I love Radiohead, I think it would have been too obvious."
After reading the script, Biffa knew it had to be an uplifting song, but not "too pointedly romantic."
"O Children" was the right decision, and Biffa knew they'd nailed it when he watched Radcliffe and Watson film the scene. "After they did the first couple takes, I looked over and a couple of the makeup girls were crying," Biffa said. "Then I felt all right. We nailed it."
Getting permission to use the song was also a no-brainer. Actually, it got back to Biffa that Cave was pleased that he and Yates decided to use it. "I love the fact that a whole generation of people, like kids, who weren't aware of Nick Cave will discover him through the film," Biffa said.
Emma Watson said she loves the dance scene in 'Harry Potter and the Deathly Hallows: Part 1'
Biffa isn't the only person who loved "O Children." During the recent Harry Potter reunion, Watson revealed that she enjoyed filming the dance scene very much. However, she wasn't sure about it at first.
"The scene that I thought was going to be really awkward, and I wasn't sure about at all, was our dance. Now that's one of my favorite scenes from the whole of the series," Watson said, "because the level of familiarity that [Daniel Radcliffe] and I had with each other at that point, I don't think I could've done a scene like that with another actor."
"So much said in the scene that was unspoken, and I love that. And also, in the same way that our characters got to have a moment of fun, I feel like we got to have a moment of fun, which we also needed."
Whatever fans think about the scene and its music, they can't argue that it's not memorable. Plus, it gave Cave new listeners. Either way, Radcliffe and Watson got to share a special moment in their own bubble. They just didn't expect Cave to occupy it as well.