Nickelodeon Slime: What Is the Green Stuff Made Of?
If you're familiar with an ooey, gooey, neon green substance being poured over someone's head, you probably grew up watching Nickelodeon. From You Can't Do That on Television to Double Dare and Figure It Out, child stars and guests alike are susceptible to getting slimed on Nickelodeon shows. 
If you grew up watching Nickelodeon, you might wonder what the green stuff is made of. Now, we finally have an answer to what exactly is in the Nickelodeon slime recipe. As it turns out, there's more than one way to make the stuff.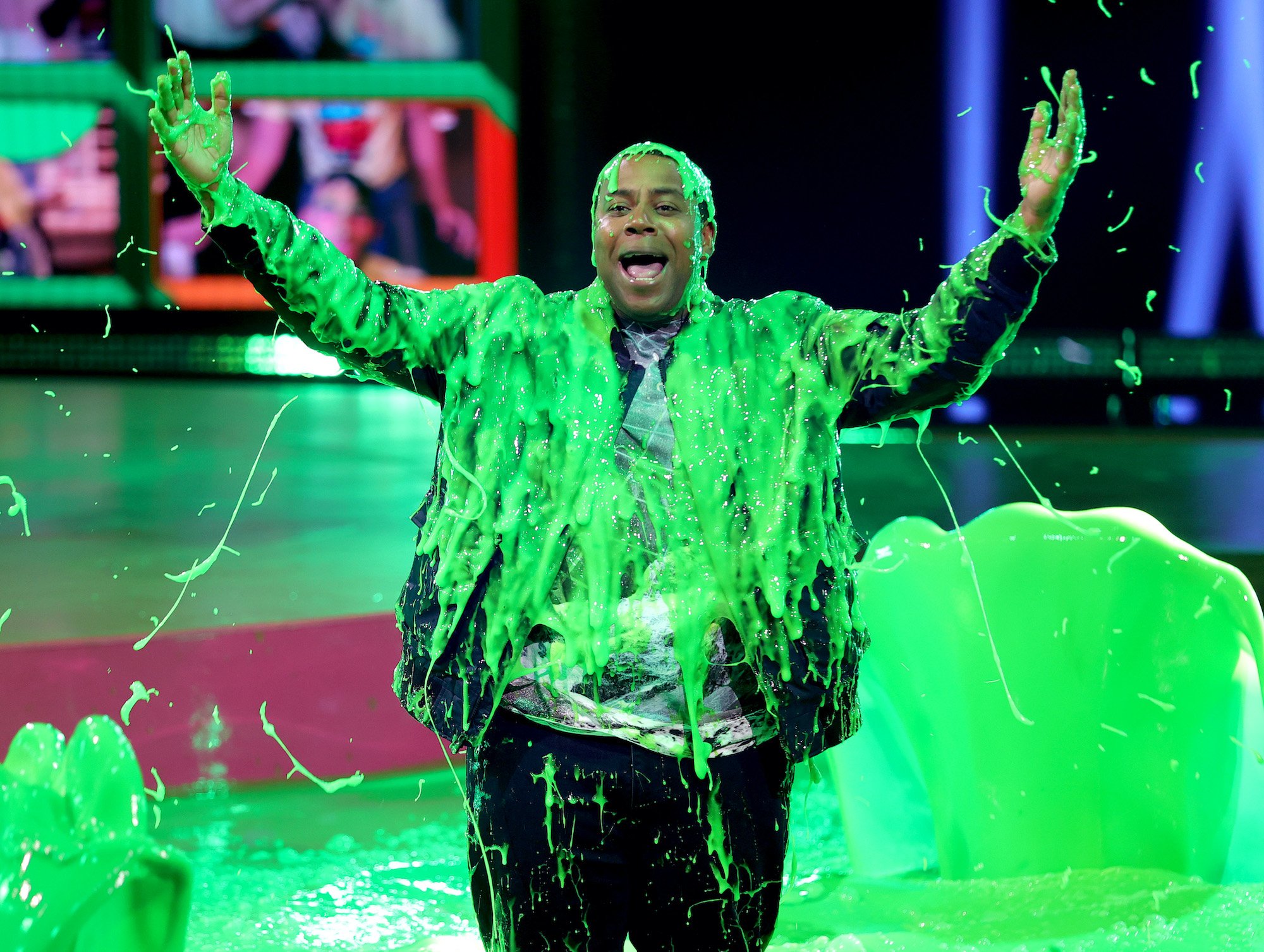 Nickelodeon slime originates from a Canadian show 
According to Vox, Nickelodeon's green slime first appeared on You Can't Do That on Television in 1979. The Canadian program later aired on Nickelodeon in 1981. 
As Nickelodeon's programming began to expand, so did the network's use of green slime. Shows like Double Dare would fill obstacle courses with slime to make them more challenging. Meanwhile, players on Figure It Out would get slimed at any given moment. Eventually, Nickelodeon incorporated the slime into the annual Kid's Choice Awards. 
What is Nickelodeon slime made of? 
Typically when you think about Nickelodeon slime, you picture the classic green and slightly viscous liquid being dumped onto the heads of unsuspecting game show contestants, celebrities, and sometimes even adults. That has to mean slime is edible, right? 
According to Mathew Klickstein's book Slimed!, the most popular recipe used to make green slime is a mixture of Cream of Wheat, green food coloring, and baby shampoo. But that's not the only slime recipe Nickelodeon uses.
The recipe for green slime can change based on the slime's intended use. According to the Slime Society, there are several official slime recipes. One calls for water, gelatin powder, flour, and baby shampoo. 
Another slime recipe calls for clear corn syrup, water, and green food coloring. This recipe creates a smoother slime mix perfect for Double Dare's Slime Canal. Still, Nickelodeon Studios used another recipe in 1992 with apple sauce and green food coloring. 
Summer Sanders says the slime on 'Figure It Out' was different 
Nickelodeon used different types of slime in various settings. But according to Summer Sanders, the slime used on Figure It Out was vanilla pudding dyed with green food coloring. 
If you remember Nickelodeon star Danny Tamberelli eating slime all the time, that's because it was just vanilla pudding. "They kept it refrigerated," Sanders explained to MTV. "Half of the reaction from the panelists was the fact that they were getting slimed, but the other half was that it was so freezing that it would just shock you." 
Being slimed on Nickelodeon was an honor for contestants and child stars alike. Now, it's one of the most nostalgic memories for kids of all ages. 
Nickelodeon is the subject of 'The Orange Years' documentary 
The Orange Years: The Nickelodeon Story is a 2018 documentary about the rise of the Nickelodeon network. The movie features interviews with the actors, writers, and creators from the golden age of Nickelodeon shows. 
The Orange Years: The Nickelodeon Story is available on Hulu.