Nicolas Cage Called 1 of His First Film Roles 'a Terrible Experience'
Nicolas Cage is now an established actor with many successful roles under his belt. But he hasn't always had a positive experience on set. He faced some adversity in one of his first film roles that led him to make a major change.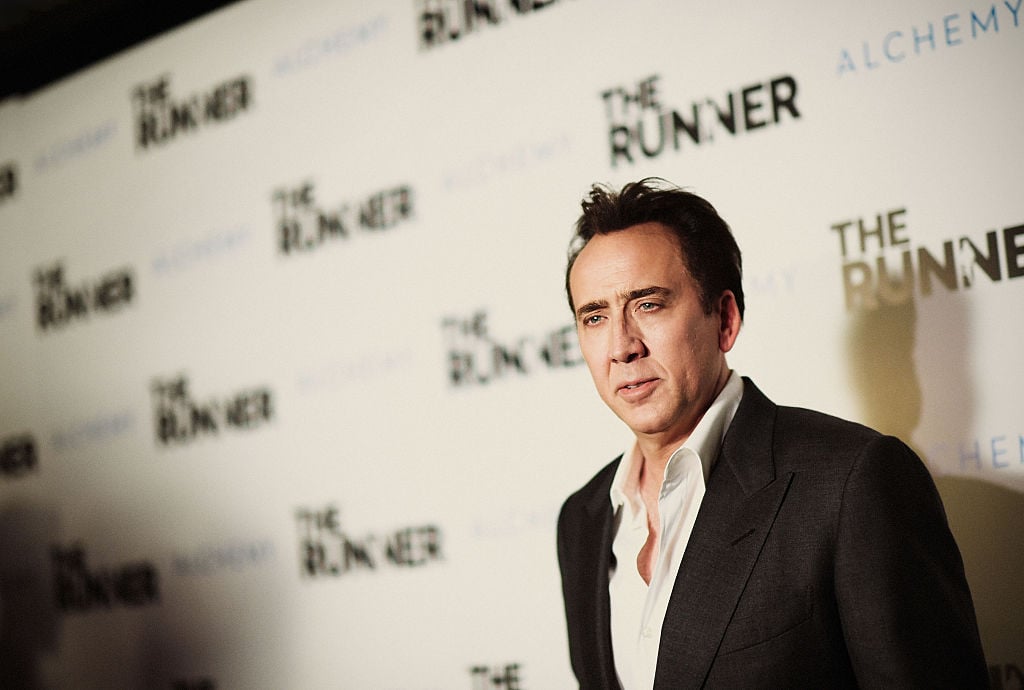 Nicolas Cage's career spans many years and multiple genres
Cage has had a long career spanning almost 40 years. After first appearing in teen comedies, including Fast Times at Ridgemont High (1982), Valley Girl (1983), and Rumble Fish (1983), Cage began taking on more serious roles by the late 1980s.
A high point was when he won an Academy Award for Leaving Las Vegas in 1995. In the 1990s, Cage appeared in several action thrillers, such as Con Air (1997), Face/Off (1997), and Snake Eyes (1998). He was nominated for a second Academy Award for his performance as twins in Adaptation (2002). Then, he starred in National Treasure (2004) and National Treasure: Book of Secrets (2007).
RELATED: 'Dumb and Dumber': Why Nicolas Cage, Rob Lowe, Gary Oldman, and Other Stars All Turned Down Roles
Cage appeared in three films that his uncle, Francis Ford Coppola, directed: Rumble Fish in 1983, The Cotton Club in 1984, and Peggy Sue Got Married in 1986. Cage also appeared in his brother Christopher Coppola's film Deadfall in 1993.
Over the years, some people have criticized Cage for over-the-top performances. But he's still found success in various genres — from teen comedies to big-budget thrillers.
'Fast Times at Ridgemont High' led to a major change for Nicolas Cage
In a 2012 interview with HuffPost, Cage discussed his time making Fast Times at Ridgemont High, calling it "a terrible experience."
"Yeah. Terrible," he said. "Because I must have auditioned for the Judge Reinhold part 10 or 11 times. I was underage, so I couldn't get it because I couldn't work as many hours. And I was surrounded by actors, whose names I won't mention, who were not very open to the idea of a young guy named 'Coppola' being an actor."
At the time, Cage went by Nicolas Coppola, which is how he was credited in the film. But he would soon change that.
"That movie was instrumental in me changing my name because of the kind of unfortunate responses to my last name," he said.
Old Nicolas Cage films are seeing a resurgence in popularity today
Cage recently has appeared in movies including Mom and Dad (2017), Mandy (2018), and Color Out of Space (2019). Cage is also scheduled to star in a scripted television series based on Joe Exotic, who was recently featured in Netflix's Tiger King.
Furthermore, many of Cage's older movies are more popular than ever, possibly due to nostalgia for all things '90s.
"There seems to be something happening on the Internet with people who have followed my career," Cage told NME. "Some of the movies are returning in a way that I think is making them more interesting, which I'm thankful for. It's truly something that I see as good news. But I'm not nostalgic about my early work and I'm always trying to feel where I can go and how I can go forward."
[Correction: An earlier version erroneously stated that Cage lied about his age for a role in "Fast Times at Ridgemont High."]