Nicolas Cage's 'Tiger King' vs. Kate McKinnon's 'Joe Exotic' Series: What's the Difference Between the Shows?
Tiger King mania is still going strong. After the Netflix documentary went viral in 2020, a fictional adaptation was inevitable. And now, there are two Tiger King dramas on the horizon. Nicolas Cage is playing Exotic in a series for Amazon. And Kate McKinnon is playing Carole Baskin alongside John Cameron Mitchell as Exotic in a series for NBC/Peacock.
Given that they're based on the same people, how are these shows going to differ? It's too early to know exactly what the shows will be like, but there are hints about their subject matters.
What happened to Joe Exotic?
Tiger King made Exotic (given name Joe Schreibvogel) a celebrity, but he was in prison when it came out. The finale of the Netflix doc detailed the self-proclaimed "gay hillbilly" being sent to prison for attempting to hire someone to kill Baskin.
Exotic was hoping the sudden fame he got from Tiger King would result in a pardon from President Trump before his term ended. While Trump pardoned a litany of people, Exotic was not one of them. But the 58-year-old and his team were so confident a pardon was forthcoming, they had a limousine parked outside Exotic's prison. The pardon never came.
As for Baskin, she competed on Dancing With the Stars after the success of Tiger King. She didn't win the mirrorball trophy, but she did dance to "Eye of the Tiger," so there's that.
RELATED: 'Tiger King': Carole Baskin Says Joe Exotic Was Served More Jail Time After Not Being Pardoned by Donald Trump
Are they making a Tiger King show?
Two Tiger King shows being made simultaneously does create a bit of confusion. For example, how does copyright not become an issue? Someone would have had to buy the rights to these stories, right? Well, there's a bit of a loophole there.
Cage's Exotic series (so far unnamed) is based on the 2019 Texas Monthly article about the eccentric zookeeper. McKinnon's series, on the other hand, is based on Wondery's Joe Exotic podcast. According to The Hollywood Reporter, Cage's series is going to focus on how Exotic became the infamous "tiger king" as well as his feuds with Baskin and Jeff Lowe. Should it come to fruition, it will reportedly show Exotic's chaotic rise and fall.
Given that there is no casting updates to Cage's casting is the only casting announcement as of late, it seems as though the Moonstruck alum's series will largely center around Exotic himself.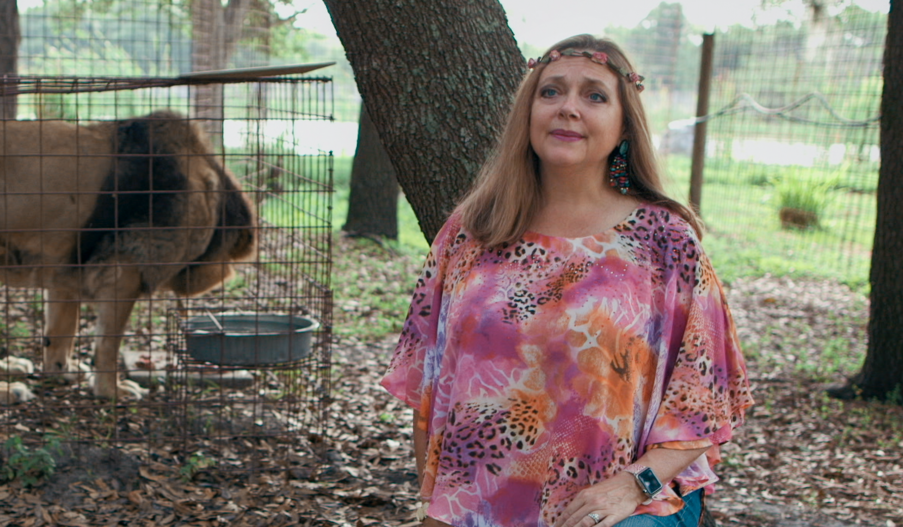 RELATED: 'Tiger King' Star 'Doc' Antle Charged With Wildlife Trafficking, Continues Posting on Social Media
Nicolas Cage's Joe Exotic vs. John Cameron Mitchell's
The fact that McKinnon and Mitchell have both been announced as stars of NBC's Joe Exotic denotes Baskin's character will have a more significant role than she would in Cage's adaptation. It could be a fictional retelling of the epic feud between Exotic and Baskin. And who knows, maybe they'll even throw in details about the lives of the two big cat keepers after Exotic was imprisoned.
It's not clear if Cage's series will be a mini-series, but McKinnon's is confirmed as such. McKinnon and Mitchell's face-off will also be broadcast on cable networks, as opposed to Cage's series which would live on Amazon. Joe Exotic is being developed for NBC, Peacock, and USA.
Another key difference between the Amazon and NBC productions is the fact that Mitchell is openly gay, as is McKinnon (Baskin came out as bisexual in 2020). Unfortunately, it's still very frequent for members of the LGBTQ+ community to be overlooked for roles about queer people in favor of straight actors. So, a gay man and a lesbian being cast in these outwardly queer roles is a fun thing to see. If Cage is queer and hasn't told us, werk!