'Nine Perfect Strangers' Episode 3 Recap: Protocols and Potato Sack Races
The first three episodes of Nine Perfect Strangers are now available on Hulu, and episode 3, "Earth Day," heats things up as Masha (Nicole Kidman) begins her mysterious protocol. Although viewers don't know exactly what her new healing strategy entails, they know it's controversial. That's probably why Delilah (Tiffany Boone) warned against jumping into it early. Of course, Masha didn't heed that advice — and the result led to a tense installment with a bombshell ending.
[Spoiler warning: This article contains spoilers for Nine Perfect Strangers Episode 3.]
The 'protocol' begins in 'Nine Perfect Strangers' Episode 3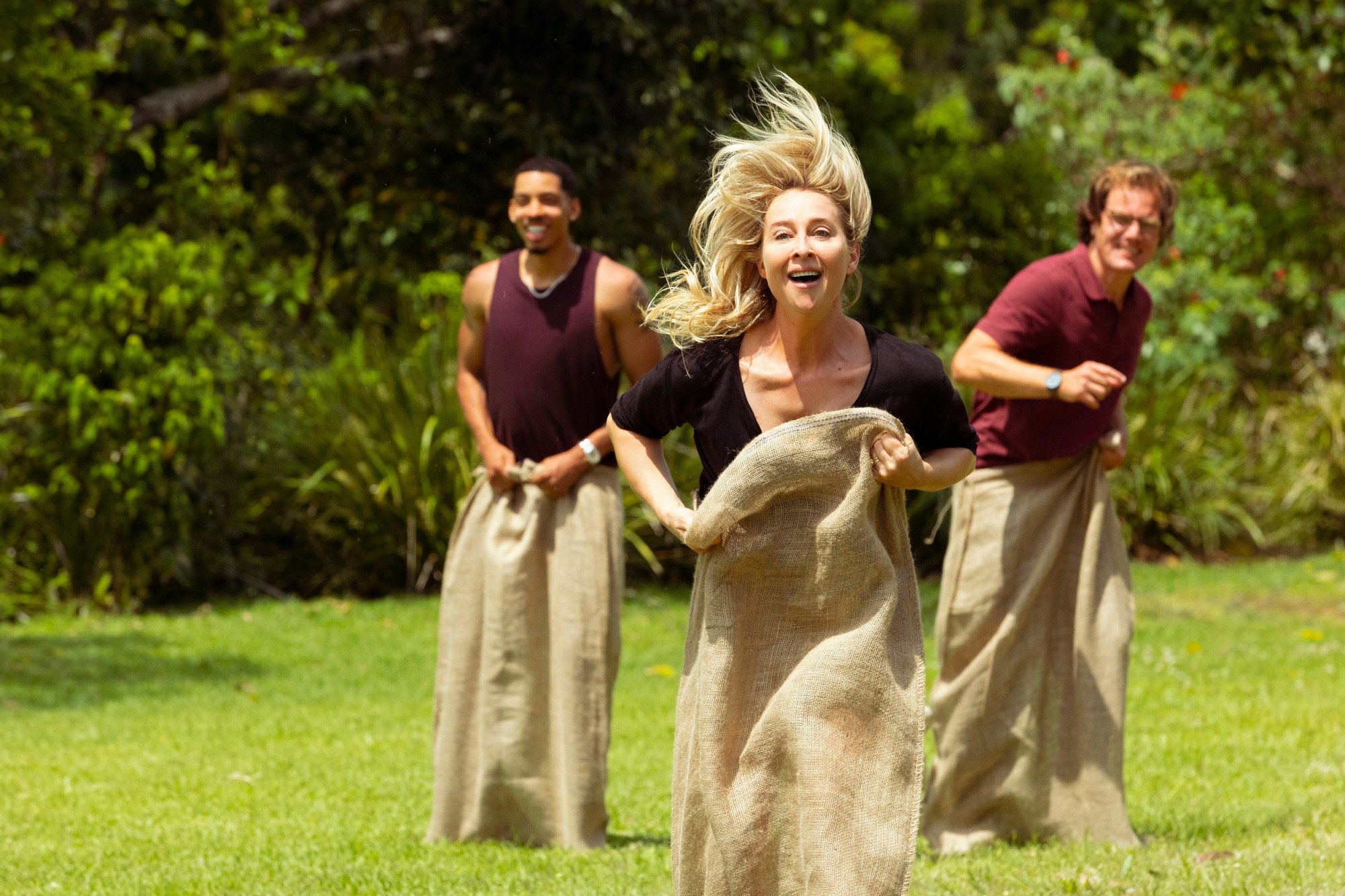 Nine Perfect Strangers Episode 3 kicks off with a tense breakfast between the guests at Tranquillum House, signaling that a day at the resort hasn't warmed these characters to one another. Even the visitors who arrived together aren't getting along as well as they could. The opening scenes show Ben (Melvin Gregg) and Jessica (Samara Weaving) struggling in the bedroom, while Heather (Asher Keddie) and Napoleon (Michael Shannon) continue to talk around their problems.
Lars (Luke Evans) seems determined to make matters worse over breakfast, pointing out the tensions between the other guests. Things escalate to the point of violence, with Lars' comments grating on Carmel (Regina Hall) so much that she attacks him. That's not enough to slow Masha down, however. She insists on moving forward with the protocol. Evidently, it involves forcing the guests to fast all day.
With nothing but smoothies in their systems, the group has a potato sack race that actually lightens the mood at the resort. It's a fun moment that lets the characters shine without delving into their trauma. The race certainly balances the darker scenes that follow.
After the race, the guests are told they can eat whatever they're able to forage from the land. While Masha and her staff likely have fruits and vegetables in mind, the men's group — led by Manny Jacinto's Yao — comes across Masha's goat while searching for food. Fired up and hungry, they wind up killing it. The ruthless move brings the mood back down from the potato sack race and serves as a reminder of the guests' mortality. It could also prove foreshadowing for what's to come.
Episode 3 shows a darker side of Regina Hall's character
Regina Hall's character has stayed on the sidelines during the previous two episodes, but Nine Perfect Strangers Episode 3 suggests there's something violent stirring beneath her smiles and friendly demeanor. Viewers got a glimpse of that when Ben brought up her kids in episode 2. However, it comes out in full force during "Earth Day."
Naturally, Carmel's biggest moment in the episode is attacking Lars — which goes unaddressed beyond Delilah's continued concerns with the group. While he might have deserved her vitriol, he's not the only one on the receiving end of her wrath in episode 3.
Carmel also gets into it with Jessica, with the younger girl snapping at her over an off-hand comment about social media. Weaving's character has already demonstrated that her obsession with online platforms is a sore spot. When Carmel compares Jessica to her children, that's all Jessica needs to tell her to "f— off." Carmel doesn't take kindly to it, and she later admits she has the urge to punch Jessica in the face.
To be fair, she says this in a good-natured way, even revealing she's "ashamed of it." As it turns out, there's a reason for Carmel's insecurities: her husband left her for a younger woman. That, paired with her stay at Tranquillum House, seems to be pushing her character to be more volatile. Could that impact how things unravel in future episodes?
'Nine Perfect Strangers' Episode 3 delivers a bombshell ending
Despite Masha's initial shock — and maybe a bit of horror — at the guests killing her goat, she offers to throw a banquet for them. She collects herself impressively, but it's obvious she didn't predict their actions. That alone suggests the protocol is already out of her control.
Regardless, she delivers on her promise to host a feast. Napoleon, who spends most of this episode doing anything and everything he can to avoid confronting his feelings about his son, gives a speech before the meal — and it's definitely out of character. Not only does he start talking about his son taking his life, but he eventually breaks down over it. This could be attributed to Masha's healing, but Heather knows better. She stands up and asks bluntly, "Have you been medicating us?"
That would explain the characters' surprising actions, as well as the Hulu series' continued focus on their diets and smoothies. Masha doesn't get the chance to respond before the credits roll on "Earth Day," but her smile is all fans need to reach a conclusion. Things at Tranquillum House just got a whole lot weirder — and more uncomfortable. It'll be interesting to see how this revelation goes when Nine Perfect Strangers Episode 4 arrives.
The first three episodes of Nine Perfect Strangers are currently streaming on Hulu.