'Nine Perfect Strangers' Finale: Release Date, How to Watch, and Everything Else You Need to Know
Nine Perfect Strangers has consistently raised the stakes for the characters staying at Tranquillum House, and the Hulu series' finale will bring everything together at long last. Masha (Nicole Kidman) promised to heal the nine guests attending her retreat, and the final episode will determine if she succeeds. Likewise, it'll show the outcome of episode 7's bombshell revelation — something that could stop her retreat in its tracks.
With so much on the line, fans won't want to miss out on Nine Perfect Strangers' big conclusion. Read on to learn how you can tune in.
The finale will answer fans' biggest questions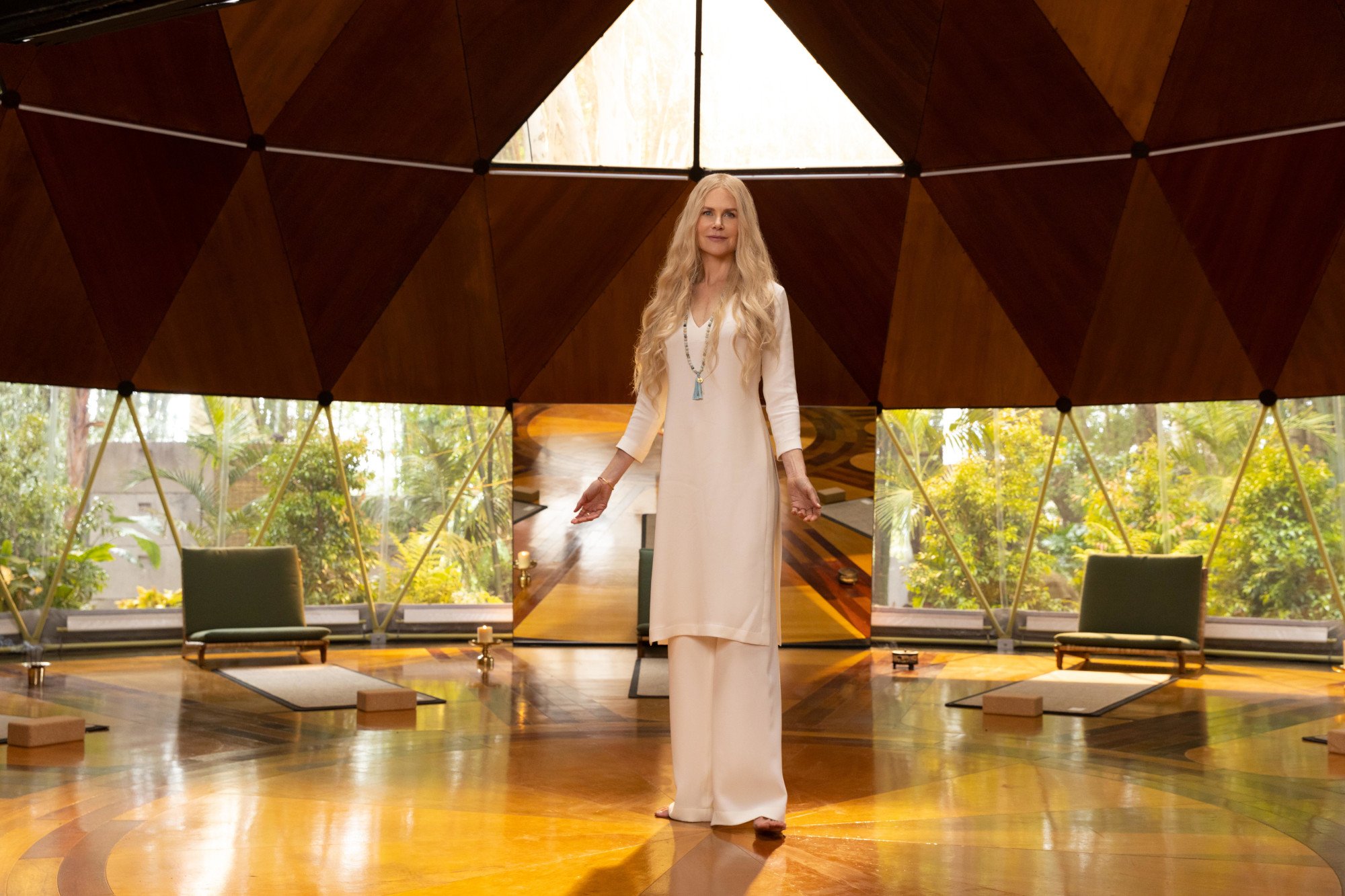 RELATED: 'Nine Perfect Strangers' Episode 6 Gives 1 Guest a Motive for Threatening Masha
When Nine Perfect Strangers began, the biggest question viewers had was whether any of Masha's guests would truly heal their grief and insecurities. Everyone from Melissa McCarthy's Frances to Regina Hall's Carmel came to Tranquillum House with one goal: become a better person. However, the Hulu show has thrown a number of mysteries into the mix.
Once Masha started receiving threats from an anonymous number, fans knew the Nine Perfect Strangers finale could have a tragic ending. Someone is determined to enact revenge on Tranquillum's leader, and they could very well succeed in the final installment. In fact, the latest episode may have revealed who's been threatening her. Masha's in more danger than ever heading into the finale.
On top of that, Kidman's character has been messing around with microdosing — and her latest quest to create an alternate reality for the Marconis is dangerous. Unless Lars (Luke Evans) or Delilah (Tiffany Boone) can stop her from moving forward with it, the consequences could be deadly.
Will the tensions building throughout Nine Perfect Strangers finally boil over in the finale? Or will the guests get the happy endings they've been seeking? There's only one way to find out.
How to watch the 'Nine Perfect Strangers' finale
RELATED: 'Nine Perfect Strangers': Samara Weaving Says the Show Will Have a 'Different' Ending Than the Book
The finale of Hulu's Nine Perfect Strangers arrives on Sept. 22, so fans need not wait long for answers. The eighth episode will be available to stream on the platform starting at 12 a.m. on its release day. It will only be immediately available to subscribers, but international viewers can catch it on Amazon Prime Video on Friday, Sept. 24.
Is 'Nine Perfect Strangers' getting a season 2?
RELATED: 'Nine Perfect Strangers': Where Was the Hulu Series Filmed?
Nine Perfect Strangers has been dubbed as a limited series, so there's a good chance the finale will be its last hurrah. As of this writing, there's no word on whether it could see a season 2. It's also difficult to imagine where the writers would take things. If they did shoot for a second outing, they'd likely need new cast members. The upcoming finale promises to wrap the current slate of guests' storylines neatly.
Of course, given the show's popularity — it was the most-watched Hulu original on its premiere day — Hulu could decide to keep it going.
Series star Samara Weaving teased a different ending than the book it's based on, and Nine Perfect Strangers wouldn't be the first Liane Moriarty adaptation to diverge from the source material in favor of a second season. Big Little Lies did something similar, and it was a decision generally supported by fans. Perhaps the same enthusiasm can grant Nine Perfect Strangers another round of episodes. It certainly would be interesting to see where these characters end up.
The first seven episodes of Nine Perfect Strangers are streaming on Hulu.