'Nine Perfect Strangers': Is Nicole Kidman's New Hulu Series Based on a Book?
Nicole Kidman returns to the small screen in Hulu's Nine Perfect Strangers, which premieres on the streaming platform this August. The series will see nine troubled guests arriving at a private resort, where Kidman's character, Masha, will take them on a healing journey. However, although the wellness retreat promises to fix visitors like Melissa McCarthy's Frances Welty, something eerie lies beneath Masha's methods. The trailer for the series alludes to something more sinister going on at Tranquillum House. With such a detailed setup, viewers may find themselves wondering if Hulu pulled the plot of Nine Perfect Strangers straight out of a book.
Nicole Kidman leads a complex cast of characters in Hulu's new drama
The promo for Nine Perfect Strangers makes Kidman out to be the face of the series, but it features an ensemble cast just as fascinating as Big Little Lies and The White Lotus.
Melissa McCarthy, Bobby Cannavale, Regina Hall, Luke Evans, Melvin Gregg, Samara Weaving, Michael Shannon, Asher Keddie, and Grace Van Patten make up the nine guests attending the wellness retreat at Tranquillum House. Each of their characters comes to the resort with a unique set of problems. However, they aren't the only ones the narrative focuses on.
The staff who work at Tranquillum House also play a fairly large role in the story, especially Manny Jacinto and Tiffany Boone's characters, Yao and Delilah. The tensions between the show's large cast of characters build suspense throughout the show. The various storylines interweave in a way that gets complicated at times, building to what promises to be a show-stopping ending.
With so many backstories and narratives to unravel, Nine Perfect Strangers gives off serious book adaptation vibes. There's a reason for that.
Is Hulu's 'Nine Perfect Strangers' based on a book?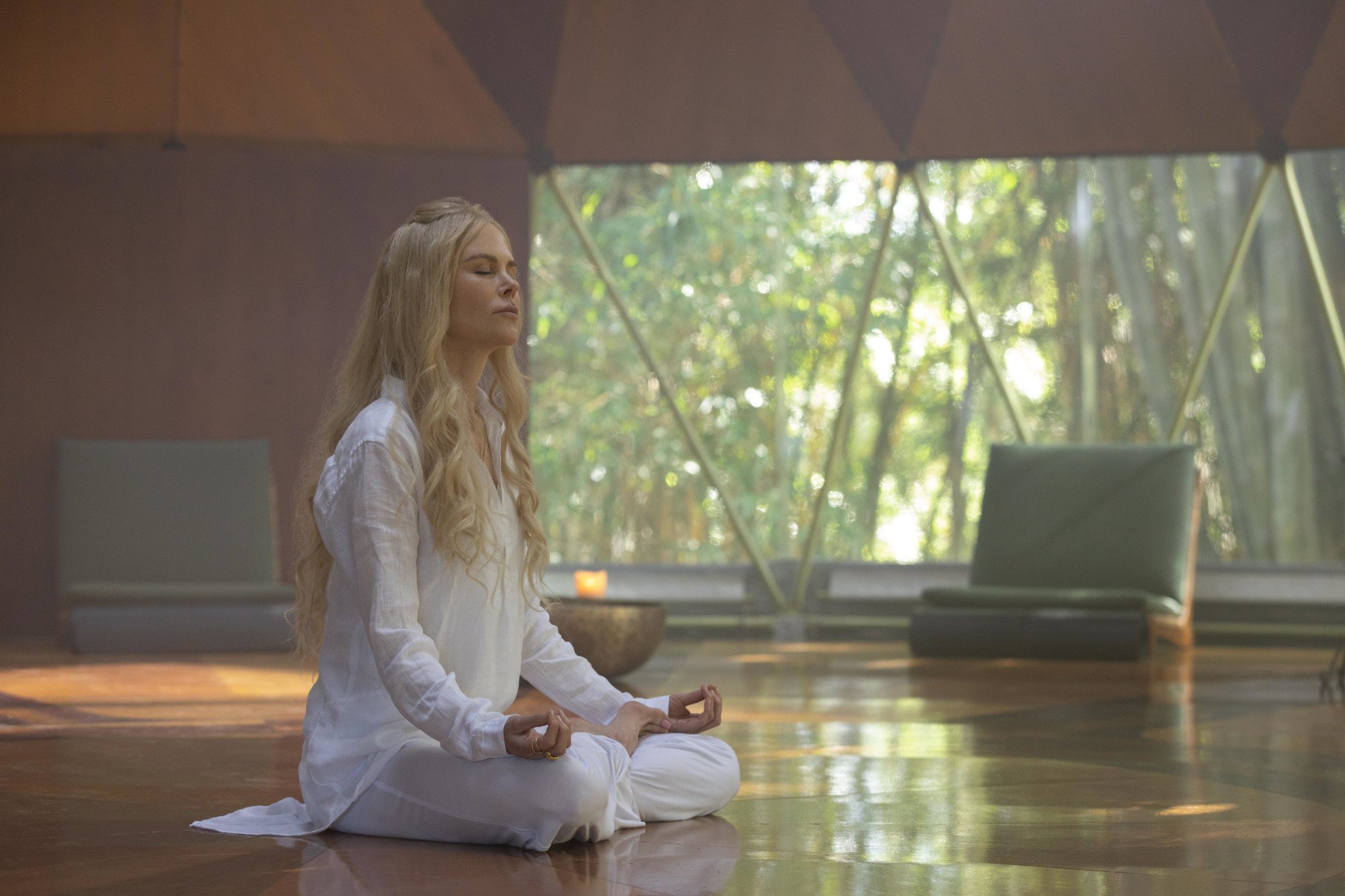 Hulu's Nine Perfect Strangers sounds like it's based on a novel because it is. In fact, the source material the show draws from was written by Liane Moriarty. That's the same author who penned the story that inspired HBO's Big Little Lies.
Moriarty's Nine Perfect Strangers came out in 2018, and the novel quickly found itself on the bestseller list. Its premise is more or less identical to the upcoming Hulu series, though the television adaptation is likely to take liberties with some of the characters and their backstories. With eight episodes clocking in at nearly an hour long each, the series will probably have more time to delve into each individual seeking Masha's aid.
As evidenced by Big Little Lies, it's also possible Hulu's Nine Perfect Strangers could leave things open for future seasons, though it's currently listed as a miniseries. Fans will find out if the ending matches the book's when the show runs its course.
When does 'Nine Perfect Strangers' premiere on Hulu?
RELATED: Nicole Kidman Wouldn't Respond to Her Own Name While Getting Into Character for 'Nine Perfect Strangers'
Nine Perfect Strangers premieres with three episodes on Hulu on Wednesday, Aug. 18, with episodes dropping weekly after that. That doesn't give readers much time to dive into the source material before watching the story unfold. However, reading Moriarty's take on the characters could offer additional insights later on.
Those hoping to catch the series premiere can expect the episode to be available around 12 a.m. ET on the release date. That's when Hulu typically drops its original films and series, so viewers can try tuning in any time after that.