No One Hates Small Talk More Than MCU Star Elizabeth Olsen
Elizabeth Olsen had a promising career long before she became Wanda Maximoff, a.k.a. Scarlet Witch. It was because she had that promising career that she landed on the radar of Marvel Studios in the first place. Wanda will probably remain her best-known role, but it's not all that defines her. 
Olsen knows a thing or two about living under shadows. First, she had to prove her own worth after being known as Mary-Kate and Ashley's  younger sister.
Now that she has done that, she's set to prove that she can carry a Marvel project, namely the upcoming series WandaVision.
It's easy to predict that she will because she sweats the small stuff – in more ways than one. 
How Elizabeth Olsen came into her own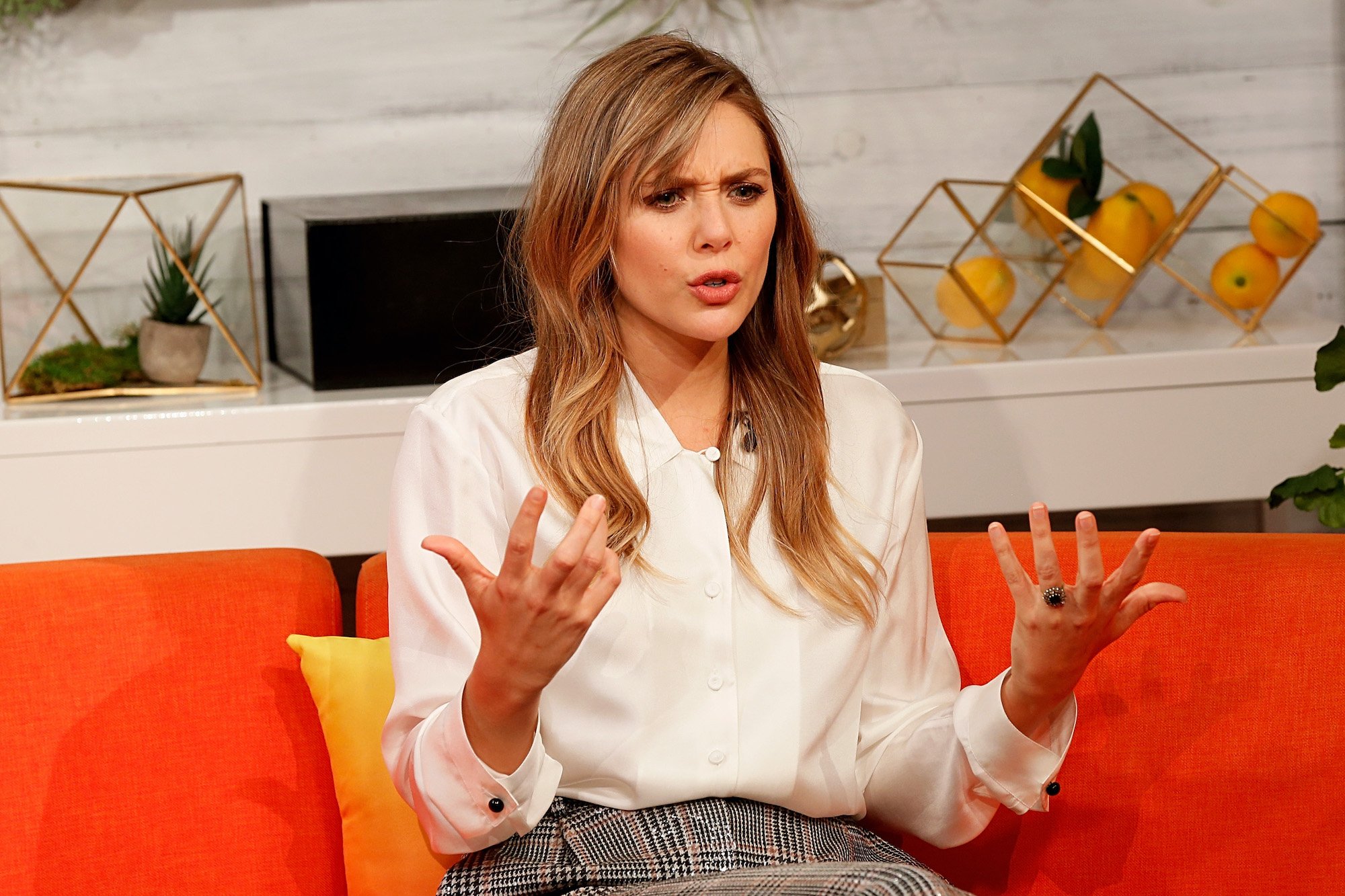 Decades ago, Olsen was something of a little-known fact, being the younger sister of the Olsen Twins, Mary-Kate and Ashley, who became famous right of the cradle playing Michelle Tanner on Full House when they were only six months old.
Once that show became a staple of the 1990s, that led to the twins starring in several kid-videos, a few of which starred their sister, who is about three years younger. Elizabeth's first acting credit was in their video How the West was Fun. 
The twins formed their own multimedia empire with a company called Dualstar, but Elizabeth didn't want to ride their coattails to fame.
Eventually, her path and her sisters' paths diverged. Elizabeth got more into acting while the twins eventually left show business. Elizabeth came into her own with the release of the acclaimed 20111 movie Martha Marcy May Marlene, about a woman trying to escape a cult. Critics praised her performance, which got her an Independent Spirit nomination. 
Her star only rose from there, with roles in mostly independent movies like Liberal Arts or Very Good Girls. Then Marvel tapped her to play Wanda in Avengers: Age of Ultron.
While she has never been a primary character in any of her Marvel movies, she's a fan favorite, particularly because she rose from "the dead" and came very close to killing the formidable Thanos all by herself. 
Why does Elizabeth Olsen hate small talk? 
It's a good thing Olsen's roles give her a lot to chew on, because, by her own estimation, she's no good at small talk. She'll go on a roll with the subject of acting, but when it comes to trivial things, she's at a loss, according to this roundup of facts by TheThings.com. 
A piece by Allure elaborates on this. It reads:
"I'm allergic to small talk." When she met Taylor Swift, for example, Olsen tried being "cute and funny" and then quickly blanked on the name of a T-Swizzle song mid-conversation. "It's still horrifying to me," says Olsen, who recounted the awkward exchange on The Late Late Show With James Corden. "I didn't realize it would be the most talked- about thing I've done in my entire life."
However, Olsen has a way of taking an awkward situation and having it work out. When Marvel chief Kevin Feige called her into his office, she thought she was busted for having dropped a spoiler or something.
As it turned out, he was telling her about a show that was largely his creation: WandaVision, a TV satire that explores what happened to Wanda and Vision after the events of Avengers: Endgame. 
What does she say about 'WandaVision?' 
Olsen may be terrified of mingling with others at parties, but she's all for revealing more about Wanda – without spoilers of course.
She told Insider: "They've never quite given Wanda the opportunity to have the screen time to go as in-depth as the comic books go, and properly give her a story that presents her to the Marvel film franchise as she is in the comics and this is our opportunity," she said. "I'm not taking that lightly and I'm so excited!"
Now, the show is front and center in more ways than one. Before the pandemic hit, WandaVision was supposed to be the second MCU/Disney+ show, after The Falcon and the Winter Soldier.
Now, with that show and all the Marvel movies being delayed thanks to COVID, WandaVision suddenly finds itself the only MCU product of 2020, with a release date of December.