No Plans for a 'Scrubs' Revival — But the Cast Has Reunited Since the Finale
Scrubs is a singular TV show that effortlessly blended two genres together — medical dramas and sitcoms, with a dash of surrealism.
A show that, for many, encapsulates the look and feel of the early 2000s, Scrubs ran for nearly ten years on television before going off the air. These days, it remains popular with fans in rerun form, garnering new viewers every year. With all the popularity that Scrubs still enjoys, there has been a lot of buzz about a possible reboot, featuring most of the original cast.
Although nothing official has been announced to date, some Scrubs cast members actually attended an unofficial reunion of sorts, which took place only a couple of years ago. 
When did 'Scrubs' debut on television?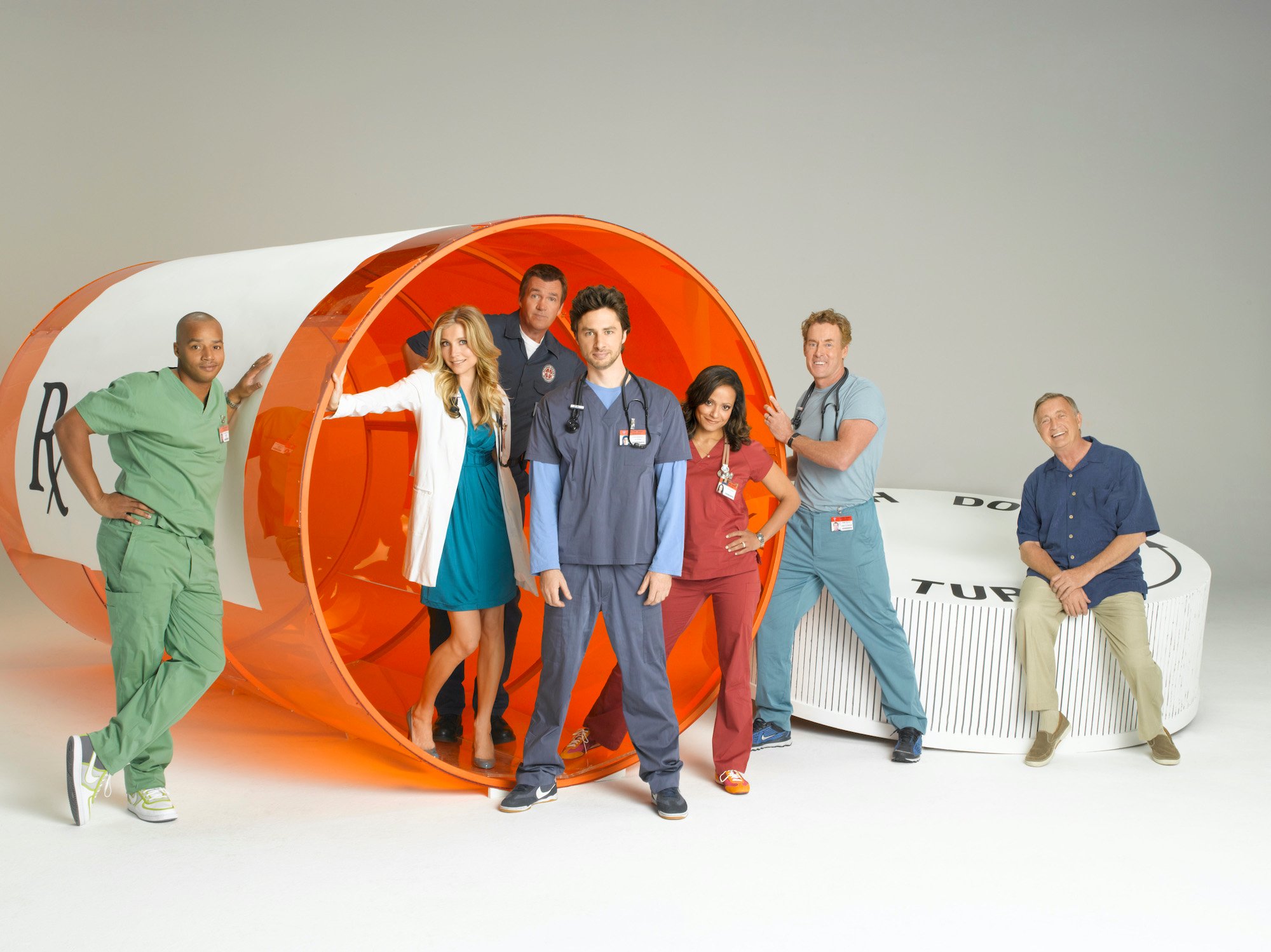 In 2001, Scrubs premiered on NBC. Starring young actor/comedian Zach Braff, as well as other talented performers like Donald Faison, Sarah Chalke, and Neil Flynn, Scrubs was a heavy-hitter with ratings early on. The show followed a group of young interns and medical professionals who work at the fictional Sacred Heart teaching hospital.
Viewers watch as the interns grow from earnest, but inexperienced employees to confident professionals, all while juggling the demands of work and love lives.
While Scrubs was noteworthy for the realism of many of the medical scenarios, the show featured a good deal of fantasy — especially when it came to J.D.'s dream sequences, which were often very surrealist in nature. Viewers responded eagerly, and Scrubs remained popular throughout its nine-season run. 
The cast of 'Scrubs' had an unofficial reunion in 2018
At the helm of the show was Zach Braff, who, prior to getting cast in Scrubs, was best known for his work in independent films. J.D. is an empathetic character, who loves hugs and often gets lost in thought during the course of the workday. Viewers followed along with J.D.'s journey as he rises from an internship to eventually leave Sacred Heart in order to accept a position as Residency Director at St. Vincent Hospital. 
The friendship between J.D. and Christopher Turk, played by Donald Faison, formed the core of the series. The two go through the same trials and tribulations as many other friends, and fans loved how realistic their partnership was. Even after the show went off the air in 2010, many longtime fans of the series clamored for more Scrubs. Finally, in 2018, attendees at the Vulture Festival in Los Angeles got to be a part of an exciting, albeit unofficial reunion.
As reported by Screen Rant, many of the cast members reunited at the high-profile film festival, chatting and reminiscing about old times. While the reunion undoubtedly offered up a good time for attendees, many diehards are still asking for an official reboot.
Will 'Scrubs' get a reboot?
In recent years, many popular TV shows have been getting official reboots or revivals. A few of these shows include Will & Grace, MacGyver, Queer Eye, and The X-Files. Certainly, one driving factor behind the reboots is the desire to top the success of the original and to gain a bigger fanbase in the process.
While there has been no official announcement regarding a Scrubs reboot, considering the show went off the air in 2010, most of the actors could still return to a potential series, if the terms were right.
Additionally, for most of the cast, Scrubs remains the high point of their career. Donald Faison and Zach Braff are close friends to this day and have even launched a joint podcast effort, where they often discuss the show and the characters that they played.
For fans of Scrubs, while there are no concrete details on a reboot, the groundwork is certainly there.