NU'EST Return With Their Full-Length Album 'Romanticize'
On April 19, NU'EST held a global media showcase before the release of their album 'Romanticize.' Showbiz Cheat Sheet attended the media showcase and gained insight about the new album. 'Romanticize' is the first full-length album JR, Aron, Baekho, Minhyun, and Ren have released since 2014.
On April 19, K-pop group NU'EST released their full-length album Romanticize. The album marks the K-pop group's first Korean-language studio album since 2014. In the hours leading up to the release of Romanticize, JR, Aron, Baekho, Minhyun, and Ren took part in a global media showcase to preview the new album.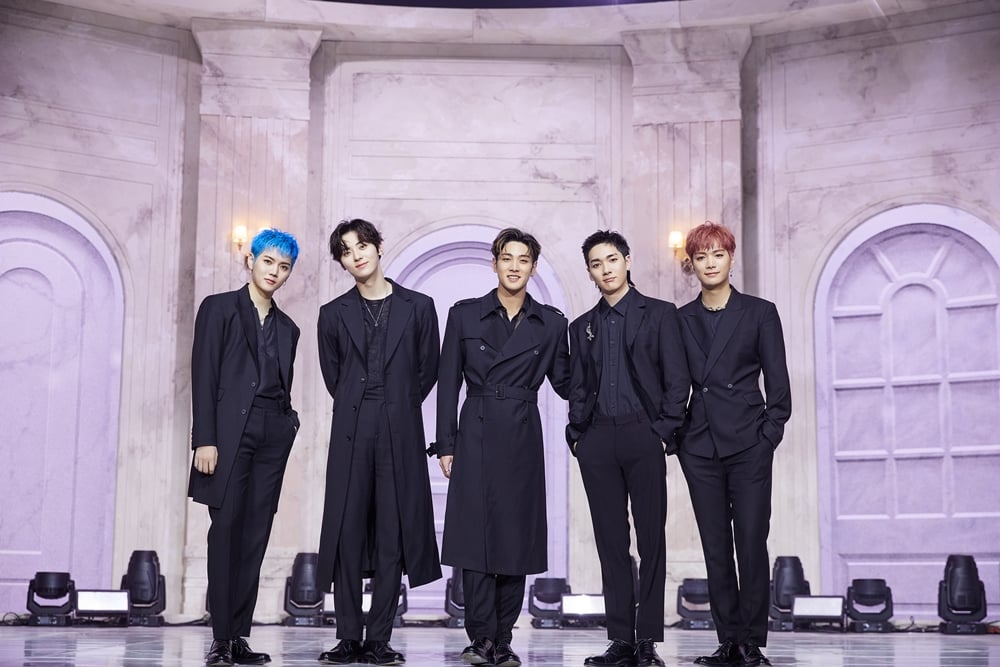 NU'EST released a new album called 'Romanticize'
NU'EST debuted with Pledis Entertainment in 2012, and the K-pop group has been together for over nine years. The members released their first studio album Re:Birth in 2014. Romanticize is the quintet's second full-length album in seven years and their first full-length album since the release of Re:Birth.
When asked if there was a special reason the band decided to release a full-length album instead of an EP, Minhyun gave a reply.
"I wouldn't say there was a special reason, but since it is an album after awhile we wanted to make a good album and bring you good songs," he said via a translator.
Minhyun continued, "During that process, we wanted to contain a lot of stories and I thought this was the perfect time to release a full-length album… it's hard not to feel any pressure so there is some, but since it is an album after a while and since we have prepared a lot and many have participated we're going to overcome this pressure and going to work hard for this promotion."
What to expect from 'Romanticize'
Romanticize has 10 tracks: "Dress," "Inside Out," "Don't Wanna Go," "Black," "Drive," "Earphone (Minhyun Solo)," "Need It (Baekho Solo)," "Doom Doom (JR Solo)," "Rocket Rocket (Ren Solo)," and "I'M Not (Aron Solo)."
The album is split into two parts, with the first half of the album made up of group songs and the second half consisting of solo tracks by JR, Aron, Baekho, Minhyun, and Ren. As a way to show their growth as artists, the members were involved in the creative process behind the album.
With the first half of Romanticize, the members explore the idea of love. In the second half, JR, Aron, Baekho, Minhyun, and Ren individually share how they experience romance in their daily lives.
"Usually the word romance is associated with love," Baekho said. "But through our album we wish to break that stereotype. That's what we are hoping to deliver through our album."
He added, "And I've been saying this but I want us to just find something romantic in every moment of our ordinary lives. That was the message I wanted to convey."
NU'EST have big goals for the comeback
The lead single for Romanticize is "Inside Out." At the media showcase, reporters were able to watch the music video for "Inside Out" early and NU'EST performed the track.
"Inside Out" explores the stages of a breakup. At first, NU'EST try to pretend the relationship is fine and that parting is not a big deal. The members then realize they do not want to break up and run to the one they love.
For this new comeback, Minhyun shared that the band hopes to produce a lot of content to make up for not being able to have face-to-face contact with their fans due to the coronavirus (COVID-19) pandemic.
At the end of the media showcase, JR said one of the K-pop group's goals is to earn No. 1 on a music show.
"If you watch our music video, you see a lot of dominoes… If we do reach the top spot, we'll do dominoes ourselves," he said.