'Obi-Wan Kenobi': Ewan McGregor Found 1 Aspect of Reprising His 'Star Wars' Role 'Tedious' and Left Him Feeling 'Humiliated'
Ewan McGregor returns to 'Star Wars' in 'Obi-Wan Kenobi,' Ewan McGregor has a special distinction in the Star Wars galaxy. In addition to Harrison Ford, Carrie Fisher, Mark Hamill, Billy Dee Williams, and Peter Mayhew, among a few others, he is one of the few actors to reprise their roles. Obi-Wan Kenobi sees McGregor don the brown cloak again in the limited series, but he found reprising his famous role "tedious," and one aspect left him feeling "humiliated."
Ewan McGregor has a special distinction in the Star Wars galaxy. In addition to Harrison Ford, Carrie Fisher, Mark Hamill, Billy Dee Williams, and Peter Mayhew, among a few others, he is one of the few actors to reprise their roles. Obi-Wan Kenobi sees McGregor don the brown cloak again in the limited series, but he found reprising his famous role "tedious," and one aspect left him feeling "humiliated."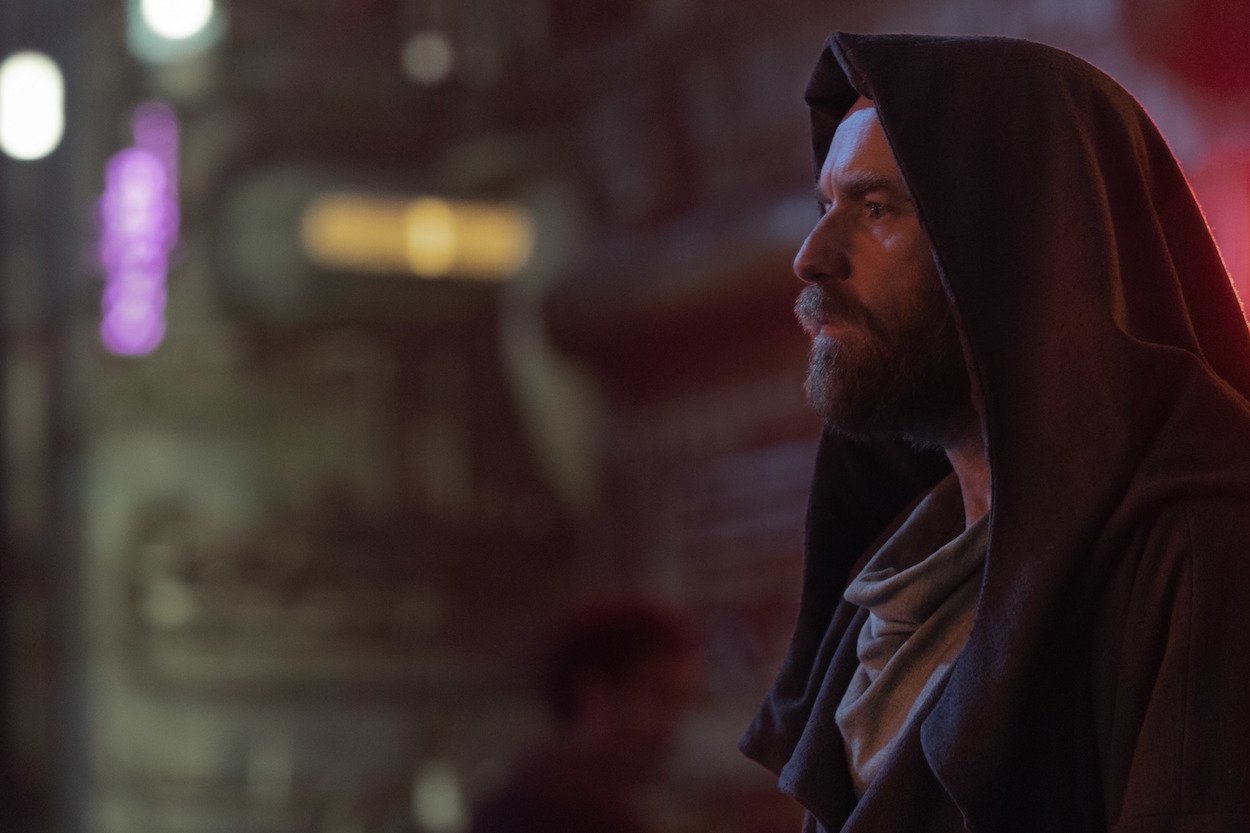 Ewan McGregor faced challenges preparing for 'Obi-Wan Kenobi' 
Playing Obi-Wan Kenobi in the prequel trilogy was the role of a lifetime for McGregor, but it wasn't as easy as showing up and twirling a lightsaber.
First, there was figuring out how to make a famous role his own after legend Alec McGuinness played it first. By hearing Guinness' voice while delivering his lines, he found a way for the first Obi-Wan to influence McGregor's performance as the character.
A second challenge McGregor faced while filming the prequels was the excessive use of CGI. Combined with the sometimes hackneyed dialogue, it made for some tedious time on set.
The latest hurdle to clear as McGregor prepared for Obi-Wan Kenobi was finding the character again. He admitted he forgot how to do the accent he created for The Phantom Menace in 1999. 
Yet McGregor revealed not saying anything at all about the show was more tedious than trying to remember his accent.
McGregor said hiding his involvement in 'Obi-Wan Kenobi' was 'tedious,' and he felt 'humiliated'
Star Wars fans have waited years for Obi-Wan Kenobi. Disney announced the show in 2019, but an upheaval among the creative team pushed production back from 2020 to early 2021, per Collider.
McGregor can't reveal any spoilers about the show, but at least he can talk about his involvement. That wasn't the case before he was attached to the project. Even though he knew he'd reprise his role, McGregor couldn't say anything until it was officially announced. 
Playing dumb was "tedious," and seeing chatter about another actor possibly replacing McGregor as Obi-Wan was borderline humiliating, as he told Late Night Berlin.
"It was very tedious to not be able to say that I was doing it. Because I knew I was doing it for years, and I wasn't allowed to — Disney and Lucasfilm, I wasn't allowed to say that I was doing it. I would have got in trouble, but the trouble is, when I was doing interviews, I was always asked, 'Would you do [it]? Would you play him again? Would you do a spinoff for Obi-Wan?' And I had to say, 'Well, you know, if they ask me one day, I'd be happy to do it.' It started to look a bit pathetic. People on Twitter were saying, 'They better not cast someone else.' And I was sort of humiliated, like I didn't get the job."

Ewan McGregor
McGregor successfully deflected the questions about Obi-Wan Kenobi years ago. It should be easier to do the same if asked about other upcoming Star Wars shows on Disney+.
Will McGregor or Obi-Wan appear in 'Ahsoka' or 'Andor'?
Fans get six episodes of McGregor as Obi-Wan Kenobi in the limited series. It hardly seems like enough content given the nearly two-decade wait to see the character again. 
Now that McGregor has rejoined the Star Wars universe, will we see him or Kenobi on screen again soon? It seems unlikely at this point.
The series Ahsoka is currently filming. McGregor has a connection to the show as his current wife, Mary Elizabeth Winstead, appears. But if the creators continue on the timeline established in The Mandalorian and The Book of Boba Fett, Obi-Wan would be dead. Considering those shows were sort of a backdoor pilot for Ahsoka, it seems more likely we'll follow that timeline, which makes a McGregor/Obi-Wan Kenobi appearance very unlikely.
Another Disney+ Star Wars series, Andor, streams later in 2022. It takes place around the time of Rogue One, but McGregor doesn't appear on the cast list, per IMDb. Aside from a surprise cameo, it doesn't seem like we'll see him there, either.
Long story short? Savor McGregor playing Obi-Wan Kenobi while you can.