'Office' Alum John Krasinski Got A Strong Reaction from Jenna Fischer on His '13 Hours' Body
Fans of The Office still hold the romance of Jim (John Krasinski) and Pam (Jenna Fischer) deep in their hearts as one of the show's most pivotal storylines. The two actors have often sung each other's praises on their chemistry and ease of working with each other.
One of Krasinski's many roles since the NBC sitcom wrapped was in the 2016 film 13 Hours, where The Office alum had to do some serious bulking up to portray the former soldier. Apparently, his previous co-star took notice and wasn't shy about giving her opinion.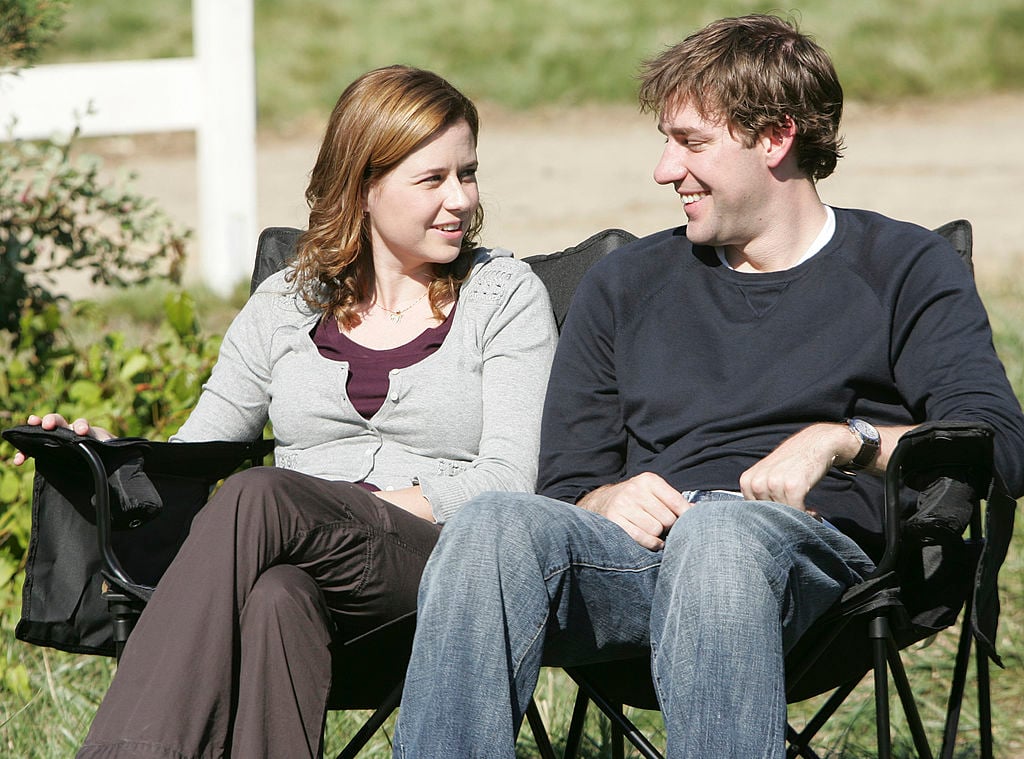 Jenna Fischer and John Krasinski on being 'genuinely in love'
Fischer caused quite a stir in 2016 when she talked about her Office co-star and alluded that the two may have had true feelings for each other.
"John and I have real chemistry," Fischer said of her former co-star, according to the Los Angeles Times. "There's like a real part of me that is Pam and a real part of him that's Jim. And those parts of us were genuinely in love with one another… It's a really complicated thing. He was like a type of spouse that I had for a long time."
The actress seemed to back off her statement a bit, sharing that they probably would be at odds as an off-screen couple. "In real life, we aren't totally Pam and totally Jim," Fischer said. "So in real life, we're not like the perfect match."
When Fischer's comments hit headlines, Krasinski was asked if he agreed with her take on their time together.
"I think that was wildly misquoted or taken out of context. I'm sure she was trying to say something nice about how genuine the acting relationship was, of bringing a relationship that became that popular onscreen," Krasinski told the Daily Beast in 2017 of Fischer's statements, adding his empathy for Fischer on any misunderstanding. "As far as how she was quoted about saying we were 'genuinely in love,' I think that was taken wildly out of context and I feel bad for her."
John Krasinski buffs up
Now headed into its third season on Amazon Prime, Tom Clancy's Jack Ryan has been keeping Krasinski busy along with his many other projects. While the actor is known as the lovable guy-next-door Jim Halpert, he shared that he had to undergo a physical transformation in order to be considered for those 'tough guy' roles.
"When I went out for Captain America, people were like, 'Really?' " Krasinski recalled of his audition for the Marvel franchise, according to Men's Health. "Then I did 13 Hours, and people are like, 'Okay, yeah, you can do these roles now.' I'm like, 'You don't care about the acting? You just care about the physical shape?' And they're like, 'Correct.' "
While the 2016 film started the training process, the A Quiet Place director had to maintain his buff physique to play Jack Ryan. Yet by that point, he was already hooked.
"On 13 Hours, I did it for the role, and then I definitely got addicted to it," Krasinski shared. "I think mentally, it's cleared my head for things like directing and producing. … If I didn't work out a few times a week, I would start to overanalyze. It definitely takes me out of myself for a minute. And it gives me my best ideas. Your brain definitely works better when it's all lubed up with endorphins and sweat and blood."
Jenna Fischer clearly likes the transformation
Fischer appeared on Watch What Happens Live in 2016 and was asked about her former co-star's more-defined frame. Fischer didn't hold back on her thoughts of Krasinski's buff bod.
"It's incredible!" the actress raved to host Andy Cohen."Yeah, he looks good. He looks really really good."
She added a final thought just to drive her point home. "I've seen him in person and he looks really really good," Fischer reiterated.
Clearly, Krasinski's former Office spouse is in full support of his workout regime!