'The Office': Jenna Fischer Reveals the Most Relatable Thing Rainn Wilson Once Demanded on Set
Jenna Fischer and Rainn Wilson were co-stars on The Office. Having worked closely together all of those years, Fischer has many memories of Wilson behind the scenes of The Office. The actor recalls one time Wilson showed up to set and demanded what might be the most relatable thing ever of his co-stars. As it turns out, Wilson's demand also fit the narrative of his role as Dwight Schrute perfectly.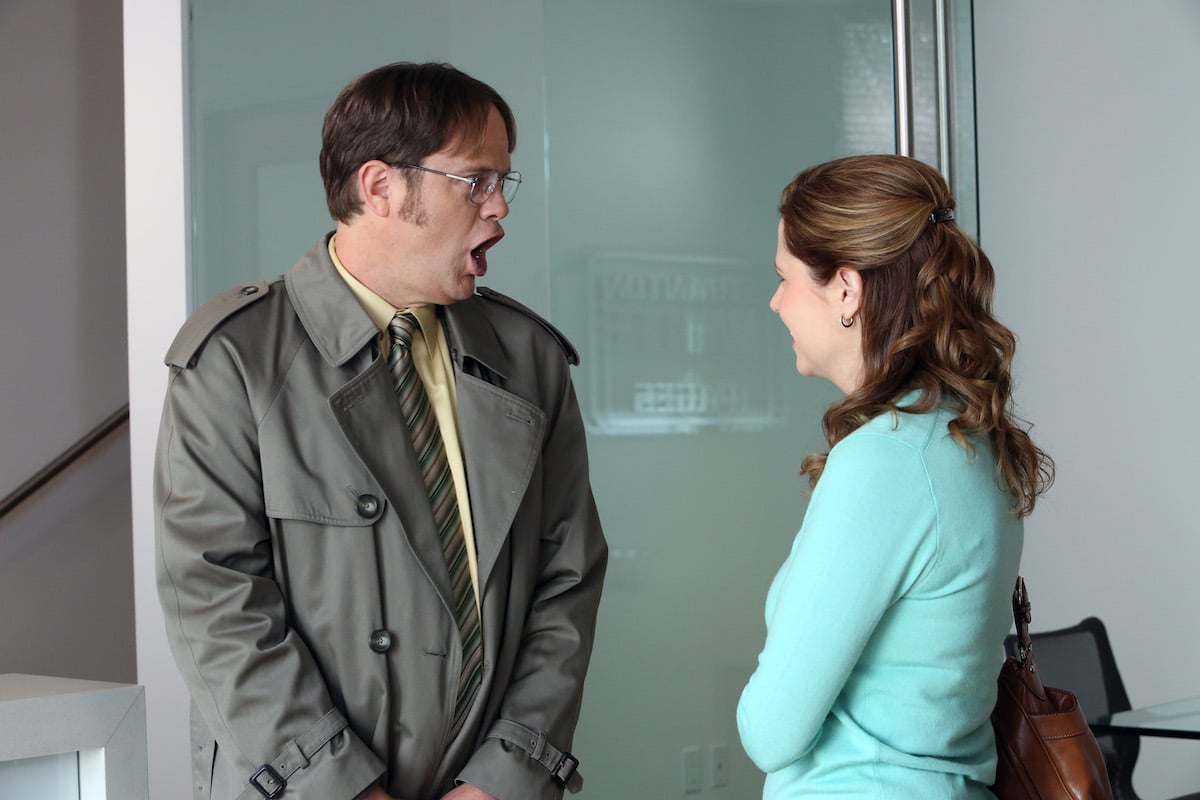 'The Office' characters Dwight Schrute and Pam Beesly are best friends
Many fans of The Office recognize Pam and Dwight's friendship as one of the most unique relationships on the show. Even Fischer celebrates her character's friendship with Dwight.
As discussed on The Office Deep Dive with Office star Brian Baumgartner, Fischer says the episode she realized Pam and Dwight were friends was season 2's "The Injury." For Fischer and many fans, that's where Pam and Dwight's friendship started to blossom.
Pam from 'The Office' has a solid connection with the cast outside of the show
The entire Office cast formed an unbreakable bond working on the series. For Fischer, one of her closest relationships is with Wilson — outside of her friendship with Angela Kinsey, of course!
"It's so hard for me to think about Pam's relationship to Dwight without thinking about my relationship with Rainn," Fischer mentions in her chat with Baumgartner. "Rainn is a deeply soulful person. [But] he's also a curmudgeonly old man." During their chat, she recalls an instance on set that demonstrates Wilson's "old man" tendencies perfectly.
'The Office' cast wasn't allowed to ask Rainn Wilson how his weekend was
Fischer says there was a hilarious time on the set of The Office when Wilson commanded the attention of the entire cast before shooting began. "Hold on, everyone, I have an announcement," Fischer remembers Wilson saying. Then, in the most Dwight way possible, Wilson asked his castmates to stop asking him how his weekend was.
"Everyone — on Mondays, you do not need to ask me how my weekend was anymore," Wilson said. "Every single person asks me how my weekend was. Just assume it was fine!"
Fischer says when she and Wilson recently talked about that memory, he said it wasn't true. "I said that on a Tuesday," Wilson claims. "I said 'Only ask me how my weekend was on Mondays, no more bleeding into Tuesdays.'"
RELATED: 'The Office': John Krasinski Reveals What Prevented Him From Being 'Fully Happy' When He Was Cast
Regardless of how often Wilson acted like his character, he remains a dear friend to many of his Office castmates. Fischer even remembered a time Wilson counseled her about an acting job. For that and many other reasons, Fischer values Wilson "so deeply."
Jenna Fischer thinks Pam Beesly crossed the line pranking Dwight Schrute
You can't talk about Dwight Schrute without mentioning the countless pranks Jim Halpert (John Krasinski) pulled on him. Of course, Pam was often involved in those seemingly harmless pranks, but there are times Fischer feels her character took things a bit too far.
"In my rewatching of the show, I think [there are] a few times where we're a little cruel to him," Fischer admits to Baumgartner. Still, she appreciates those cringe-worthy moments because they allow her character to be more authentic and therefore more relatable.