Olivia Rodrigo May Be Paying Tribute to Taylor Swift With Her Album, 'Sour'
Olivia Rodrigo may be a famous singer with millions of fans of her own, but that doesn't mean she'll ever stop being a Swiftie. The "Driver's License" singer quite literally grew up listening to Taylor Swift and has the utmost respect for the folklore artist. Like Swift, Rodrigo is a songwriter as well as a singer and puts a lot of emphasis on emotional storytelling in her music. But is she also taking after Swift by leaving easter eggs about her debut album, Sour?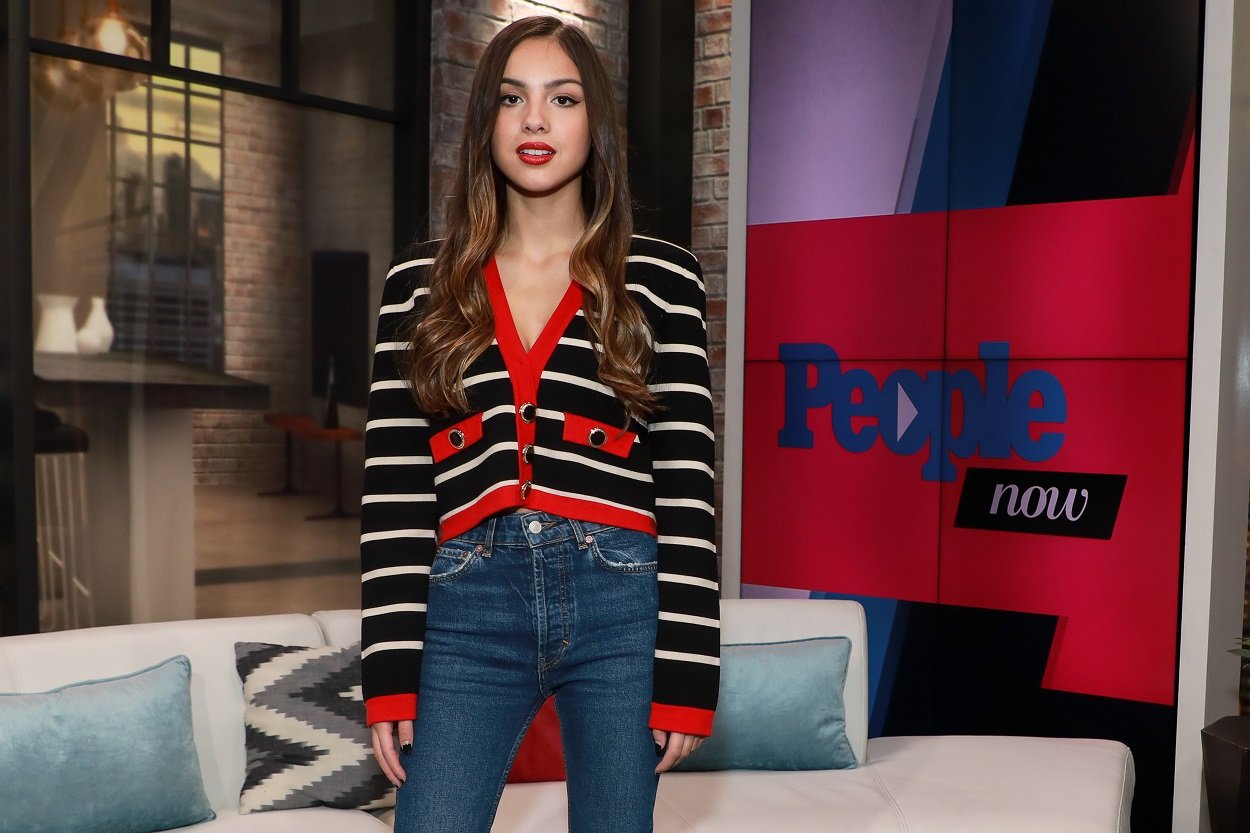 Though Sour doesn't release to the world for a few more weeks, the first two singles off of the album have done exceptionally well. Rodrigo's debut song "Driver's License" debuted atop the Billboard Hot 100 and remained number one for eight consecutive weeks. Naturally, Rodrigo was ecstatic and overjoyed about the success of her first single, but she was, understandably, excited for its success before it even hit number 1.
Olivia Rodrigo and Taylor Swift show support for one another on Instagram
On January 8, 2021, Rodrigo took to Instagram to share that "Driver's License" was number 3 on the iTunes charts directly under Swift's songs "it's time to go" and "right where you left me" which were bonus tracks off over her ninth studio album, evermore. "Next to Taylor on the U.S. iTunes chart. I'm in a puddle of tears, 😭😭😭😭" penned Rodrigo. It wasn't too long before Swift showed her support for Rodrigo also. "I say that's my baby and I'm really proud," the 31-year-old penned.
Rodrigo was thrilled that her idol showed her public support for her. In an interview with Billboard, she recalled how she came to first see the comment. "I was dead asleep and my friend called me on the phone and I was like, 'Oh my God, it's 6 a.m. Can I call you back in two hours?'" she recalled. "And he's like, 'No. Absolutely not. Check your Instagram right now.' And in the grogginess of my sleep, I checked my phone and she commented on my photo and I just about died…just about died. Literally, I've looked up to her as long as I can remember, so it was so sweet of her to do that."
Swift and the 'Deja Vu' singer have developed a relationship
Since then, Swift and Rodrigo have exchanged more than just Instagram comments. Swift sent the "Deja Vu" singer a care package and a letter that included invaluable advice about the industry. Rodrigo was also sent "You Belong with Me (Taylor's Version)" and "White Horse (Taylor's Version)" before they were released to the public. And it seems that Rodrigo may be giving Swift a small salute with her album Sour.
On April 13, 2021, Rodrigo announced Sour to the world. "My debut album SOUR out may 21st ahhhhhhhh," the songwriter penned. While this may seem like a random announcement, Swifties may see things a bit differently. It has been well documented that Swift's favorite number is 13 as she was born on December 13, 1989. In fact, she often releases her albums on dates that add up to her lucky number.
Is Rodrigo paying tribute to Swift with the release date of her debut album, 'Sour'?
Not only did Rodrigo announce her album on the 13th, but Sour's release date also adds up to thirteen. May 21, 2021, can be rewritten as 05/21/2021 and 5+2+1+2+2+1 does in fact equal 13. We can't say for sure if Rodrigo did this intentionally, but even if she didn't it's a pretty cool coincidence for someone who is such a big fan of Taylor Swift.