Olivia Rodrigo's White House Visit Gifts From Joe Biden Included Aviator Sunglasses and M&Ms
Olivia Rodrigo recently revealed the gifts President Joe Biden gave her following her visit to the White House in the summer of 2021.
Olivia Rodrigo burst onto the music scene in 2020, becoming one of the biggest stars in the world by early 2021. Rodrigo, who has released smash hit songs like "Drivers License," is a huge influence on young people, and those who follow pop culture.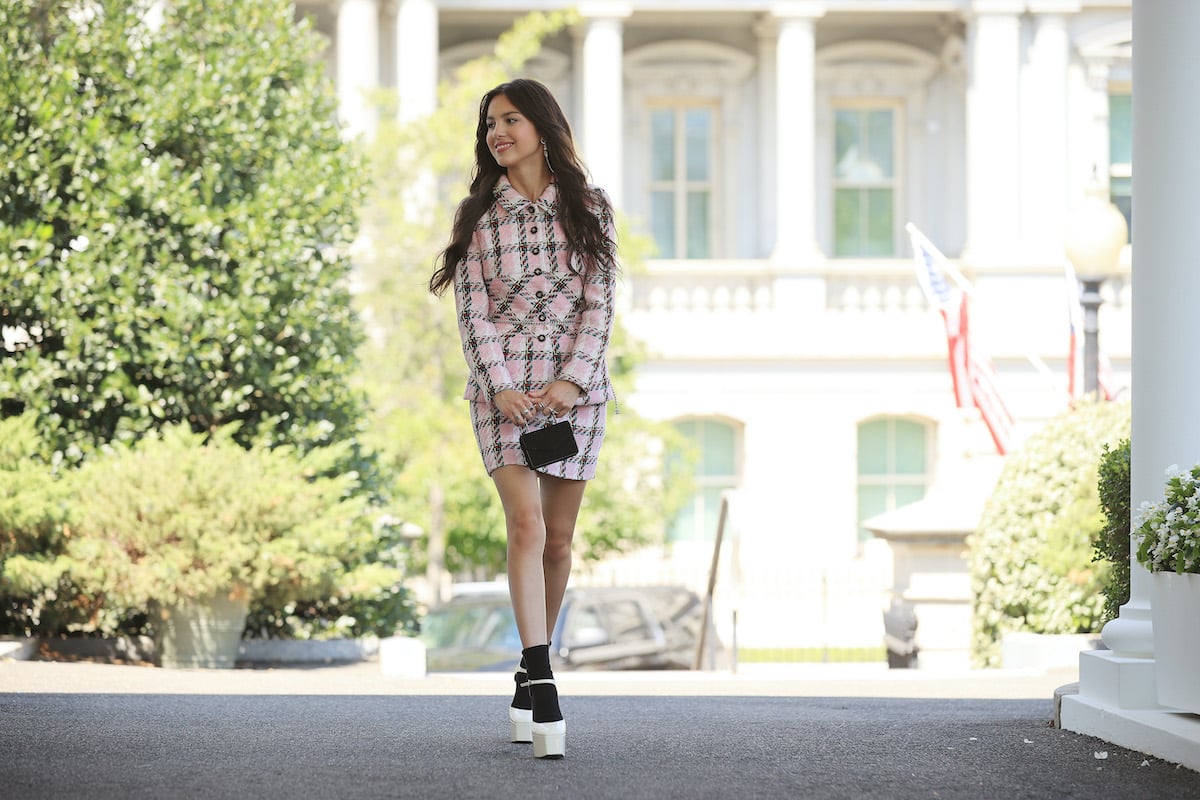 To that end, Rodrigo has been working hard to use her voice for various causes that she believes in. Over the summer, Rodrigo paid a visit to the White House, and in the months since, the singer and actor has spoken up about the gifts that she received from President Joe Biden during the visit. 
Why did Olivia Rodrigo visit the White House?
Over the summer of 2021, many celebrities spoke out about coronavirus (COVID-19) vaccine awareness. Olivia Rodrigo was no exception, visiting the White House in early July 2021, to meet with President Joe Biden and his chief coronavirus medical adviser, Dr. Anthony Fauci.
While she was there, according to CNN, Rodrigo recorded a series of videos to encourage young people to get the coronavirus vaccine. From the White House press briefing room, Rodrigo said:
"I am beyond honored and humbled to be here today to help spread the message about the importance of youth vaccination. I'm in awe of the work President Biden and Dr. Fauci have done and was happy to help lend my support to this important initiative."
The videos that Rodrigo participated in were not only shared through official White House channels but on her social media pages as well, reaching millions of followers.
While she was there, the president showed his appreciation for Rodrigo by giving her a few special gifts, which Rodrigo has since opened up about on late-night talk shows. 
What gifts did Olivia Rodrigo receive from Joe Biden?
Shortly after her White House trip, Olivia Rodrigo made an appearance on Jimmy Kimmel Live! where she talked about the gifts that she received from President Joe Biden. As reported by Insider, Rodrigo told Kimmel: "It was such an honor to go, especially to support such an important cause that I feel so passionately about."
Rodrigo showed off a photo featuring herself and the president rocking matching aviator sunglasses. As Rodrigo told Kimmel:
"He gave them to me, actually. He gave me a few gifts. He gave me those, he gave me some M&Ms, and he also gave me a shoehorn, which was strange."
Rodrigo said that the shoehorn has the presidential emblem on it, to which Kimmel joked "well, if you ever thought Joe Biden was too old to be president, now we know he is. He's giving out shoehorns." At the end of the interview, Rodrigo reiterated how happy she was to make the trip to Washington, praising Biden's staff for being "so kind." 
Olivia Rodrigo is one of the biggest young pop stars in music
There's no doubt that Olivia Rodrigo's voice counts for a lot in the world of pop culture. In a very short amount of time, Rodrigo has shot to the top of the charts, with songs like "Drivers License" and "Deja Vu." With her debut studio album, Sour, which was released in May 2021, Rodrigo solidified her status as an artist to be reckoned with.
Many critics have compared Rodrigo to singer-songwriters like Taylor Swift, and with her own artistic inspirations including singers like Billy Joel, it seems likely that Rodrigo will be sticking around for many years to come. Furthermore, with an army of passionate fans, Rodrigo's influence only continues to grow with each passing month.