Olivia Wilde Acknowledges Relationship With Harry Styles: 'I'm Happier Than I've Ever Been'
While Olivia Wilde has remained mum about her love affair with Harry Styles until now, she recently opened up about her private life in an indirect way.
Olivia Wilde has managed to reinvent herself over the years into a true force in the entertainment industry. In the past year, however, the beloved actor/director's personal life has made the headlines. Wilde has been wrapped up in a whirlwind romance with pop star Harry Styles.
Wilde has remained mum about the love affair up until now. Rencetly, she opened up about her private life in an indirect way for a new Vogue interview. It made her fans sit up and take notice. 
When did Olivia Wilde and Harry Styles start dating?
Olivia Wilde and Harry Styles were first seen together in January 2021 when they held hands at a wedding. According to Us Weekly, Styles and Wilde were linked just two months after she split from her longtime partner Jason Sudeikis. In the months that followed their understated debut, the couple was witnessed on multiple occasions, from local pubs in London to Styles' home in LA.
They also worked side by side on Wilde's directorial project, Don't Worry Darling. (The film will premiere in September 2022.) Through it all, Wilde and Styles have remained under the radar. They rarely discuss their private lives and never address their romance directly. 
What did Wilde say about being 'happier' than ever?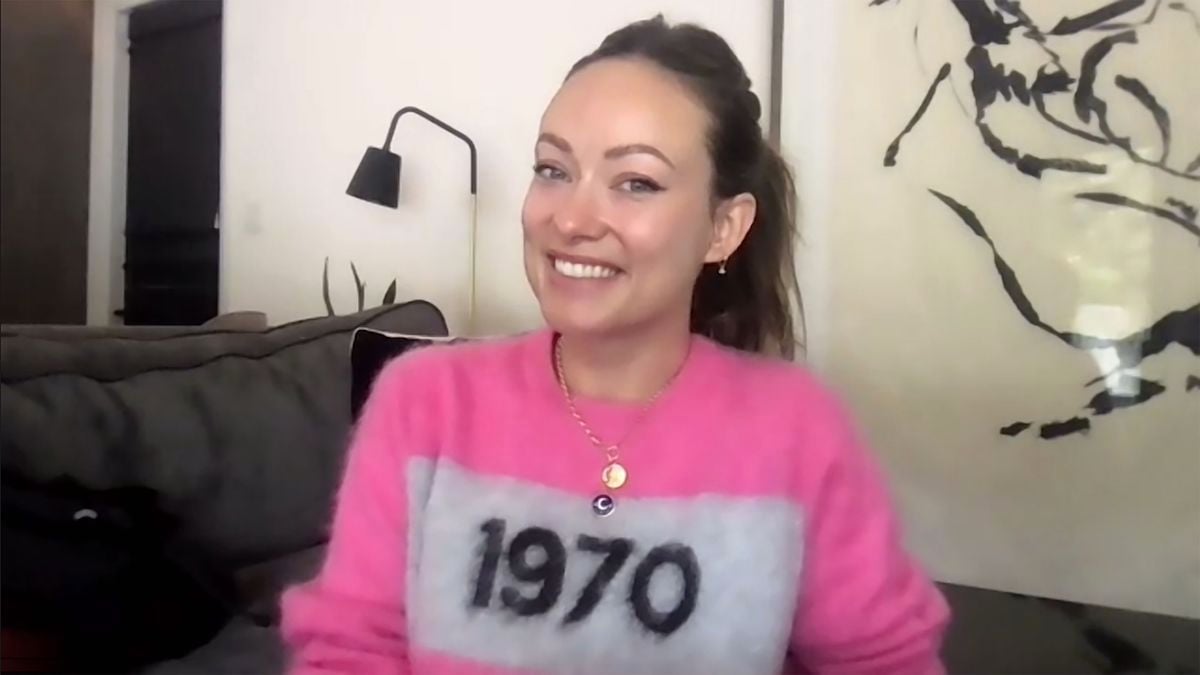 In a recent Vogue interview, Olivia Wilde gave fans an indirect peek into her romance with Styles. She discussed why the world is so obsessed with her relationship with Styles: "It's obviously really tempting to correct a false narrative. But I think what you realize is that when you're really happy, it doesn't matter what strangers think about you. All that matters to you is what's real, and what you love and who you love."  
Wilde, who didn't mention Styles by name during the interview, went on to state, "I'm happier than I've ever been. And I'm healthier than I've ever been, and it's just wonderful to feel that."
Fans who hoped for more insight as to why the pair connected in the first place might be disappointed. But it's clear Wilde is determined to maintain her privacy despite the high-profile nature of her relationship with the 'Watermelon Sugar' singer. 
What did Jason Sudeikis say about the end of his romance with Wilde?
Long before Styles, Wilde was involved in a long-term relationship with comedian and performer Jason Sudeikis. The two had one of the longest engagements in Hollywood history. They welcomed two children during their seven-year romance but never actually tied the knot. In November 2020, Sudeikis and Wilde announced their split, shocking fans who expected the two to remain together longterm.
While they didn't offer much explanation at the time, the Ted Lasso star did open up in the summer of 2021, noting that he still doesn't fully understand why they split.
As Page Six reports, Sudeikis said, "I'll have a better understanding of why in a year…and an even better one in two, and an even greater one in five, and it'll go from being, you know, a book of my life to becoming a chapter to a paragraph to a line to a word to a doodle."
Still, Sudeikis clarified he wasn't particularly heartbroken over the split, noting he believes in "moving forward." As for Wilde, she moved forward with Styles just a couple of months after she and Sudeikis broke up. As of publication, the two are still together.