Omega X Embark on a New Start With Their Debut Mini-Album 'VAMOS'
Omega X debuted with Spire Entertainment on June 30 with their new EP 'VAMOS.' The mini-album consists of five tracks. Over email, Showbiz Cheat Sheet interviewed the 11 members of Omega X about 'VAMOS' and their career goals as a new K-pop group.
On June 30, Spire Entertainment's new K-pop group Omega X made their official debut with their first EP, VAMOS. The band has 11 members, Hangyeom, Jaehan, Hwichan, Sebin, Taedong, Xen, Jehyun, Kevin, Junghoon, Hyuk, and Yechan. Each member previously debuted with K-pop groups that are disbanded or currently inactive.
The name Omega X combines Omega (Ω), the last letter of the Greek alphabet, with the letter X. Together, the two letters represent change, growth, and possibilities in the face of the unknown. Over email, Showbiz Cheat Sheet interviewed the members of Omega X about VAMOS and their goals as a group.
This interview has been edited for length and clarity.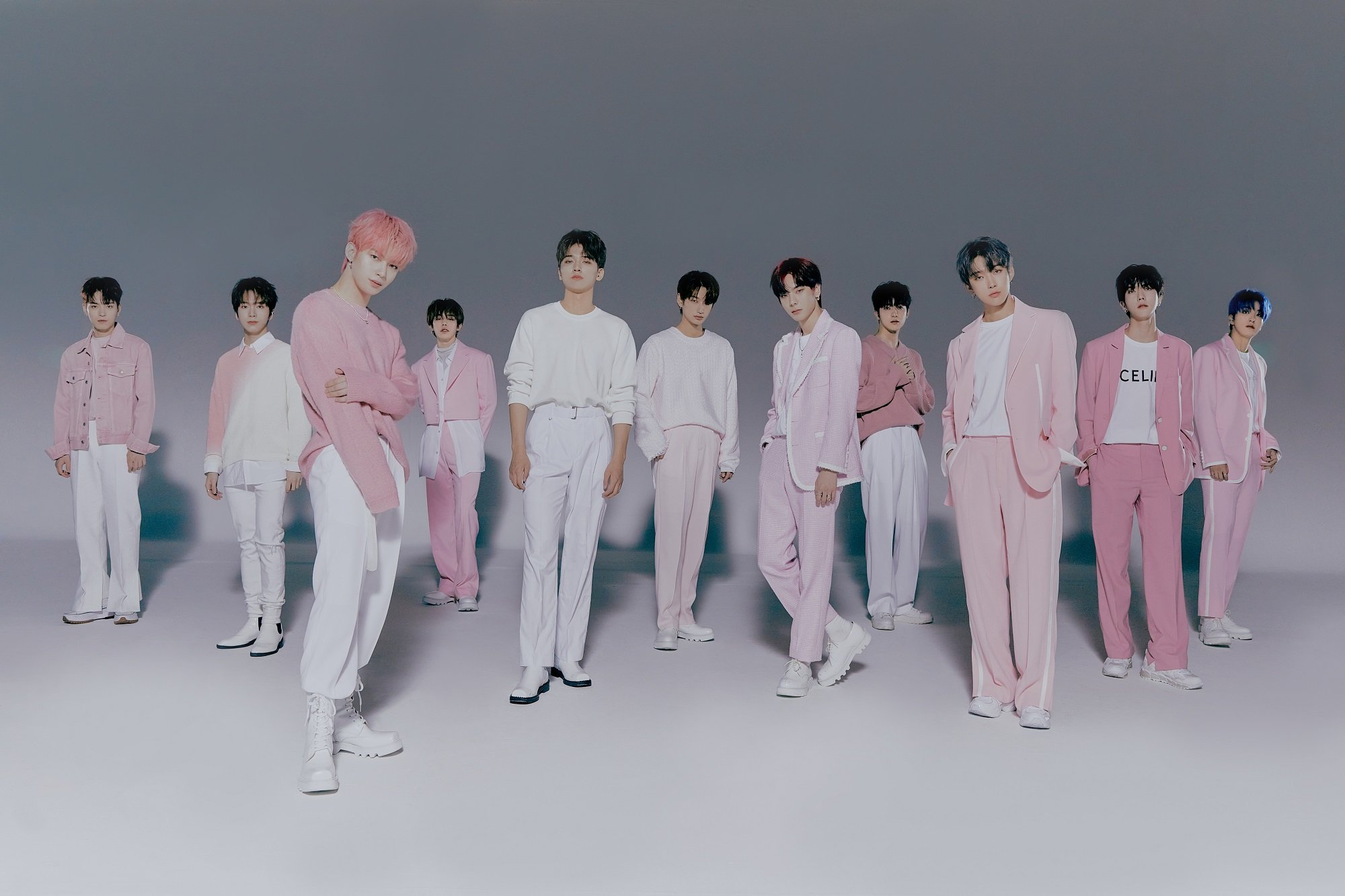 'VAMOS' is Omega X's debut album
Showbiz Cheat Sheet: How does it feel to be releasing your first album as Omega X?
Hangyeom: I'm beyond happy that the 11 of us are performing on stage together. I'm grateful that we can meet the fans with such a wonderful album, music, and performance. We owe a big thank you to all the fans who've waited for us.
Showbiz Cheat Sheet: What can you tell us about your debut album?
Taedong: Our debut album VAMOS means "Let's go" in Spanish. Aligned with the Spanish meaning, the album announces our start and introduces the songs that are strong but fun with hip-hop beats. Members wrote the lyrics of "Younger," which is a song dedicated to our fans.
Kevin: Our debut album VAMOS can be characterized by strong, addictive beats. Each track has a different feel to it so please have a listen!
Showbiz Cheat Sheet: What goals do you hope to accomplish as members of Omega X?
Sebin: As an Omega X member, I hope to become an all-round entertainer. For Omega X, I want us to be the best group for Generation Alpha.
Junghoon: Short-term goals are ranking top on music shows and receiving the Rookie of the Year award. Long-term goal is to become the group that defines the decade.
Showbiz Cheat Sheet: How would you describe Omega X's sound?
Yechan: Our title track "Vamos" has iconic, strong beats that are easy to enjoy!
The members share their favorite songs from 'VAMOS'
Showbiz Cheat Sheet: Do any of you have a favorite song on the EP? If so, why is that song your favorite?
Junghoon: "Omega X" is my favorite, because I love its style, mood, and choreography.
Taedong: I like "Younger" the best, because it's a song for our fans and it tells the story of us.
Jehyun: "Vamos" because it's our title track.
Jaehan: "Younger." It's in our heart of hearts.
Hyuk: Personally, I like the feel of "Ice Tag."
Yechan: "Omega X" because it shows our energy and style really well.
Xen: It's "Omega X." We can help listeners memorize our name, and I like my parts in this song.
Omega X on the songs of 'VAMOS'
Showbiz Cheat Sheet: Why do the 11 of you feel "Vamos" is the best choice for the album's lead single?
Yechan: The strong beat of "Vamos" suits our start as Omega X. It shows our ambition and confidence.
Kevin: The meaning of "Vamos," "let's go," suits us. We eat up the stage performing "Vamos," which is why it's the best choice.
Showbiz Cheat Sheet: "Younger" is a song dedicated to your fans. What do you hope fans take away from the track?
Jehyun: This song embodies the hope of our past. I hope fans won't give up even when it's painful and have hope.
Hangyeom: The lyrics to this song are filled with our sincere wish to be reunited with the fans. I hope fans feel loved.
Hwichan: "Younger" sends a message to fans not to give up and have hope, just like when we were younger, innocent, and dreaming big dreams. I think it's special that we met because we never gave up on our dreams. I hope fans feel hopeful listening to this music.
Getting to know the members of Omega X
Showbiz Cheat Sheet: What is one fun fact fans might not know about each of you?
Hyuk: I go live on the group chat with members.
Sebin: I don't really sleep when we work. I actually can't sleep even when I'm exhausted. On those nights I play Mindflex games or video games.
Showbiz Cheat Sheet: What is your favorite part of making music and performing?
Jaehan: Communicating with the fans. I'm the happiest when we're singing and dancing on stage, communicating our emotions with the fans, and feeling that they're being reciprocated. It's great to be able to share happiness, comfort sadness, and be comforted.
Showbiz Cheat Sheet: Besides your debut as Omega X, what is one thing that makes you feel excited these days?
Xen: Reading and drawing are little things in my daily life that bring me happiness.
Yechan: I've picked up a new hobby, which is bowling with the members on our off days. All members' skills are improving very quickly.