'Once Upon A Time In Hollywood' Stars Brad Pitt and Leonardo DiCaprio: Who Has The Higher Net Worth?
Superstars Brad Pitt and Leonardo DiCaprio headlined Quentin Tarantino's 2019 film Once Upon A Time in Hollywood. Garnering a plethora of Oscar nominations including a win for Pitt as Best Supporting Actor, the movie's star power alone was enough to make it a hit.
With both Pitt and DiCaprio considered Hollywood gold, it may be hard to guess who has the bigger bank account.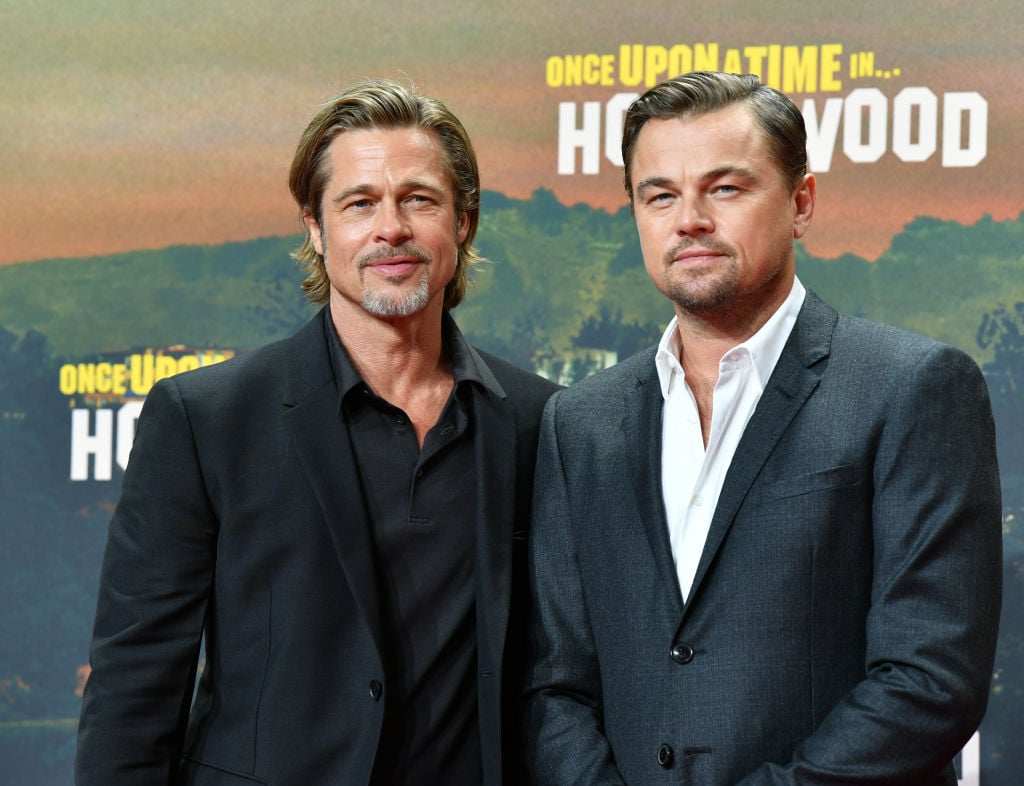 The bromance of Brad Pitt and Leonardo DiCaprio
Teaming up for Tarantino's retro film, Pitt and DiCaprio immediately gelled due to their common backgrounds in show business.
"We both came on the scene around the same time, we have crossed paths many times, we have the same reference points," Pitt said in a 2019 interview with The New York Times. "So there's automatic comfort in having experienced the same thing in that way… We have mutual respect and I know when an actor elevates a scene, so we carry that respect."
DiCaprio apparently felt the same simpatico with Pitt. "Brad is not only a terrific actor, but he's a professional," the Titanic star said, according to Us Weekly. "I have to say it was incredibly easy — incredibly easy working with Brad."
'Titanic' skyrockets Leonardo DiCaprio to stardom
According to Biography.com, DiCaprio started landing acting roles in the early 90s. It was his turn on ABC's sitcom Growing Pains where The Revenant star got a steady gig. Soon moving onto the big screen in This Boy's Life alongside Hollywood heavyweight Robert DeNiro, DiCaprio soon became a household name. In 1993, he earned his first Oscar nomination for his part in 1993's What's Eating Gilbert Grape?
Taking on a myriad of roles, the Inception actor went on to star in Romeo & Juliet, The Basketball Diaries, and The Quick and the Dead. Yet it was his part in Titanic as Jack Dawson that truly catapulted DiCaprio to superstardom in 1997.
Forging a relationship with famed director Martin Scorsese, DiCaprio went on to head several of his films including The Departed, The Aviator, and The Wolf of Wall Street. DiCaprio won an Oscar for his role in the 2015 film The Revenant.
The Shutter Island star realizes how Titanic gave his career a massive boost. "I used [my fame] as a blessing, to make R-rated, different kinds of movies, to throw the dice a little bit on things I wanted to act in," DiCaprio said of his celebrity following Titanic, according to ABC News. "People would want to finance those movies now. I'd never had that, before Titanic."
Celebrity Net Worth reports DiCaprio's total at $260 million.
Brad Pitt brings home the gold
With various roles earning him Oscar nominations over the years, Pitt finally brought home the gold for his part as Clint Booth in Tarantino's Once Upon A Time In Hollywood. Playing a wide range of characters throughout his career, Pitt catapulted to stardom after portraying the handsome hitchhiker in the 1991 film Thelma & Louise.
Now serving as a producer and philanthropist, Pitt's personal life has also been scrutinized in the spotlight. After high-profile divorces from A-list actresses Jennifer Aniston and Angelina Jolie, Pitt is sticking to a life of sobriety as he co-parents his six kids with Jolie.
Despite being a frequent headline in the tabloids, Pitt doesn't purposely evade what's printed about him.
"I don't go out of my way to avoid it; I just don't seek it out," the Ad Astra star told The New York Times of being in the press. "I don't know how many women they've said I've been dating the last two or three years, and none of it's true."
With his career in full swing, Pitt has clearly adjusted to single life once again. The Oscar winner comes out on top financially as well, with Celebrity Net Worth listing his total at $300 million.