'One Fine Day': George Clooney and Michelle Pfeiffer Dish on Why the Rom-Com Bombed
A romantic comedy released in the 1990s and starring Michelle Pfeiffer and George Clooney just feels a blockbuster, right? As it turns out, that wasn't the case when One Fine Day hit theaters in 1996. The movie — which chronicles a hectic day in the life of two single parents — disappointed during its initial run. Now, 25 years later, Pfeiffer and Clooney address why One Fine Day failed.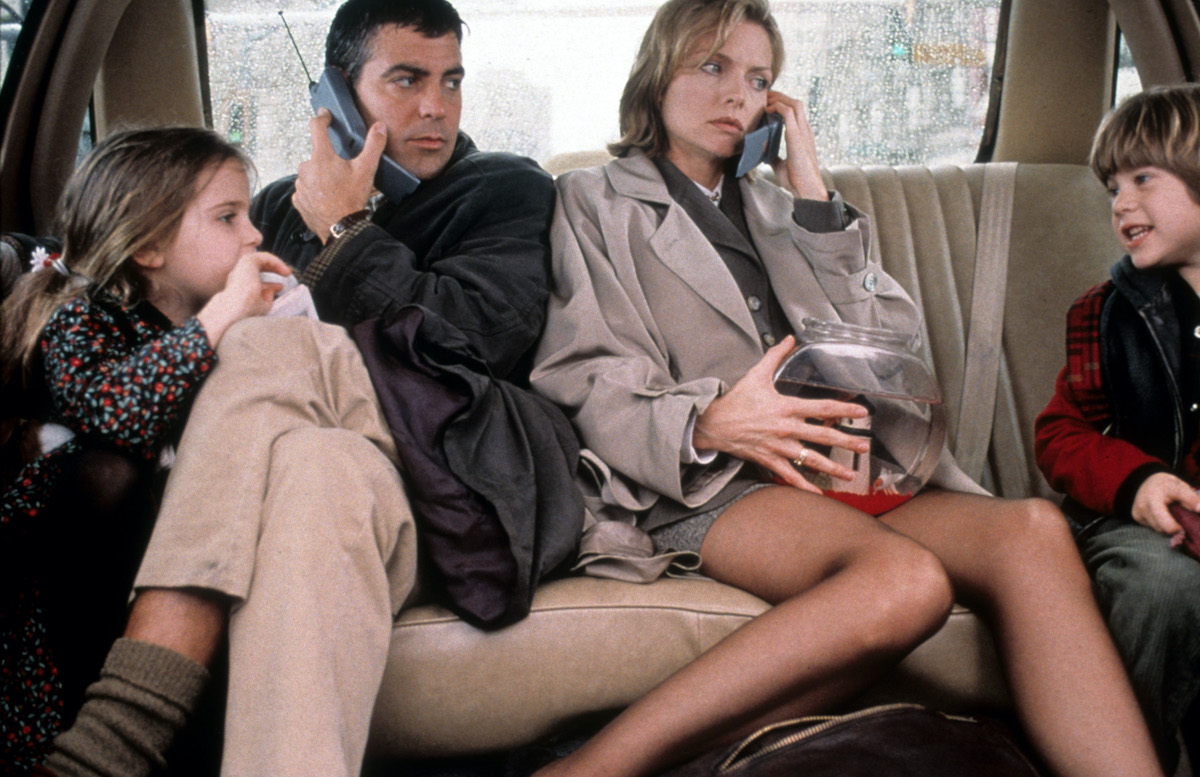 George Clooney made his first major studio movie with Michelle Pfeiffer
At the time of its release, Pfeiffer and Clooney were in very different places in their career. Pfeiffer was the Oscar-nominated star of hits like Dangerous Liaisons, The Fabulous Baker Boys, and Batman Returns. Meanwhile, Clooney was still known mostly for his role as Dr. Doug Ross in NBC drama ER. In many ways, One Fine Day was the start of his movie career.
Although Clooney had several film credits to his name, they were almost exclusively low-budget horror films. His most high-profile role prior to One Fine Day, in fact, came only months earlier. Clooney starred opposite Harvey Keitel and Juliette Lewis in crime thriller From Dusk Till Dawn. Suddenly, the actor whose biggest film credit was Return of the Killer Tomatoes was on his way to becoming a bonafide movie star.
RELATED: Inside Michelle Pfeiffer and David Kelley's Totally Un-Romantic First Date
Despite its star power, 'One Fine Day' disappointed at the box office
In the latest addition of Variety's Actors on Actors series, Pfeiffer and Clooney reunited for the first time since One Fine Day's release. And the stars touched on the movie's poor reception at the time. For Clooney, the movie marked a huge opportunity to break into film, which made its performance that much more disappointing.
"One Fine Day was my first studio film I'd ever done, and I was very nervous about coming in and reading through it with you," the actor tells Pfeiffer in the video. "It's funny, because now people look at that film and they like it — they were really tough on us at the time."
Pfeiffer — who also produced One Fine Day — then pointed out the movie that beat hers at the box office. Released on Dec. 20, 1996, the Pfeiffer-Clooney romantic comedy debuted at number 5 with just $6 million, according to Box Office Mojo. The film that topped the charts that week instead? Beavis and Butt-Head Do America. Pfeiffer blames positive test screenings for affecting its release.
"[One Fine Day tested well]. Then they got a little cocky," she told Clooney. "We weren't supposed to come out until February. Then they thought, 'Ooh, this is so good. Let's release it sooner.' There was no time to do any real press. And then, of course, we got blamed. And you had gone off to do [Batman & Robin]."
RELATED: George Clooney Shared an Intriguing Revelation About His Relationship With Prince Harry and Meghan Markle at Their Wedding
'One Fine Day' celebrates its 25th anniversary in 2021
Ironically, Pfeiffer and Clooney's reunion to mark One Fine Day's anniversary is a testament to how the movie has endured. While it might not have met expectations, the film has found its fans. So it's far from one either star needs to be ashamed of. As Clooney himself pointed out to Pfeiffer, both stars have starred in infamous box office flops.
"We've both done a sequel that wasn't the greatest of sequels," Clooney said in the Variety video. "I remember we were doing press, and somebody asked you about Grease 2, and you were like, 'I don't want to talk about it.' I was like, 'Oh, come on!' I was in the middle of shooting [Batman & Robin], which is now written as the worst film of all time."
Indeed, Pfeiffer has been very vocal about her feelings about Grease 2. But One Fine Day, the actor can probably stand by, especially with the benefits of 25 years of reflection.