Only True 'Doctor Who' Fans Can Answer The 'Jeopardy' Question About the British Series
What happens when British and American pop culture collide? The Beatles is, of course, a good guess, but we're talking about questions relating to Doctor Who showing up on the Jeopardy! quiz show board.
Doctor Who is a British science-fiction phenomenon that has been airing since 1963. Gaining a cult-like following in the United States, the long-running BBC show has captivated audiences with its time-traveling adventures. Jeopardy!, a popular game show and staple of American television programming, was created in 1964. Hosted by Alex Trebek, the program challenges contestants with perplexing trivia for a chance to win big money.
In 2014, these worlds combined for a short moment, and fans of both shows loved every second of it.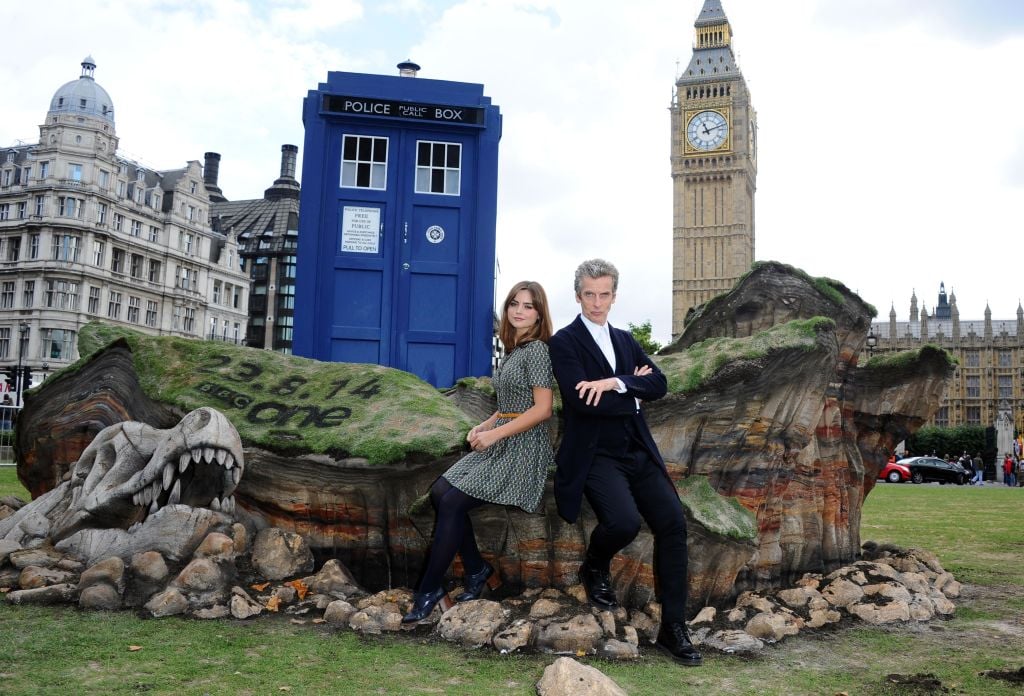 America's favorite game show
We have television mogul Merv Griffin to thank for creating iconic game shows such as Jeopardy! and Wheel of Fortune. They have become a part of American pop culture and are the most popular syndicated game shows to ever air. In 2005, Griffin, who also wrote the catchy theme music for both shows, told The Hollywood Reporter via the Los Angeles Times, "They're timeless and ageless, and in the history of TV there has never been anything like them."
Jeopardy! was first broadcast in 1964, lasting only 10 years. It returned in 1984 under the carefully guided hand of beloved host Alex Trebek, who retained the position until his recent death in November 2020.
The premise of the quiz show is to have three contestants compete to win big money. The infamous game board has six categories that contain five clues each. Players select a category and must be the first one to buzz in with the correct response. Contestants must reply in question format, saying, "What is…?" 
Players get money for each correct answer, with the chance to double winnings with Daily Double questions. In the Final Jeopardy! round, players go head-to-head, and the one left with the most money wins the game and keeps the cash.
The premise of 'Doctor Who'
Doctor Who is based on a time-traveling alien who arrives on earth from the planet Gallifrey. Known as a Time Lord, the doctor travels in a TARDIS, which is a time machine that resembles a blue British phone booth. There have been 861 episodes that have aired over 38 seasons, according to Vox.
When the original doctor, William Hartnell, died in 1975, another actor replaced him. The producers created the theory of regeneration, which explains the difference in appearance. Since that time, there have only been 13 actors that have played this lead role.
Jodie Whittaker, who is the thirteenth doctor, appeared in her last episode in March 2020, however, it seems she'll be returning. Whittaker told Entertainment Weekly, "I'm doing another season. That might be a massive exclusive that I'm not supposed to say, but it's unhelpful for me to say [I don't know] because it would be a massive lie! At some point, these shoes are going to be handed on, but it's not yet. I'm clinging on tight!"
The 'Doctor Who' question that delighted the Whovian fandom
On July 30, 2014, Jeopardy! contestants were given an $800 clue in the Pop Culture category. Stacker recaps the clue stated, "Peter Capaldi replaced Matt Smith as the Time Lord on this British TV show." The right response was definitively "What is Doctor Who?"
A year prior, another Doctor Who clue appeared in the final Jeopardy! round. This time it read, "In 2013 Britain marked this show's 50th Anniv. with a series of stamps of the 11 actors who have played the lead role." All the contestants answered correctly with "Who is Doctor Who?"
More recently, Doctor Who fans were thrilled to see another question about the Time Lord show up on Jeopardy. On January 8, 2020, the clue was, "Feeling regenerated in Doctor Who, this actor confessed, 'Sorry, half an hour ago I was a white-haired Scotsman.'" The correct response was Jodie Whittaker.