Oprah's Favorite Things 2021: Here Are the Top Picks From Oprah-Approved Gifts List
Oprah Winfrey is one of the most distinguished celebrities. From hosting a talk show to extensive humanitarian work and vast business entities, Winfrey rose to become America's first-ever Black billionaire. She has won many accolades in the entertainment industry and became TV's highest-paid entertainer. Having come from a humble background, Winfrey's prowess is a true testament of grace. 
Winfrey made history as the "best Santa ever" since gifting her talk show audience new cars worth $28,500 each. In light of the holiday season, here's a list of Oprah-approved gift ideas pulled from her 2021 favorite things list in celebration of Black-owned small businesses.
Oprah's top picks for kitchen items
The Philips 10-Minute pasta maker
In an interview with Oprah Magazine, Winfrey mentioned that she did all the cooking at home on weekends. This explains why the Phillips 10-minute pasta maker made it on her list of favorite kitchen items. As Italian cuisine chefs know, the secret to a delicious pasta dish is fresh pasta. With this equipment, you can have fresh homemade pasta in 10 minutes. Simply add all the wet and dry ingredients, select the shape, and press a button.
The GreenPan 10-piece non-stick cookware set
While cooking can be fun, everybody dreads cleaning up. Get yourself or your loved one this Greenpan ceramic cookware set. It's chic, sophisticated, and very easy to clean. With 10 pieces ranging from lidded pots to pans of different sizes, you can cook just about anything.
Oprah's favorite fashionable items
Saysh One sneakers
When it comes to women's footwear, comfort is often compromised. Saysh One sneakers is a footwear line created for women by women. Founded by Allyson Felix, a track and field Olympian's style is designed for everyday use with a focus on being lightweight, comfortable, and supportive. Male and female feet differ in more ways than just size, which is something Saysh One understands.
Alex Mill Crosby sweatshirt jumpsuit
Winfrey swears by this jumpsuit, saying she wears it all the time. Given how its comfortability and timelessness, it works on every body type. Jumpsuits are great until you need to use the bathroom. However, the Alex Mill sweatshirt jumpsuit is designed with an adjustable drawstring waist and bottom-up zips for easy bathroom breaks. 
Oprah's favorite winter gear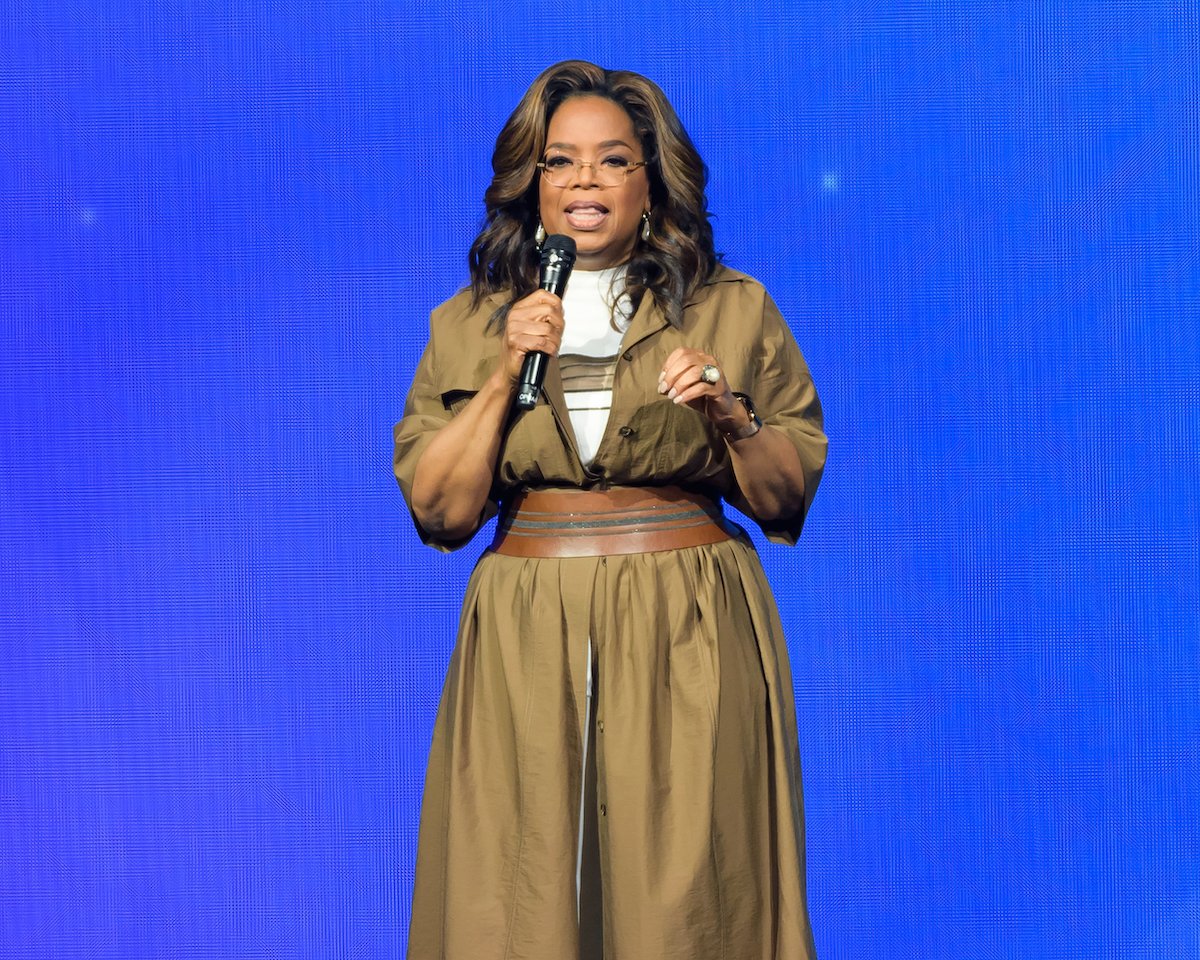 The Ugg long teddy coat
What is Christmas without snow? Everyone needs the right winter gear and this cozy Ugg Gertrude teddy coat is very soft and guaranteed to keep you warm. The double-breasted design enhances its structure and, in Winfrey's words, "It's the closest thing to wearing a bathrobe out in the real world." The second best invention after the Ugg boots, for sure.
Tory Burch leather boots
If you're looking for versatility and sleekness in a pair of boots, Tory Burch leather boots have you covered. Winfrey says you can count on them in rain or snow. They go with just about any outfit. 
Evolg Marsh gloves
We all understand the struggle of using a phone with gloves on. With Evolg Marsh gloves, you don't have to choose between staying warm or using your phone. These gloves are knitted using a high-tech process giving them touch screen capabilities. Winfrey's favorite thing about them is the stripes and the fact that they're unisex.